1. Turn the reference picture upside down. When you look at something in an abnormal way, your brain has to register it differently and as a result, you notice things about a picture that you wouldn't previously.
2. Once you think you're done the drawing, hold it up to a mirror. Mirror images show small mistakes that our brain wouldn't ordinarily perceive. Are the eyes slightly different in size? Looking at it straight on, you might not be able to tell. Looking at it in a mirror, you'll see the mistakes quite quickly.
3. Split your subject into geometrical shapes. When I'm drawing a horse, the head is made up of two circles (the forehead and muzzle) joined by a rectangle. The ears are two triangles. The body is two circles again (chest and hind quarters) joined by a rectangle. Each leg is two circles (knee/hock and fetlock) joined by ovals (forearm/stifle and cannon/shank). The hooves are squares. Once you have the basic shape, you can begin fleshing out the actual shape of the horse, adding curves, connecting the head to the shoulder, making the entire shape look less 'geometrical'. The drawing I did below is a good example... it's not quite finished, but you can kind of see how I used geometrical shapes to piece it together.
The only thing I can say is just keep drawing and drawing and drawing! Do a quick sketch of anything that comes to your mind. Dream up something. At first, yes, the drawings aren't so pretty but the point is to keep the pencil moving. Don't slowly draw your horse, quickly sketch it out, letting the pencil flow over the shape of the horse. The horse is a living, breathing, moving creature! Let your drawings have life and fluidity to them! :)
As others have mentioned, study horses! That's honestly the number one reason how I improved in my drawings. Instead of just thinking up how a horse looked, I went and flipped through books and looked online. Study the horse's body and what makes up a horse! I'll never forget the first drawings I did where I made the horse look like he had muscles! Quite a change from a flat horse. ;)
I wish you the best of luck! You are already off to a great start! Here are examples of how I improved. I, too, started off young; for me, I started dating my drawings around 11 years old. I'm now 21. :)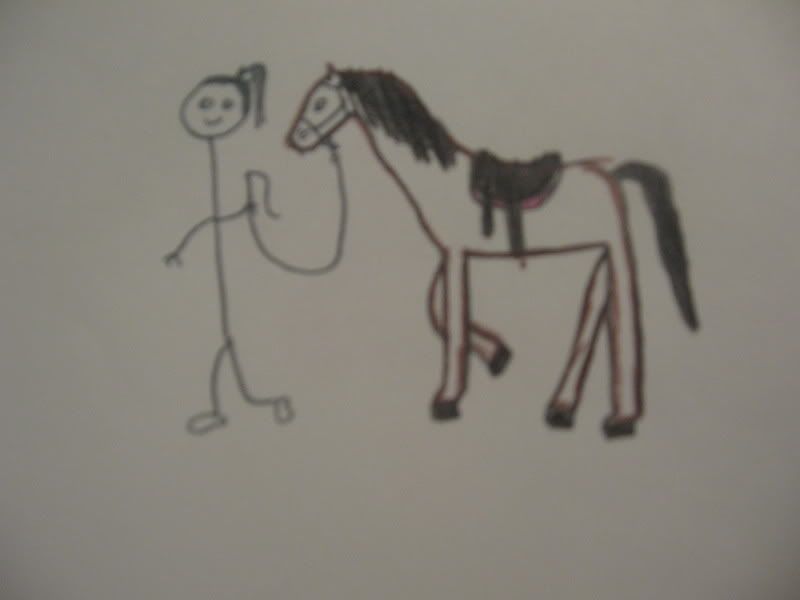 ---
Amber.
Opportunity is missed by most people because it is dressed in overalls and looks like work. ~Thomas Edison
Courtney, where did you inspire to draw that horse? He looks familiar. Was it possibly from this book?
Even if its not, to the OP, I found this book amazingly inspirational!! The author gives so many amazing illustrations on how the horse--and other animals--move!
---
Amber.
Opportunity is missed by most people because it is dressed in overalls and looks like work. ~Thomas Edison
Gemini, it very well could have been that book. I actually have a copy around here somewhere -- it's one of my favorite books to go to when I need some instruction.
Yeah, I also have this book at home and love it. :)
---
Amber.
Opportunity is missed by most people because it is dressed in overalls and looks like work. ~Thomas Edison
Quote:
If you ever get to the library go look up the book..The Agony and the Ecstasy ( not sure if I spelled this right).

It is the story of Michelangelo. The first part tells how he went to the morgue, cut out the innerds of people to understand how the body was made up. He "understood" the WHOLE human being and he knew the structure of the whole being.

Kinda gruesome but fascinating at the same time.
Thanks to your suggestion, I myself am checking this book out! I hope its good!
---
Amber.
Opportunity is missed by most people because it is dressed in overalls and looks like work. ~Thomas Edison
Hi!
Bet that made your day didn't it? ;)
Anyways I can't draw worth a crap, or any type of artsy thing. I just wanted to say hi!
---
Dad, I realize you hate horses. But see that picture <-. You bought me that horse, so therefore, this is obsession is your fault.
I'm an artist by trade and I can tell you with all honesty that yes, you WILL get better. It is clear that you already have a good eye for form.

Art can be frustrating. But if you want to grow as an artist, you have to do some boring stuff, first! I recommend Drawing on the Right Side of the Brain, as well as any book by Andrew Loomis if you can get your hands on it. Draw what you see, and draw boring things like balls and cubed objects. Draw what you SEE, not what you think you see.

Do not give up. It takes years, but it's truly worth the effort. Feel free to PM me at any time if you want some advice or encouragement. I love seeing budding new artists and especially those with clear talent like you have! :)
I want to give you some encouragement so I will post one of my latest paintings. Keep in mind, I used to draw EXACTLY like you when I was a teenager! You have UNLIMITED potential literally at your fingertips :)
Awsome!
---
Cowgirl: A better-looking cowboy with brains.

Life is short!! Hug your horse!!
Similar Threads
Thread
Thread Starter
Forum
Replies
Last Post
My Art Journal

MyLittleHunter

Horse Artwork

13

02-06-2011

07:02 PM

My Journal

Fly

Member Journals

2

11-01-2010

12:20 PM

AMS art journal..

ladybugsgirl

Horse Artwork

3

09-20-2010

11:33 PM

My Art Journal

lilruffian

Horse Artwork

21

08-01-2010

09:46 PM

My Journal.

horseoffire

Member Journals

5

11-22-2009

11:56 PM