Choosing between barns...
---
Alright so I have never been a boarder, I have always been the daughter of the people who OWN the boarding barn, so I always had the best amenities, free of charge. Now, I am looking to bring my gelding from Colorado, in a couple weeks (SO EXCITED) because I have lived here a year, going to school, and been without him and I've honestly gone on depression medication (not all because of the horse thing) but I started riding a horse here and my anxiety/depression have improved even beyond the meds, so my mom wants my horse sent to me now.
anyways, this may be a little long, I'll try to shorten it as best as I can.
The first option is this place I found near where I am riding Chip (the horse I'm exercising for someone who is too busy). It's really nice, but expensive. $400 for pasture boarding, you'd be out of your ever loving MIND in Colorado charging that much- and there they get GRASS! I love the facility though. I do mostly western however, and I haven't seen a single western rider there... all dressage and jumpers. Do most barns welcome people who are different? I know when I was a kid we got a bunch of dressage people who leased two barns at my moms place and my friend and I made fun of them lol, but I since have grown up and realize it's amazing... so hopefully people show respect in disciplines? Or would they be bothered having me there?
I don't like the pasture much...(pics)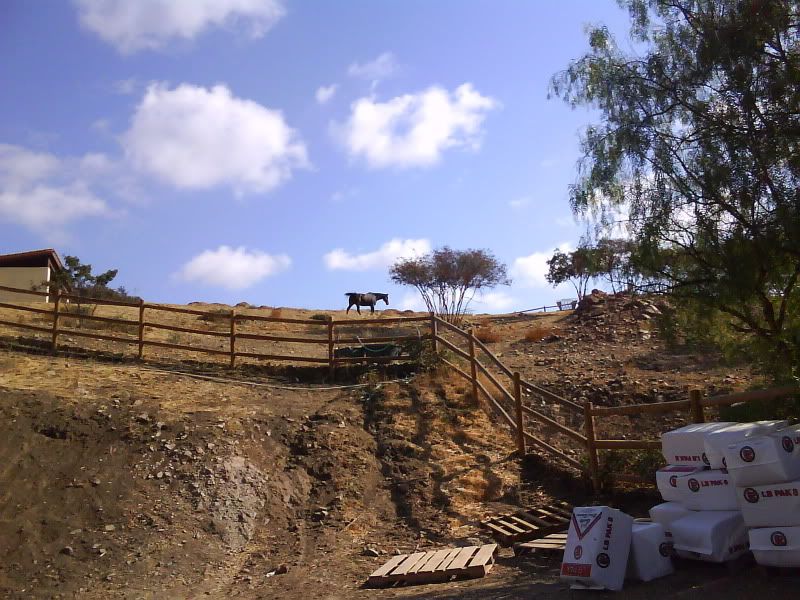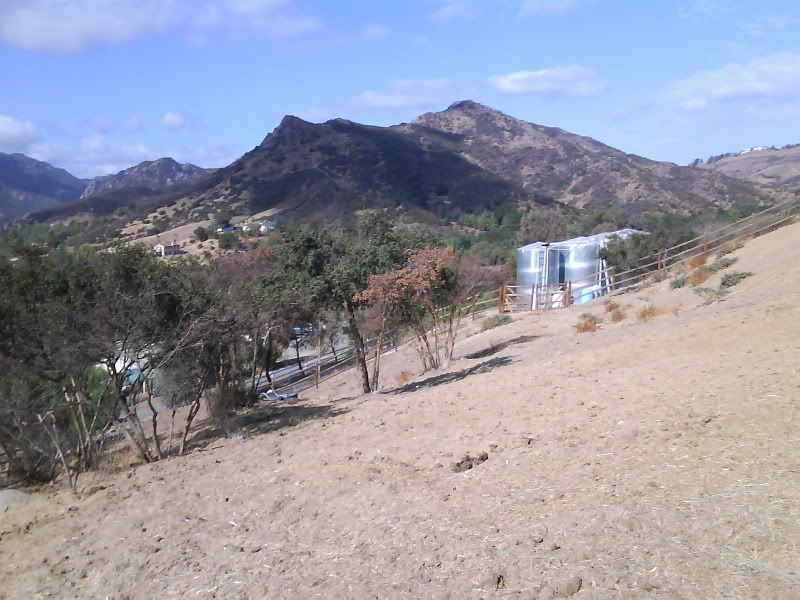 It's on a fairly steep slope, no grass, and they said that put up to 6 horses in there. My horse perfers being outside, he weaves A LOT if he isn't doing SOMETHING, and doesn't play with toys. So pasture has been the way to get him to stop for the most part. But I'm concerned about the slope, I know horses were in this sort of terrain long before we came along, but he's my baby and I want his legs to be okay :)
Next, is this place.
Ravens View Ranch - Home
They have stalls for $320, it's a bit farther away for me, but it looks REALLY nice! They have box stalls, feed I think 3 times a day, and sundays are up to me to clean but they clean all the others (sunday is barn day anyways, right! haha) so I like that idea I think most- I am still waiting to see how much it would be if they have turn out, cause he needs to get out. I know I won't be there everyday for hours... and I don't want him to go bonkers in a stall!
Finally is the largest stable in our area,
Los Angeles Equestrian Center
It's closer than all of them (however I have to take a REALLY busy freeway to get there, so that may be a lie 80% of the day), but $453.00 for a pipe stall is kinda steep. They have an AMAZING facility though, I have been to several shows with my friend there, and it's amazing. They have something like 20+ trainers for all disciplines, and shows, which I would love to start showing again...... eventually.
Anyways, I don't know. I feel like $400 for that pasture is insane, and that the other two are better...
Sorry, I know this is somewhat a personal decision, but I wanted to see if anyone had thoughts that I hadn't though of when looking at the places.
Sorry this is so long!! thanks
---
Proud owner of 13yr old Paint Gelding, Bali! <3

I think you answered your own question. I think 400 is a bit pricey, but I don't like the looks of the pasture in those pictures at all not safe for the horses. If you feel the other two are way better than choose between those two. I pay 365 a month for a stall and he gets turned out everyday and fed three times a day which is best for horses saying they are graziers and eat all the time. I would look at the care of the horses at both places, go take a tour and talk to the trianers/owners and feel the places out. You will know which one you will like once you campare the two. I like the 2nd one for my personal choice, but the choice is yours and yours alone. Hopes this helps