My list:

- Have both stall and paddock boarding available (if no paddock boarding then decent turnout time).
- Semi and full care available.
- Lockable tack trunk/locker. I'd even BYO padlock if I had to.
- Floodlit indoor or covered arena that's preferably 20m x 60m.
- Outdoor arena would be nice but not a deal-breaker.
- Round yard
- Bathrooms
- Wash area
- Someone on hand 24/7.
- Accessible at odd hours to suit busy schedules.
- Instructors/coaches that visit regularly.
---
"You don't become great by trying to be great. You become great by wanting to do something, and then doing it so hard that you become great in the process."
- xkcd comic, May 9 2011 (said by zombie Marie Curie)
- As much turnout as possible, either 100% pasture board or stalled only at night. (My current barn can't offer this, which is a big concern for me as I consider making the big jump from leasing to buying my own horse in the next couple of months.)
- Well maintained pastures, rotated to prevent overgrazing with safe, visible fencing
- Stalls cleaned daily when used; stalls that have mats and drain well
- Free choice hay, horses grained individually as needed
- Round pen
- Dressage arena (indoor... kind of a requirement in the Pacific NW
)
- Either individual tack lockers or tack room limited to boarders only. Climate controlled would be nice. I currently use a Wintec but if I ever splurge for a nice leather saddle I don't think I could bring myself to leave it at my current barn because of how moist it is. I imagine a tack room would be easier to climate control than a bunch of individual lockers.
- Outdoor arena for the summer
- Access to trails
- Trail obstacle course
- Washer/dryer for cleaning saddle pads, etc.
- Bathroom/dressing room (preferably heated in the winter)
- Washrack with heated water
---
Last edited by verona1016; 11-18-2011 at

11:24 AM

.
Required at places I board.
-Bathrooms (I hate peeing in stalls....)
-Large, Well taken care of arena that isn't cluttered
-Pens cleaned 7 days a week
-Healthy horses (This is huge for me now, when I tour a stables I look at the health of the horses already there, I've been at a few stables where I forgot to notice and my horse suffered)
-Trailer Parking (For free or very cheap)

Optional, but big +s
- Trails
- Round Pen
- Good Trainer
- Showing People
- Active Barn (People to ride with)
---
Want to know the story? From The Start? It is a work in progress.
The $25 horse I didn't want.
I look for a well maintained barn, with well maintained stalls. Stall mats and well bedded stalls are a must. I would like the facility to feed free choice quality hay and grain 2-3 times daily (if needed). I look for large turn out areas with well maintained fencing and heated water tanks in the winter months, again with free choice hay. Ideally I would like good drainage in pastures but that just doesn't always happen. I like seeing a well sized tack room for boarders, either with lockers or room for personal storage bin. Good lighting is a must! (Do not have that where I am so planning trim appointments is tricky!).

I look at the health and condition of the horses - body language, coat and hoof condition. I also like to see friendly, knowledgable and experienced owners/managers. I want someone on site for medical purposes if needed (ie if a horse needs stall rest to keep adequate water supply and hay for that horse at all times). I don't mind major medical, grooming, exercising or stand-in appointments to be at an extra cost.
This is what I would look for if I wasn't keeping my guys at home. My list is partly a wish list, but also based on past experiences boarding.
- horses on the property look happy, relaxed and healthy (this has proven to be a huge indicator of a pleasant / unpleasant boarding experience)
- barn should look and smell clean
- wide aisles
- a variety of sized paddocks with shelter that can accommodate different numbers of horses (just in case yours gets hurt or needs to be separated for some reason)
- quality feed (good pasture in summer, quality hay in winter, willingness to supplement as needed)
- fresh water supply (no stale troughs)
- heated tack area with lockable lockers and a washroom / toilet
- someone on site at all times
- good lighting for evening visits (or daytime in winter)
- good parking that's out of the mud with trailer space
- insulated indoor arena (heat is not necessary)
- outdoor arena and round pen are nice
- trail area /place to go for a nice hack is a plus
- access to a good trainer / instructor on site
Green Broke
Join Date: Oct 2010
Location: Some times Llanelian - North wales, sometimes Hull in East Yorkshire (UK)
Posts: 3,679
• Horses:
5
I look for the very basics first.
A decent amount of turnout.
Well fenced safe field,
Good size well ventilated stable that is well lit and safe.

Only after I have found a place with all of them do I start looking for other things in the following order:
Safe,lockable tack rooms,
Good hacking out,
nice safe floodlit school,
someone to look after my horse if I cant.
Some where to park my lorry.
---
RIDE your horse FORWARDS and keep him STRAIGHT


What is a lorry?
---
Horses are scared of two things... Things that move and things that don't.
Green Broke
Join Date: Oct 2010
Location: Some times Llanelian - North wales, sometimes Hull in East Yorkshire (UK)
Posts: 3,679
• Horses:
5
this is a lorry. carries horses from place to place and has a huge full living for me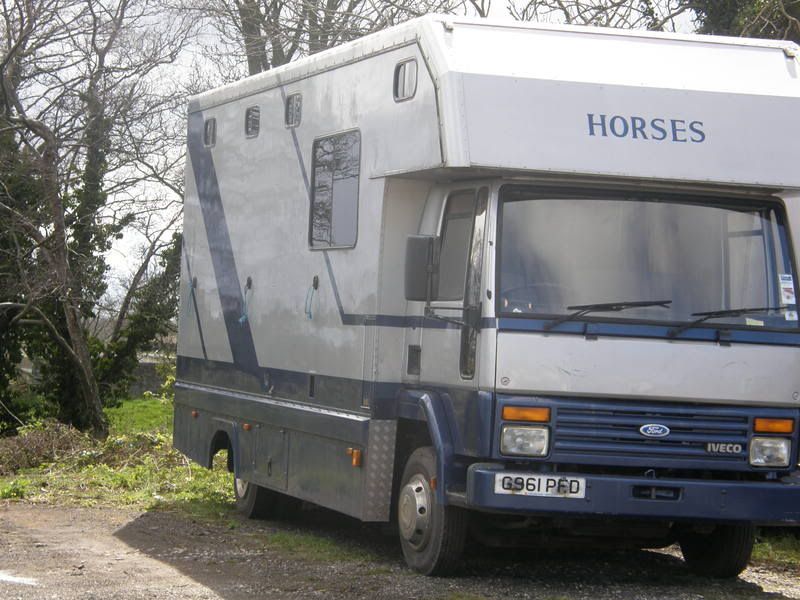 ---
RIDE your horse FORWARDS and keep him STRAIGHT


That is very cool!
---
Horses are scared of two things... Things that move and things that don't.
Okay mine is rather detailed..

First and foremost, horses on the property must not be starving.. my horse is a hard keeper and I won't even go into the premises if the horses are looking poorly kept.
Second.. and the most important. Professionalism from the managers and staff! They also need to know what they are doing, and CARE about their job and the care of the horses, including mine and the minis no one rides or the retirees, at the barn. If this requirement isn't met, I will not board there.
Third, an indoor arena is so important because I want to be able to train my horse in any and all conditions (except no lightning in a metal arena :P) so that he will be as fit and happy as he can be.
Fourth, it has to be full care.. and GOOD QUALITY full care. Meaning good quality hay, checking him all over for kicks or cuts or other things. He needs to have his stall cleaned so he isn't standing in filth (and if he is, I should be allowed to clean it) I've tried field board and he just looks awful.. but I may try it again since he was sharing with a LOT of horses.
Fifth.. daily turn out. Or my favorite.. turn out 24/7 unless it is below freezing or they come in to eat (love my current boarding situation!)
Sixth, locked tack room.. my saddle fits my shark withered horse to a T and if someone stole it... oh my I would not be a happy camper! Along with my most favourite brushes that were so hard to come by (I am a very picky person...)

Some extras:
Trails... love them
Hills, for hill work of course
Hot/cold water, because there are times my horse needs a bath (rainrot, unhealthy coat, etc.) during the winter. Wash stalls are nice, but I just need a hose and a reserve.
Free choice hay.. love it because my horse requires a lot of hay to keep his weight (and a lot of grain.. but I'd supply that)
Willing to blanket.. I just started turning my horse out with a sheet because I want him to retain the weight, not shiver it off because he is cold and wet. It's working so far :)
Friendly boarders.. I love people that ask if I want to ride with them or go to a show or whatnot.
Allow outside trainers... because sometimes the right trainer does not work at the barn you are looking at! Mine right now is so amazing and she drives a good 40 minutes to instruct me and a friend. The ones at my barn are nice people but not what I'm looking for , for my horse.
Farm call vet and farrier days... they are amazing! It's nice to have access to a fabulous vet and farrier (though you can call your own in of course) without having to pay for mileage.

And the best thing about this list? My current boarding place meets them all :)