Where does your horse live?
---
It intrigues me the different ways we keep our horses.
Where are yours? What do you love? What do you wish you had? What do you pay / do?

My 2 girls are on an 18acre property with another mare and a gelding who has decided he's a stallion. Always outside trees for shelter, dam for water. No individual paddocks. 'Natural' area. Im Slowly roping off a riding area.

It suits them so well. Ella is a different horse in this setup. She's not nearly as agro comes trotting up when called.

I'd really like a covered area with 2 'stalls'. A proper arena would be lovely.

I have 'full care' for 25 each a week. The friend I agist with wants me out there to feed our 6 ponies 2 days a week but understands if I can't.
Posted via Mobile Device
My horse lives with a herd of 11 others (mostly geldings and 2 mares) in 37 acres large pastures, which are divided in several separate fields that are switched throughout the grass season. They graze and roam there freely 24/7, have lots of various terrain, a river as a water source, lots of trees for shade, and also access to three large shelters to hide from bugs.

At winter they are moved to a 9 acres large winter field with access to the same shelters, a large hay feeder (access to hay is also unlimited 24/7), an automatic waterer with warm water and also haynets are distributed around the forest so that they are motivated to move around more. Saltlicks are freely placed around both the summer and the winter fields.

They live under full care (that includes feeding, checking for any issues, fencing and mucking) of the BO during working days and partial care (we feed, help out with mucking and repairing fences if needed) during weekends, and are fed full grain oats once a day, with supplements of the owners' choice.

We have an outside dressage arena with good footing and floodlights for dark evenings and very vast territory for trailriding, but I'd love to have an indoor arena, too, as the weather can be very harsh during winters here. I'd also like to have at least a couple of separate stalls in case a horse needs to be stalled for medical reasons, and one more shelter, because the current amount seems a bit smallish for the size of our herd.

I pay 150$/95 GBP a month + 20$/10 GPB for the trimmer.
---
I have come a long way, to surrender my shadow to the shadow of my horse.
/James Wright/
We are fortunate enough to be able to keep our horses on our own property. They are in a little over an acre of pasture at this point - with plans to fence an additional lot next spring as well as extending the exisiting pasture so they will have just under two acres in two lots. We use 24/7 turn out but they have access to the barn if/when they choose.
I wish we had an arena, preferably covered and lighted.
We pay ............... I don't even want to think about it, lol.
Mine live out my back door :) Wouldn't have it any other way, it's nice having them right there plus I don't like to share ;) We have a 12 stall barn with feed & tack room and washrack, separate hay barn. We have 5 pastures, smallest is a stud lot at 1 acre to the large ones that are not quite 10. We have an insulated indoor arena and a 150 x 300 outdoor arena (that also doubles as dry lot when needed) There is 17 acres of woods at the back of the property to ride in as well. Costs, don't want to go there, in a year generally enough to buy a new car...
---
Life is like a camera. Focus on what's important, Capture the good times, Develop from the negatives and if things don't work out, Take another shot.
At one time I thought stalls would be nice but unless one is showing, why have the extra expense plus all the work of cleaning them? When my barn was being built the graph paper came out plus the calculator. How far in to debt? Nope, don't like debt so it was built in two sections with the second being built about 5 years later. It can be two generous stalls but they horses prefer it as a run in. Much less cleaning as well.
Mine have lived in my 5 acre backyard for 12 years now. The old herd is gone, but the new herd have stalls for super-wet/icy weather. I even put them inside Saturday night bc there was too much mud to lay down.
Shavings on everybody's coats Sunday morning, so I guess they agreed.
My horses are on pasture for 6 months/year. Costs are higher ONLY bc gas is soaring and we have to drive to work. Generally they cost me water year round, cost of transporting hay/grain/bedding (pine shavings and Equine Fresh) to store, which runs ~$4,000.00 a year total. It would be 1/2 that if gas prices were at $1.86/gallon.
I too am fortunate enoughhave my girls in the back yard..

We have a 100X200 arena and a two (soon to be three) stall barn with a wash rack.

as of right now we keep the girls in a tape fencer during the day so the can graze (will put up more permanent fence in the spring)- which we move around to prime grazing spots on our 6 acres...and at night they go back into the arena. Other than the barn they dont have shelter yet so on really nasty rainy nights we will toss em in stalls. but other than that they stay out.

I love the fact that I have proper stalls, but I don't use them much for a couple of reasons:

A.) being pregnant, I totally admit to being too lazy for daily mucking right now.

B.) the stalls don't have turn outs yet. I want my horses to be able to go in and out before I start really using the stalls.
The stalls would provide a covered grooming/ treating area and somewhere to lock em up if need be.

MH I'm coming to live with you.
Posted via Mobile Device
I to keep my girls in my backyard. I have 20 acres with about 3 acres of pasture.
2 stall barn with two 10x12 stalls (well its under renovation for 2nd stall and tack/hay room right now) with a 8x12 tack/hay room. Stalls lead out into a 12x10 graveled runs- would like them bigger but its better than nothing and means I have enough boards from the 24x12 run before to make the two separate ones without having to buy to many more and also that they can have enough gravel! The barn before with one stall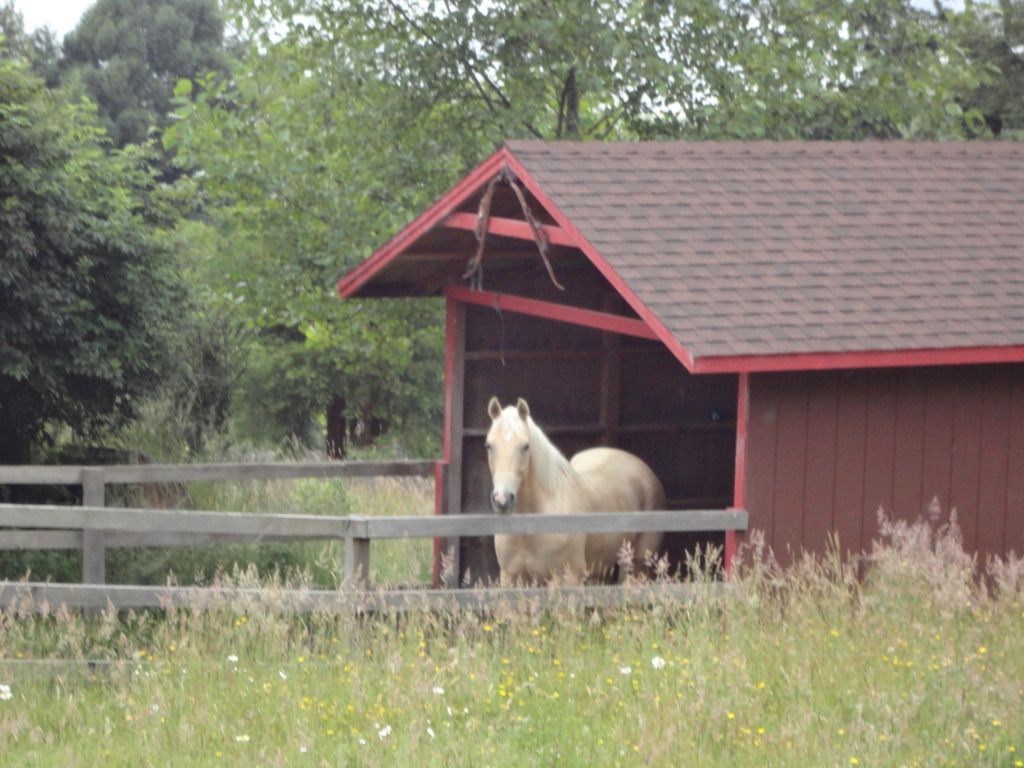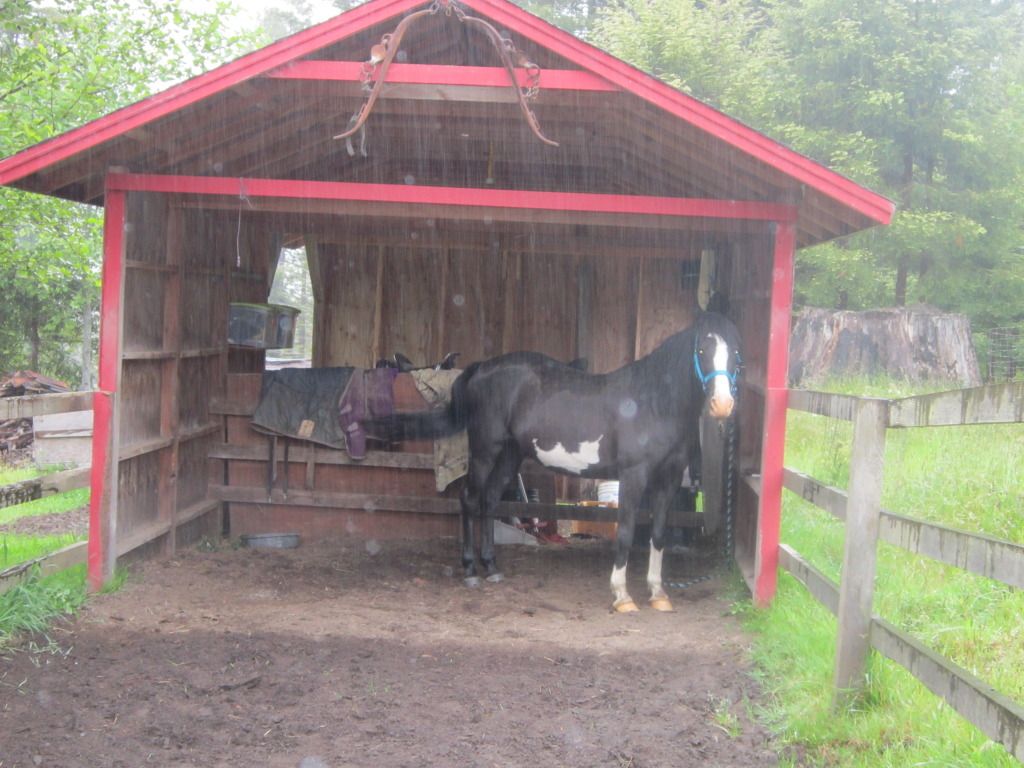 And a kind-of rocked 40x110 run for keeping them off pasture. I have access to about 4 hours of trails if you go down every dead end and walk the whole thing. The fencing is 3.5 foot high electric fencing and outside our 8 foot tall deer fence there is two strands of it. There will eventually be 4.5 foot tall board fencing.
---
"Good things come to those who wait… greater things come to those who get off their ass and do anything to make it happen." - Unknown
5 horses, soon to be 7 on 20 acres of mostly trees for them to roam around in
4 stall barn with extra room for tack, square bales, feed ect
50' round pen
2 acres seeded into grass & fenced off to make into a pen if need be and a corral that can made into 2 if need be.
I haul fresh water to troughs 2x times a week and have water heater's for winter
free choice salt and mineral licks
mostly feed round bales with a slow feed hay net and have slow feeder to hang
trim hooves myself
costs for 5 horses are about $150.00 a month give or take a little.

wish I had an indoor arena
Oh and more pasture..
---
Last edited by Spotted; 10-22-2012 at

11:10 PM

.