You do indeed do an important job!
I was only teasing you- although with your bunch of stalkers.....
Posted via Mobile Device
Why can't you just send the pictures from your phone to someone else with a phone.. and have them upload them?!
---
"Strength is the ability to use a muscle without tension"

Thank you for helping those who protect our country.
The reason I was asking what you had was so I could help you!
---
I may seem small, but if you mess with my horse, I will break out a level of crazy that will make your nightmares seem like a happy place.
Everyone I do need some "encouragement" to learn how to post pictures.
After seeing such wonderful pictures of horses posted by other members I need to showcase my own beatiful herd.
i can take some ribbing and enjoy the good natured harrassment. In fact this is good therapy for me.
kctop is just down the road and I enjoyed meeting her and her husband.
Besides I really do want to show everyone this wonderful colt that I bred!!!!
Keep giving me a hard time. Hopefully by now everyone knows that I do indeed have a sense of homour. Shalom
Dba it is fairly easy just seems complicated. Once you learn, you'll be posting all kinds of pica of your beautiful heard!!!
Posted via Mobile Device
I was boarding at a friend's house when my gelding was born. I was informed at the start of school that day, that my new filly had been born in the night. Spent all day thinking of girl names.

Finally get to go and see my mare and new filly, and...we have a colt. LOL.
---
Proud owner of ~Mana: 6yo Arabian gelding~Pearl 13yo Arabian~Danzer 14yo Arabian mare~ Tiny mini filly
Grayshell glad i am not the only one that made that mistake.
Just returned from checking the mares. NO NEW FOALS.... those two need to hurry up and give birth!!!!!! I will see them again in a couple of hours.
Gotta try and get some sleep for a couple of hours at least.
kctop if i learn how to post pictures and its that easy I promise to never start a foal watch thread for any of my mares. Shalom
My big Saddlebred X mare, Patti, was bred to RA Hot Every Night (homozygous Black & Pinto SB stallion), and I wanted a homozygous tobiano filly, didn't care if she was black or not. Well, Patti the Sneak, did the very best Maiden Mare fake out I've ever had. She showed absolutely NO signs of anything, was due but .....coulda been another day or 2, so I wasn't real concerned. I was still checking every 2 hrs or so just in case, didn't have my cameras and monitors yet. So, checked at 8:30 p.m., nothing. Braided pink ribbon in her mane and tail as a reminder, just because..couldn't hurt, might help. Went back out at 10 p.m. and .......nothing.......but......not quite right, ya know? Stall messy but no baby? I turned to go and heard, "Hrm, ahem, hrm" from Lucky, my 30 year old gelding's stall. I looked and there stands Lucky, with his legs crossed, and ..a black and white foal trying to nurse! WHAT? I have no idea how it got from Patti's stall to Lucky's, one of the great mysteries. It was storming, of course, and I was wrestling the foal back to Patti, when the lights went out. Oh, peachy! The foal was HUGE and had already bonded with Lucky, who was not in the least interested but a very kind old gent, and I was having quite the wrestling match to get that baby out of one stall and across the aisle and back to Patti. She was maiden, so not real sure she should be concerned, so being the pragmatic girl I so love decided not to be concerned. Baby was not nearly so pragmatic about being taken from Lucky.
Anyhow, when the lights went out, the baby threw itself down on the floor, kind of a foalie tantrum, and I took advantage of the situation to hold it down and put my hands all over it and give it the first lesson in submission to a human and teaching it to trust that I wouldn't hurt it. So......I thought, "Well, let's check by feel if it's a girl or boy, shouldn't be hard, should be pretty obvious right?". I groped that foal from sternum to anus several times and I cannot tell you how I missed his boy parts every single time. After groping that poor little guy til I'm sure he thought I was a pervert, I said, "Skippppeeeee it's a filly!". Got her back in the stall with her mother and came inside to announce to the world that we had a darling little black and white and I suspected, homozygous for her spots filly. I shouted it from every internet rooftop I could find, I was sooooo thrilled. My husband, of course, was off at work for the momentous occasion and missed the whole thing.
Next morning he comes in and says, "Well, you got black and you got spots but ...congrats on a beautiful little colt.". I told him he was crazy, that I had checked that filly every way but loose and it was most assuredly not a colt. So......we went out and he showed me.........PARTS......HOW did I miss that? Or THEM? I still haven't forgiven that sneaky mare!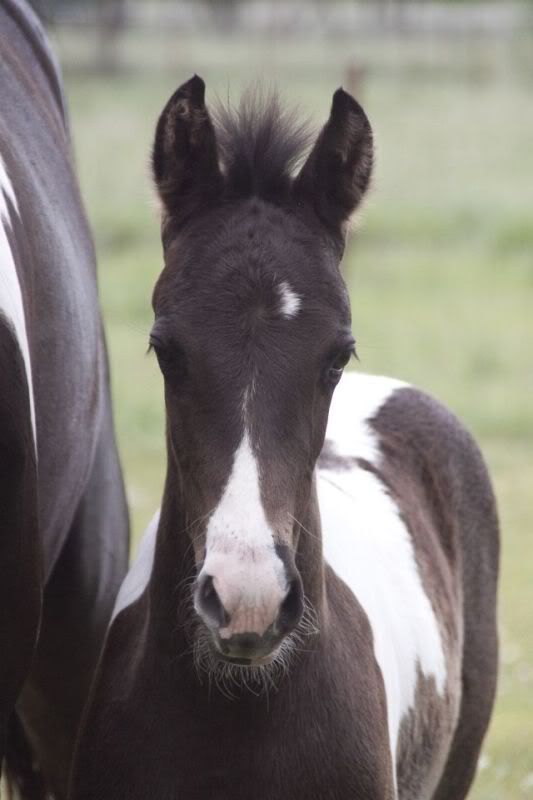 PERFECT little Mini Me and it had to be a colt...I named him Hillbilly Harley and he was absolutely delightful. His new owner adores him and would buy another if I'd breed one.
---
Great stories!

Left-over umbilical bits... Newie... It could be a little confusing, either way, in all the excitement, yes?
Posted via Mobile Device
9 pages and no photos!?!

Subbing!!! XD
---
Horseriding- The art of keeping a horse between you and the ground.