2009 foals- how r they doin?
---
let's see How is your 09 foal(s) doing. Did u breed momma again for an '10 baby? Pics would be nice! And any info about your babies!
Here is Mya Moonshine Knight. AQHA Buckskin filly. She was born March 18, 2009 and was stuck and should not have been born alive. She was stuck for over an hour. The vet and my husband pulled her out with chains and she was breathing! This picture was taken before she got her winter woolies. She is sassy and loves to be loved on. She is good for vet, farrier, and she is halter broke and leads well. We haven't had a bath yet or attempted to get in a trailer. She works well with clicker training and easily hits a target. Mare is doing well, but will not be bred again. One foal is enough for me.
---
Last edited by Abbygirl; 01-10-2010 at

09:17 PM

.
Mya is gorgeous!! I am so glad she and her momma were safe!!
---
There is something about riding down the street on a prancing horse that makes you feel like something, even when you ain't a thing. ~ Will Rogers
Oooooh what a cutie!
No babies here.. well not foal babies. I have an '09 goat baby though
. Lol.
Two Weeks:
Three Months;
Four Months:
Five Months;
7-8 Months;
Almost 10 months;
He just turned 10 months today. I'll get a picture of him so You can see the drastic change in just one month.
He he. I love goats! The barn I board at has a goat, Billy. He thinks he is a horse. He has his own foal sized halter and one time we had a saddle on him!
Started
Join Date: Aug 2009
Location: In the barn whenever possible.
Posts: 1,910
• Horses:
2
Here is Lyric. She's a AQHA quarter horse filly. I will be sending the papers off next week. Hoping she will be named Zan Parrs Gold Dust. She was born April 25.
I am told her mother was bred back to the same sire for a 2010 foal. I am in the process of trying to buy her mother. Here is a picture of her mother. Sorry I don't have any good photos of her mother.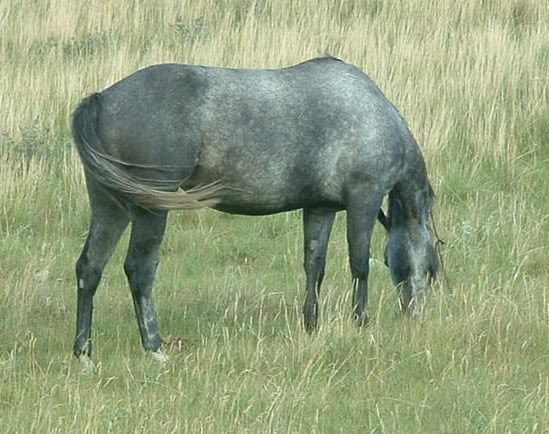 ---
"Riding a horse is not a gentle hobby, to be picked up and laid down like a game of solitaire. It is a grand passion. It seizes a person whole and, once it has done so, he will have to accept that his life will be radically changed." -Ralph Waldo Emerson
Aww love the goatie :) (can't see the other pics, most are blocked at work :( )

I have two '09 foals. Shakespeare was born in April, a silver black appy mini colt. He's going through a bratty stage, rearing and biting when being led, BAD BABY! LOL He's learning that's not acceptable though :) He's ready for a new home, soon as we find the right buyer for him :)

Pebbles was born late August, she's a chestnut mini filly. I'm in no rush to wean her, her and momma are doing well, and while she is for sale, I have no problems with keeping this outstanding filly! :) So for now she's still with momma (and half brother Shakespeare).

I can't access pics at work, so will try to remember to post some later. I need to take new ones though! But they're little fuzzy yaks right now haha!

Their dams are not re-bred, but I do have 3 other mares in foal for this spring. Two are in foal the the sire of Pebbles and Shakespeare.
Thanks guys on the goat comments! He's really drastically change in less then a month. Hebis so wonderful I love him with all my heart.

CheyAut, I hope you get a chance to see the other pictures!(:
I started a thread like this but since it seemed to have died, I will contribute to this one.
This is Rafe. He was born July 16th of '09. His momma is a Belgian and daddy was a QH. We rescued Momma back in about May, I think. He is doing really well; leads, ties, picks up feet, and will stand for just about anything (haven't tried a bath yet though). When I measured him the middle of December, he was 13.2hh tall, at 5 months. I think he is gonna be a big boy.
Here he is the day he was born.
And the day after.
And here are the most recent pix. Those are both full size horse halters he is wearing. And just for referance, I am 5'5" tall.
---
Always remember that feeling of looking at a big, open country over the ears of a good horse, seeing a new trail unwind ahead of you, and that ever-spectacular view from the top of the ridge!!! Follow my training blog:
http://robertsontraining.blogspot.com/
Started
Join Date: Jan 2009
Location: USDF Region 1, USEA Area 2, USEF Zone 3 - Maryland
Posts: 1,903
• Horses:
3
My Oldenburg filly by Coromino was born May 2, 2009. She's doing great - hanging out, being a baby. She's good for the vet, she stands very well and is fine for blankets. She hasn't been on the trailer since she was 3 months old, but she loaded fine then. We're working on clippers and so far so good :) Last time I measured her was about a 2 months ago and she was 13.3hh.
This year she'll be hitting some Future Event Horse shows and going to local shows with a 2 and under Confirmation class. And possibly a USDF breed show :)
Here she is at 5 days:
3175_84876851020_660536020_2243698_1259494_n.jpg
Here she is at 3 months at her GOV Inspection where she was awarded Premium:
Horses 9.2009 069.jpg
This is one of the most recent pics I have of her, she's 7 months here:
Horses 12.10.09 058.jpg
I'm 5'9" and she's taller than me now... they grow up so fast.
---
-Melanie
Mom to 3 bays: Beau, Daisy & Cavalina