AI or Natural Breeding?
---
I Am Looking to Breed my AHS Registerd Arabian Mare;

Leatova (Normativ x Dorigen)

[Her Sire is a European Champion Stallion]

I Am Hoping to Breed with a Warmblood or Holisteiner, or Something along that lines, to Produce a Competion Foal. Mainly for Showjumping / Eventing.

So, We are Wondering is It Best to Use Artificial Insemination, or Natural Breeding?

And What are the Prices for Both?

I've also heard about Regumate, What Exactly is it?

Thanks, any Help would be lovely.

NBH x
---
Last edited by NeedsBreedingHelp; 05-24-2011 at

03:13 PM

. Reason: Forgot to add soomething.
Personally in this day and age, if they offer AI, I would do AI. You can generally still send the mare to the farm, and they will have their vet handle and breed your mare, confirm that the mare is pregnant, and will have mare care for your mare for a specified amount of time. To me, AI is less "hazardous" for lack of better word. No chance of the mare getting hurt by the stallion, or the stallion being hurt by the mare. It can be a little more work, if you are having your vet do the insemination, you have to figure out how you are going to get the semen, how it is going to be stored if you get frozen, and you have to monitor the mare closely do ultra sounds, and find the optimal time to breed and contact the farm so they can send you semen, generally from what I've heard, you or the vet have to go to the airport to pick up the straw(s). If you have a smaller mare, and you want to breed to a bigger stallion, sometimes stallion owners will not let the smaller mare be covered live if the stallion is significantly bigger, so in that case, AI is the only way you'd be able to breed. The prices all vary based on what stallion you are breeding to, whether or not you send the mare to the farm, how much the stud fees and booking fees are for the stallion you pick. From what I've seen for a good stallion, stud fees can range anywhere from about $600-$2000, and then you have all the vet fees, and the shipping fees for AI on top of that.
Having recently read of a case of a mare dying due to a rectal tear that happened during an ultrasound associated with her AI, I would hesitate to go that route.

In fact I'm now hesitating to go any route for breeding, even though I have mares and a stallion. I honestly did not know that something as simple as a rectal examination was so dangerous, I've always taken it for granted.

Breeding is such a risky business, both in terms of the possibilities of losing a mare or foal or both, and in terms of the fact that you just can't guarantee what sort of foal you are going to get out of it, that I honestly wouldn't bother.

I have been lucky so far, but I know that I'm not strong enough emotionally to cope with losing a mare, so I'm getting out of breeding.
Ah, if you do natural does the mare need vac's before breeding?
She Has Actually had 3 Foals and is a Very good mother, She's only 12 so she's fine to breed i think?
Just got done breeding 2 of my mares today. Out side stallions or on site all I do is AI. The risk is so much less with AI over live cover is so many ways. Also with AI you handle the stallion less so you take that risk out of the equation. Even when I have mares come in to be bred to my stallion they are bred AI and normally I only collect him one time and can breed several mares over several days.

In the end AI is safer cleaner and just all around better on all involved.
---
-I'm so busy... I don't know if I found a rope or lost my horse.
-An Armed Man is a Citizen an unarmed man is a subject.
-Where ever free speech is stifled Tyranny will reign.
AI, in my opinion. Less risk involved and less stress overall for everyone.
---
"Always be yourself. Unless you can be a unicorn. Then, always be a unicorn."

I just want to say, my dream horse is an arabian/warmblood cross (Hanoverian would be amazing but there are many warmbloods I particularly like) and I would LOVE to see pictures of your mare, and the stallions you're considering :)
Posted via Mobile Device
Here she is Anyways..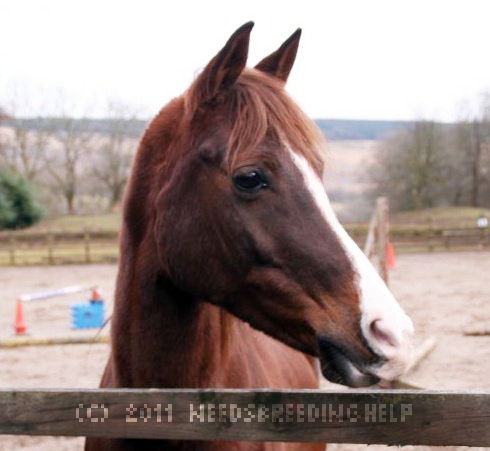 Her Last Winter, with her Fluffy Coat! C: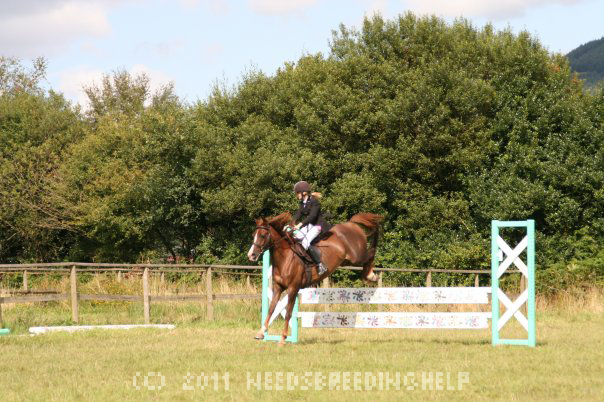 Me Jumping Her at a Show last Spring.
[Both Images (c) 2011 NeedsBreedingHelp. All Rights Reserved.