Andalusian/Pintabian Yearling Filly:Any ideas on mature height? (PICS)
---
I have an Andalusian/Pintabian cross filly. She will be 16 months on August 14th. Her sire is a 16.1h spanish andalusian (Heroe MAC if your into Andalusians) who tends to throw babies on the BIG side (its not uncommon for him to throw 17h+ foals out of mares under 16h). All of his ancestors are 16h or bigger I believe. The dam was a Paint/Arab cross. She was 14.3h and I don't know anything about her lineage. My filly is ALMOST 15h at the croup and a bit over 14.3h at the wither. Any ideas on what she might mature to? Is it safe to say she'll hit 16h? I've bred foals before, but this will be my first foal to keep and train. I'm super excited! Thanks!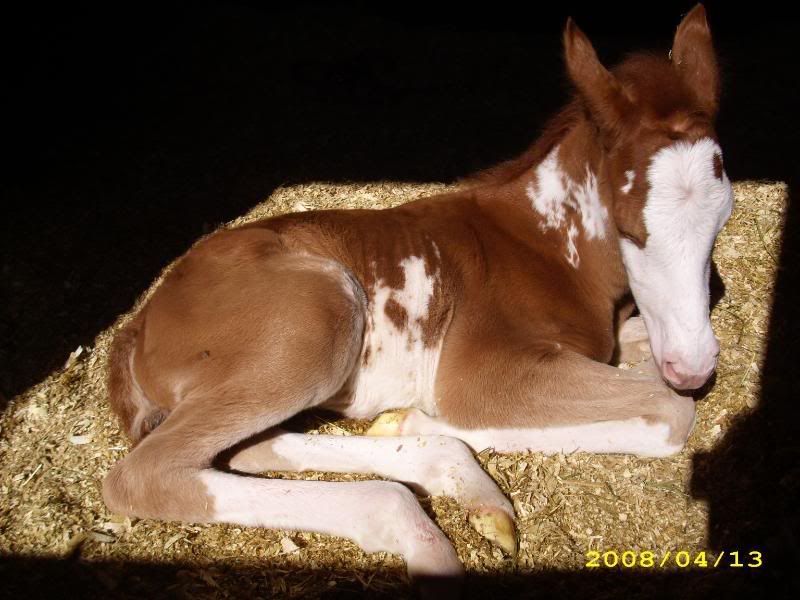 A couple hours old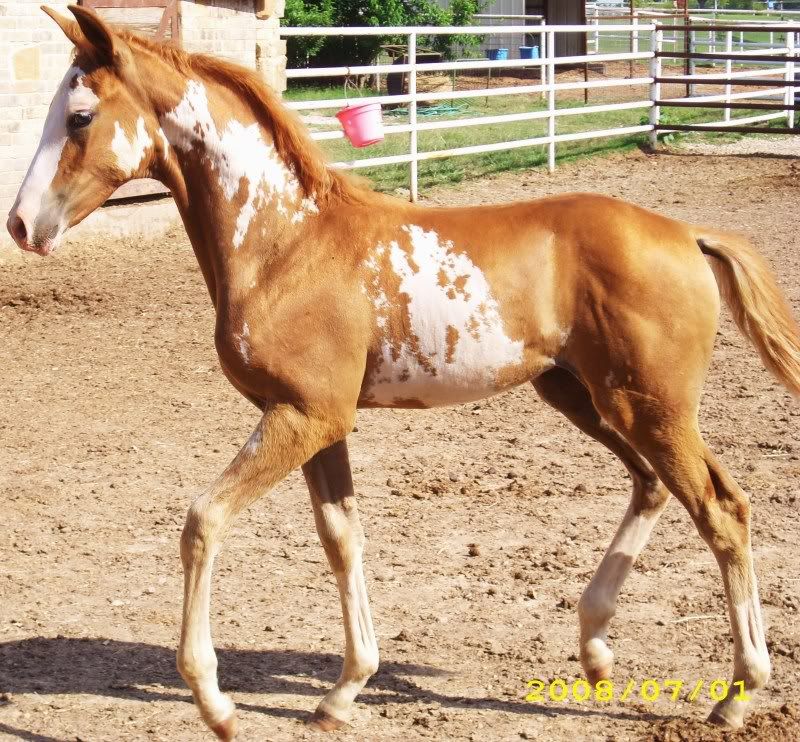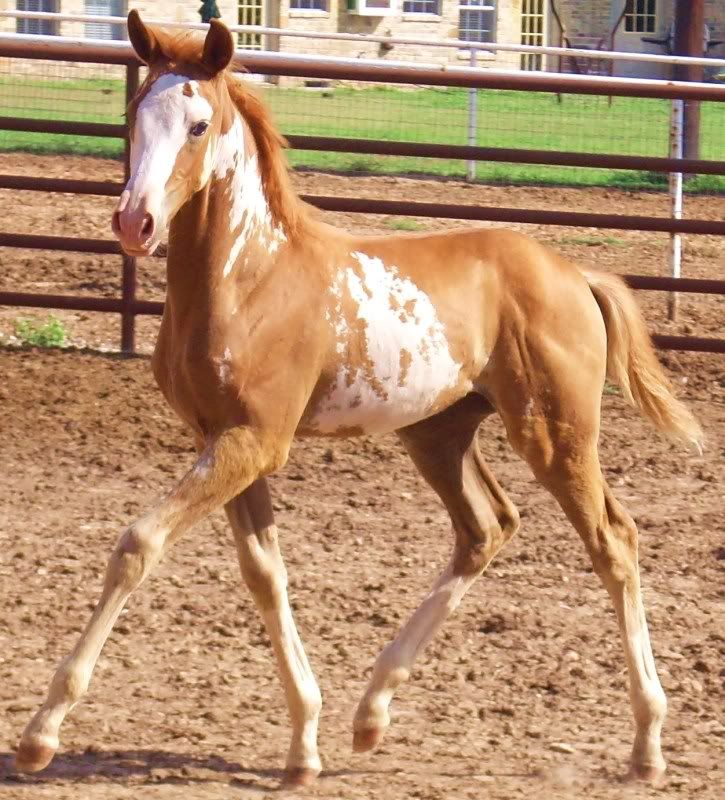 These 2 are of her a couple months old. I don't have any recent pictures
Oh wow. I can't wait to see her all grown up! =]

What a gorgeous horse.
---
Red Money Maker (Red) - 2004 Sorrel QH Gelding
she is breath taking!!!
---
~Erin~
~I'm an angel in Justin boots. I'm a devil in blue jeans. I'm every cowgirls nightmare. I'm every cowboys dream~
I think she will hit 16 hands, if she is already that tall as a yearling. Pretty girl
---
quarter horses.....simply the best
Aww she's very striking with her coloring! She's adorable but she will be beyond gorgeous when she grows up :)
wow, shes just gorgeous!!!
Green Broke
Join Date: May 2009
Location: Winnipeg, Manitoba, Canada
Posts: 4,510
• Horses:
2
Really hard to say. In my opinion, based on typical breeding, I'd say no. However, you said the stud sires big foals, bigger then himself, so it's a possibility.

My 14hh Arab produced a 14.3hh purebred Arab. Never seen the sire, but as a purebred, I doubt he was taller then 15hh (knowing the bloodlines around here). The same mare was bred back to a 17hh Hanoverian, hoping for size. Her filly topped out at 15hh! Very disappointing!

Those smaller mares have a bad habit of sucking the size right out of foals, regardless of the size of the stud. However, I have a Paint filly standing at 14.2hh as a 2 year old, her dam was only 14hh but her sire was 16hh. I'm hoping for a minimum of 15hh.

It's really a toss in the dark, I doubt she'll ever go over 16hh, but should mature out close to that if she's this young still.

And absolutely BREATHTAKING animal BTW.


---
Quote:
I hope God tells her to smash her computer with a sledgehammer.
Oh she is so cute! She's going to be beautiful all grown up.
shes stunning you must be pleased, if shes about 15hh now I think she should hit 16hh easily. My mare has just had a part bred andalusian skewbald colt, she was due to foal in beginning og July but held on until 8th August