Update! Sorry about no pics yesterday.
We removed both splints yesterday and had to put his right side back on. He was still walking on his toe.
Vet came to recheck him today. We removed the splint and both wraps on the backs. He was walking almost normal! He is what is called windswept. All four legs bow slightly to his left side. The vet thinks he might straighten out on his own but the vet won't do anything for about 2 months.
After we took everything off and let Rocco get up, he was full of spit and vinegar. He's hard to keep up with now!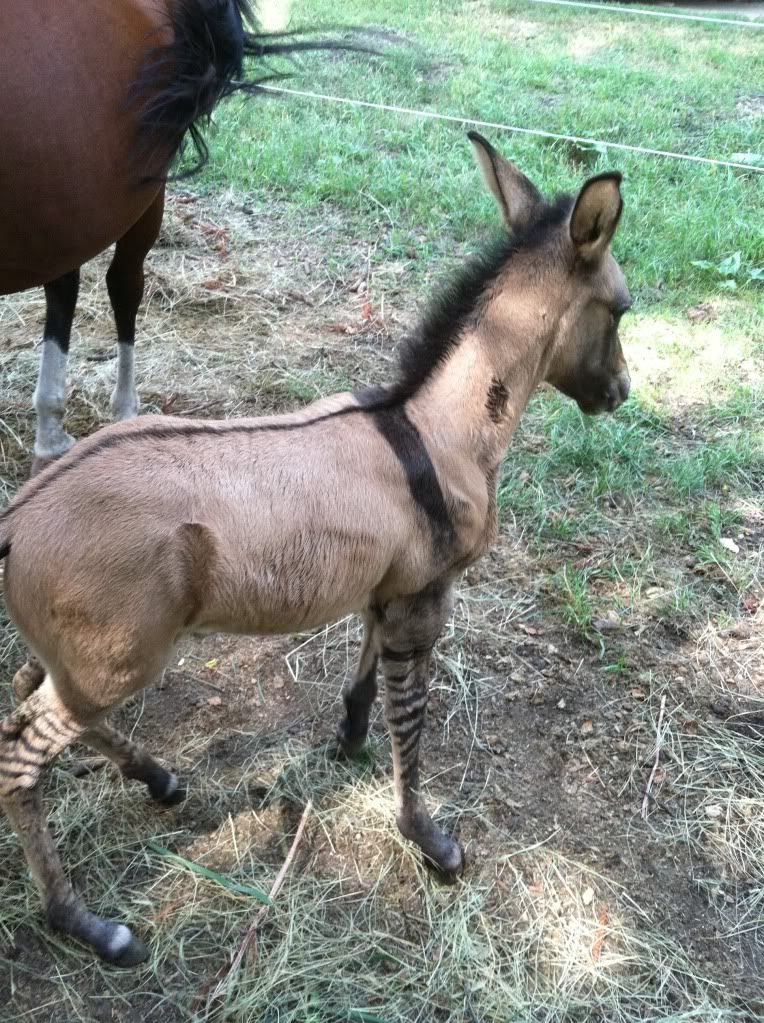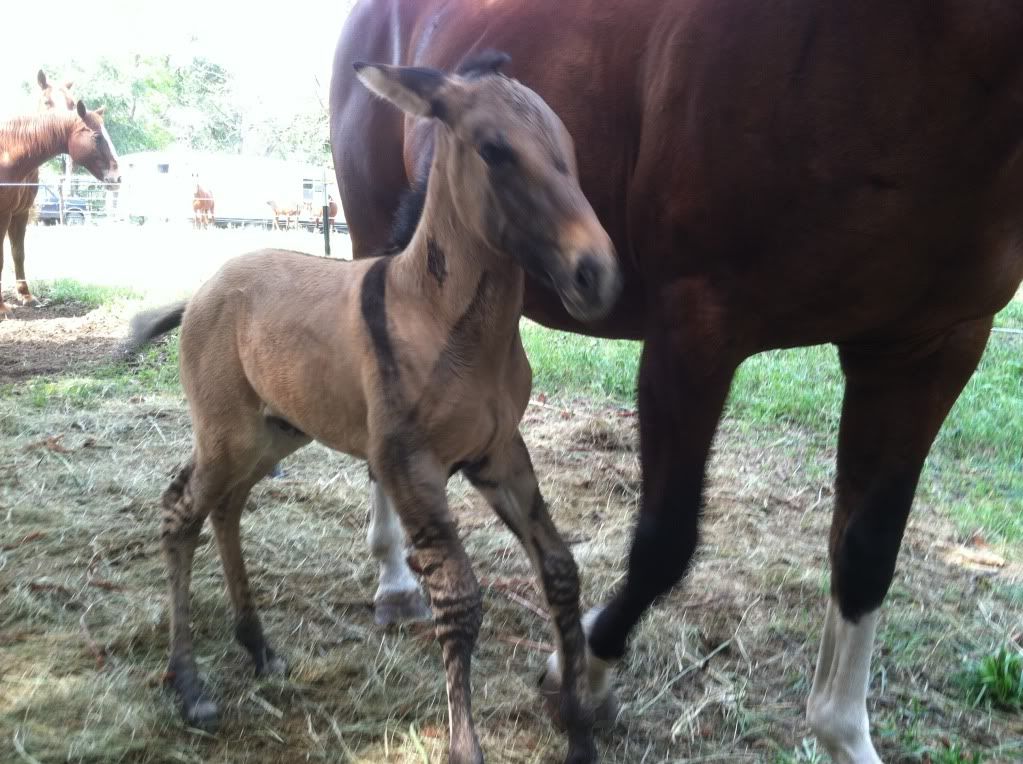 Posted via Mobile Device
He's one lucky little dude! He gets to have these pretty guardian angels watching over him 😉
Posted via Mobile Device
What a little cutie! Love his coloring and markings! His legs definitely look better! Hope they continue to improve :)
What an adorable mule baby! Soooo glad you guys are doing all that is needed to be done to get this guy back on track! He looks like he is doing so much better!!
What???? No updates?? How is our cute little guy?
Posted via Mobile Device
His legs seem to be straightening out some.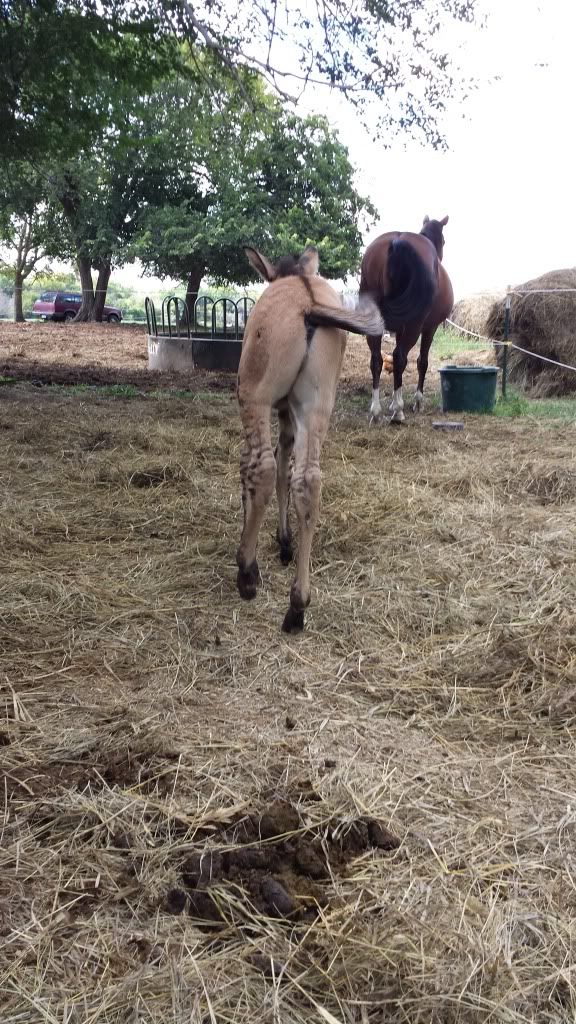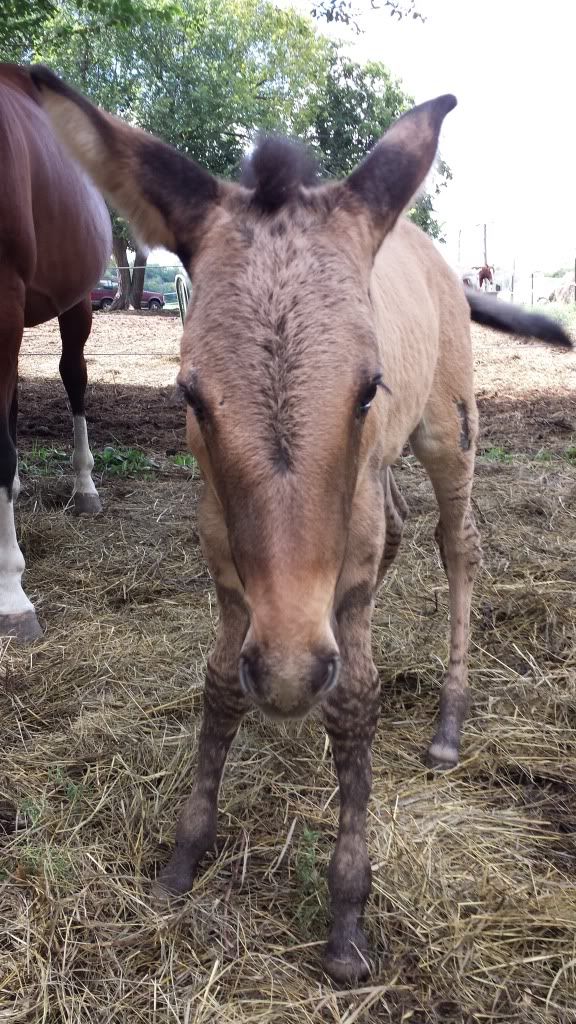 Posted via Mobile Device
Update! We introduced mommy and Rocco to 2 of the mares on Saturday with no issues. Today we introduced them to the rest of the herd:
Posted via Mobile Device
Your mare looks in great shape due to your care, btw. I thought "zorse", too, when I started going through the thread. I've never seen such distinct stripes! My Red Dun QH has stripeys on his forearms, but you can't see them at all in the winter.
Keep that empty pack on him, so he knows early what his job is, ;D
SOO Cute!!!
What a neat colour! I know nothing of mules; is it usual for them to have the striping on the legs as babies? Do they lose that as they get older? He looks so neat and is lucky you have taken such good care of him!