Well, today we worked on our first leading lesson. We had to so we could get momma out to grain her but he wouldn't follow. He was quite stubborn at first and really spunky. By the end, I got him to walk some what nicely down the driveway, with mom too.

Thanks Corporal. We think she looks nice too.
Posted via Mobile Device
---
Everyone should be allowed at least one bad habit, and that's NOT owning a horse!
Mares RULE! Geldings drool!
Well, it's been a couple weeks since the last update.

Rocco went in for surgery to straighten his legs. Both front legs and his right rear were done.

Eva, his mom, was having her teeth floated while there. She had a melt down when they took Rocco away so she got sedated. That was okay since she was already going to have her teeth done.

Both are doing fine but have to stay over night at the vet.
Posted via Mobile Device
I'm glad they're both doing okay and I hope that his legs heal quickly. :)
---
R.I.P Duke <3
No hour of life is wasted that is spent in the saddle.~Winston Churchill

Prayers for a speedy recovery for the little guy!!!
---
"To see the wind's power, the rain's cleansing and the sun's radiant life, one need only to look at the horse."
I'm with Falcor, praying for a speedy recovery! He is such a cute little guy!
Posted via Mobile Device
Thanks. He has to have his bandages on for 10 days and be "stalled" until his legs grow and straighten. We don't have a barn but we built a lean-to last weekend. Then we took two kennel panels to keep them in there like an outdoor stall.

I'll get some more pics tomorrow.
Posted via Mobile Device
I meant to post these yesterday but didn't have enough time before work.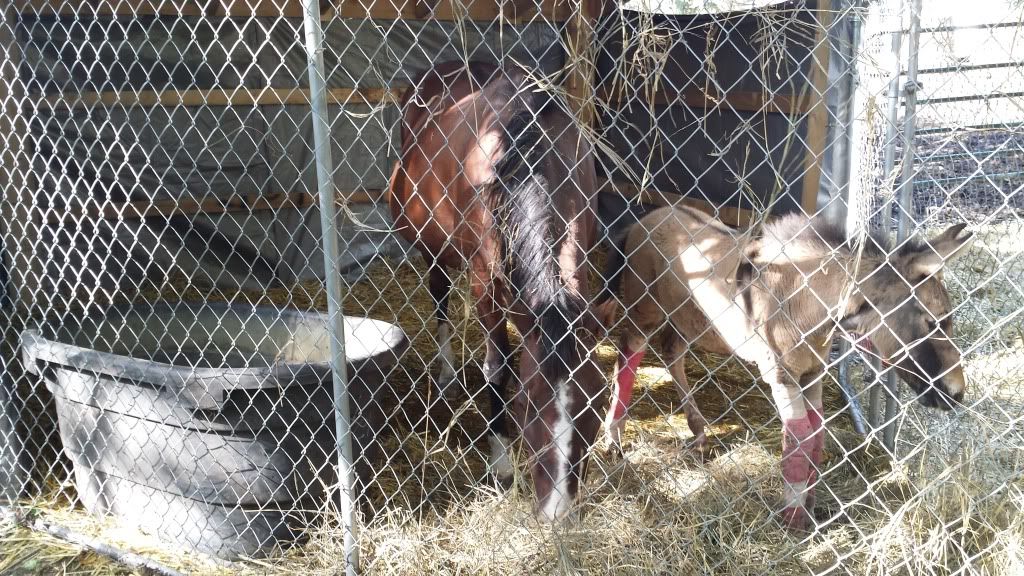 Glad he is home, hope he is doing well.
Posted via Mobile Device