I know of an Arabian/Friesen cross at my stable that inherited the feathering and long mane and tail. Gorgeous boy. However, as others have said, that was the luck of the draw and that particular breeding just happened to produce those traits. I hear what you're saying though, wanting your favorite characteristics all rolled into one. Unfortunately, Mother Nature doesn't see it that way.
I see Arabian crossed with Fresians all the time for sale on craigslist here. They are very pretty but thats all I really know about them, but then again the ones I've seen don't have much feathering...
Quote:
My friend has a 2yo arab/fresian colt. On paper, I was like 0.o? Why? I thought it would be a little funny looking thing.

In reality though, this colt is gorgeous! He's gorgeous! GORGEOUS! He's black, has moderate feathering, lovely mane and tail, well proportioned, a good bit lighter than a full Fresian, and has a lovely head. Shows what I know about breeding, and how right my friend was- I doubt this guy will ever be in want of a home assuming he trains up half as well as he looks.
How could a crossbred Friesian, have moderate feathering, when Arabs have none and Friesians are not considered a true feathered breed?
Lizzie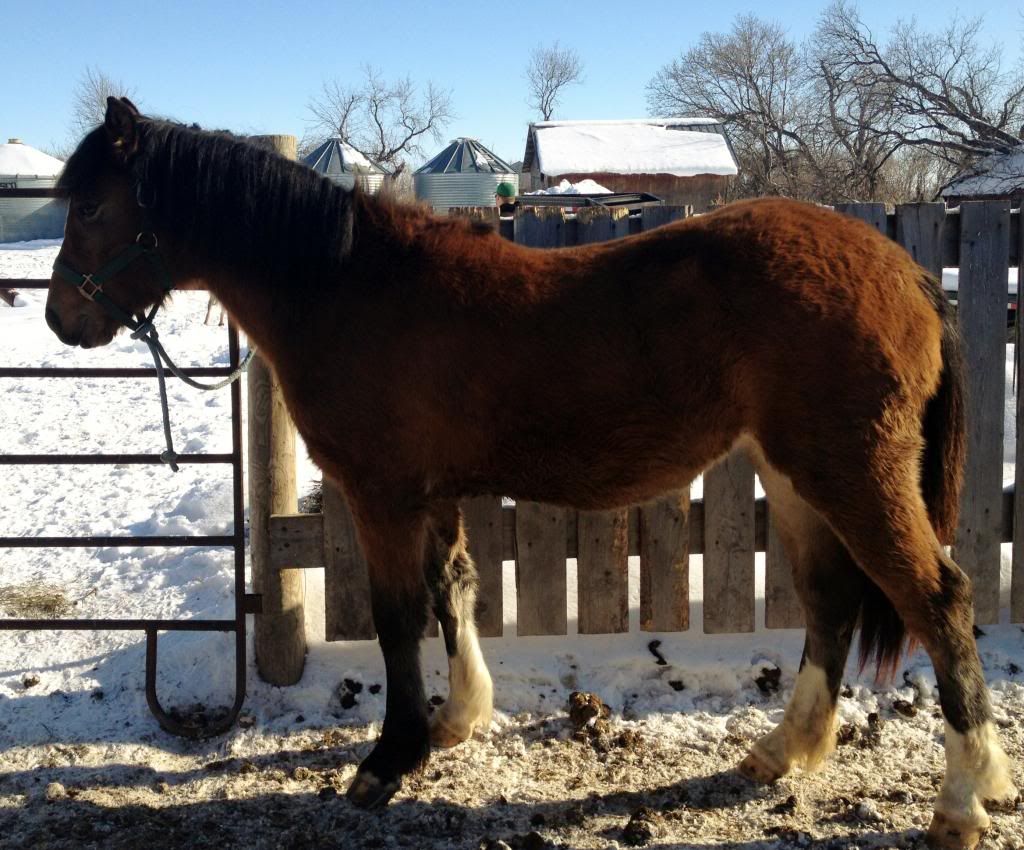 Sorry, but that is not feather. Haffies are also, not a feathered breed.
This is what one likes to see on a 13 month old feathered horse.
Lizzie
I don't understand the definition of 'feathering' you're using. I read the site you linked on the first page (gorgeous pictures!), but still don't get what the difference between 'real' feathers like gypsies and supposedly not 'real' feathers like Freisians, Halfies, etc. When I say it, I mean any horse with lots of long fluffy long hair around their fetlocks, sometimes so much that it's growing and covering everything from the knees and hocks down. When I do a search for feathered breeds of horses, I get Freisians, Shires, Gypsies, Clydes, Halfies and more.
Haffies are not feather? Just fluffy?
---
If you ever find yourself in a fair fight, it's because your tactics suck. ~ Marine 1SGT J. Reifinger
Wait... So the slight 'feathering' (as everyone calls it) on the backs of my Percheron cross's legs is in fact not feathering? I've always been told it's light feathering.

Everything I read about them says they have "little to no feather" or "slight feathering" (as a general Percheron description). So, sure they don't have full feathering, but surely it's some kind of feather? Wikipedia describes feathers as 'longer hair growing on the lower legs and fetlocks of a horse." What my mare's got is definitely substantially longer hair on her lower legs/fetlocks.

(sorry if that comes across as snitty. Genuinely curious!)
OK. There are actual feathered breeds and horses which have little tufts or feather at the fetlock. Does that make sense?

Feather is recessive and we believe, not the same gene which causes heavy manes and tails. Once lost, it takes several generations of breeding heavily feathered to heavily feathered, to get it back and even then, it doesn't always happen.

There are also different types of feather. Silky, woolly and coarse. Silky feather, most treasured by the Gypsies, is delicate and some horses shed it seasonally. Woolly and coarse feather, is most easy to keep, once grown.

Lizzie
Looking at the examples Lizzie posted, would it be safe to assume that "true feathering" starts closer to the knee rather than fetlock? I'll be the first to admit I don't know a darn thing about draft type breeds. I've heard the term "feathering" used to describe anything that is more than the standard tuft you get on light horse breeds and I judt assumed it was correct terminology. If it isn't then then I've just learned something new. What I would be interested to know is if there is a name for the friesan style fetlock hair. ETA: just saw your post Lizzie. Phone is a little slow on the uptake. :)
Posted via Mobile Device