Auction mare picked up today - pregnant?
---
So for those who haven't seen the thread:
http://www.horseforum.com/horse-talk...42/#post725527
Amarea, Tracie (NewbieIndiana) and I went to Shipsy today to look for a new horse for Amarea. We wound up with two.
The second one, Willow, the pony mare, I'm fairly sure is bred. The sellers (we were lucky enough to get to speak to the sellers of both the horses we picked up) said that they had another horse that recently foaled, and that Willow was going through a baby stealing phase. It's not out of the question, my Misty did the same thing when my Freyja gave birth to Fiona. However I've never seen a mare develop this much of a bag, or look this loose in back, without actually being expecting.
While these sellers were nice enough, they were selling quite a few horses at the sale and bought several as well - your typical bring 'em in move 'em out types at the auction - you know, the ones that buy out of a killpen, assess and put a few miles on, and flip the horses and run them back through under saddle. She wouldn't answer the direct question if the mare had been exposed to a stallion, and hedged with saying a recent stablemate had given birth. I honestly, from how she was being handled, doubt they had actually had this mare all that long, although I didn't ask them that question directly. Not sure I would have gotten an honest answer if I had.
We will get a vet out to check out both the girls here shortly, and have Willow palpitated, but I just wanted to get your thoughts.
Note she is VERY fat anyways. Extremely overweight in a very unhealthy sort of way and will be starting a rigorous diet straight off.
Sorry these pictures are bad, I was taking them in near dark. Will try to post better ones in the morning.
Willow
Her udder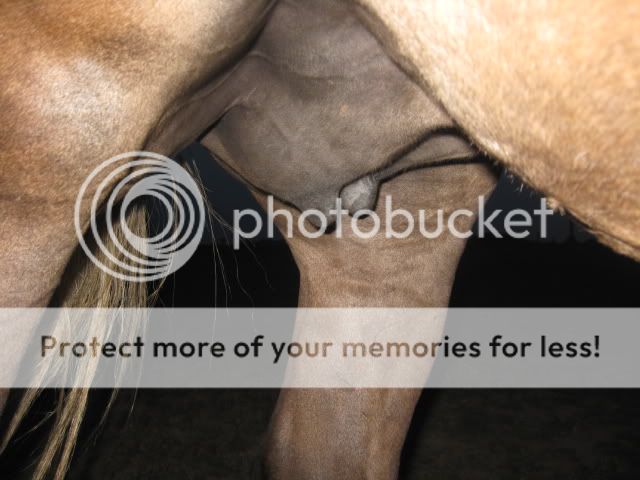 Girly bits
And one of Amy (the other purchase from today) just so she didn't feel left out :)
I'm sorry LOL but the girly bits terminology made me giggle! =)
---
*Dreams are within reach, you just have to go that extra mile to catch them*
I'd put my money on preggers....good thing you know about babies Indy!

She just looks too triangular to NOT be bred. A fat horse is a fat horse...she just doesnt look 'regular' fat. Her bum looks rather squishy...and that udder...yikes!

I just love that appy! Shes too darling for words!
Oh how sweet those faces are! I love willow..erm, she is a pony right? What a big cresty NECK!


Amy looks very gentle and sweet.
Beautiful.
Gidget - haha yeah she's a pony (12 hands) but built heavy, like a haflinger. She just appears to have had a neck transplant from an Angus! She'll be real pretty once she's slimmed down a bit. Though in my experience cresty necks like that are very difficult to get rid of.
heh, ignore the pony question .....embarassing!
haha, angus... =P


She is a cutie! Can you do a neck sweat on her?

How is amy? She is beautiful...find a new name for her?
Amy is LOVELY. She's a great mare, I really like her a lot. Hoping Amarea will let me steal her for lessons lol. I am not sure if Amarea's renamed her yet - I know the name Rain has been offered, not sure if it's decided on though. I know Amarea's daughter renamed the pony Willow. I was VERY glad on that count - the pony was being called Sassy - a name I detest. MY pony was also a Sassy when I got her, looks like a smaller version of Willow, and my son promptly renamed her Misty. My mom's dog is also named Sassy. I'm surrounded by them.
I think a neck sweat on Willow wouldn't do much, or be a temporary fix at best, and since the horses here are primarily pastured it would be even more a pain that daily sweats for little results usually is. That crest is solid, been there a long time. Right now Amy and Willow are separated off from the herd, until we get through QT, so it would be a little easier right now, but I've never had great success with it.
---
Last edited by Indyhorse; 08-21-2010 at

02:35 AM

.
Oh okay. I didn't know how well a neck sweat worked.

Wow,you are surrounded by lots of sassy's! Sassy is a good name for a cat :)
Not horses,nor dogs.

I posted on another post and mentioned freckles as a name.
Yay or nay?


Although willow is a darling thing I think Amy is my favorite :)
I think I am going to go with Rain :) It just seems very suiting for her!

And of course you can use her Indy :)
---
*Dreams are within reach, you just have to go that extra mile to catch them*