Baby On Board - Foal Watch
---
Yesterday I went and picked up a new little girl
Her owners were moving and didn't want to risk hauling her several states away because she is expecting a baby any day now. Actually when I went to pick her up they had told me she was due any time after May 1st...but looking at the papers she is actually due NOW!
Sooo now I'm on baby watch! From the looks of her she doesn't look all that close but from watching how she acts I'm thinking she just might not show too many signs before she has baby. She's been just nibbling at her food and laying down ALOT and kicking and biting at her sides, not in pain but you can tell she is VERY uncomfortable!
Unfortunatly I discovered she has lice in her mane
so trying to get that taken care of before baby makes it's appearance!
So here's the beautiful miss April (haven't decided on her name for sure but that's it for the moment!) She is quite the little doll! Her bright blue eyes don't show up well in pics but she's a real looker!
Will keep everyone posted on baby!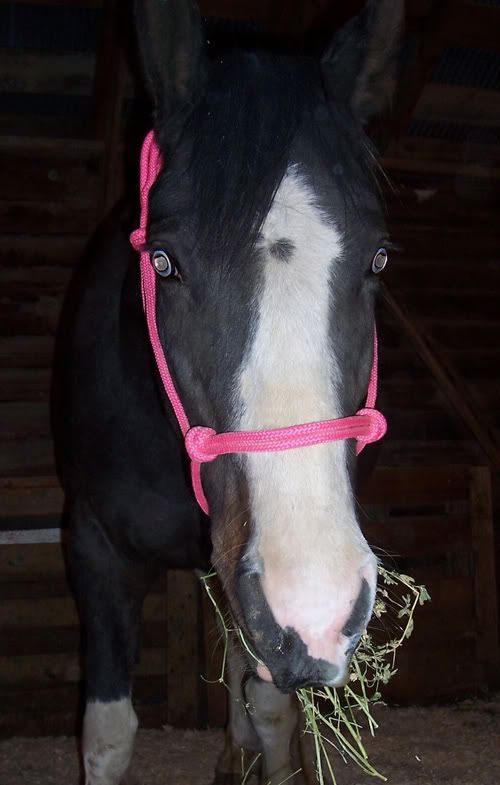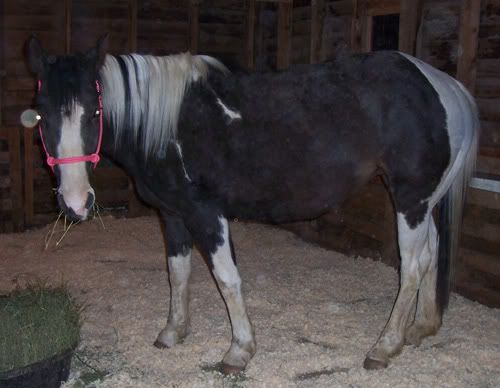 aw! Keep us posted! And good luck! Can't wait to see what color it comes out!
She's gorgeous! Can't wait to see the color in that baby! Do you know what color the stud is?
---
There is something about riding down the street on a prancing horse that makes you feel like something, even when you ain't a thing. ~ Will Rogers
Stud is grey and white with blue eyes. So guessing baby will either be black/white or grey/white? We will see!
Started
Join Date: Jan 2009
Location: USDF Region 1, USEA Area 2, USEF Zone 3 - Maryland
Posts: 1,903
• Horses:
3
She's very pretty :)

From looking at her belly my guess is she's going to hold onto the baby a little longer... but it's kind of hard to tell with the dark background.

Post pictures when the little guy/girl arrives!!
---
-Melanie
Mom to 3 bays: Beau, Daisy & Cavalina
I agree, she doesn't look very big....but I think she was on rationed food and since I don't know what she normally looks like I'm thinking most of that is baby belly.....plus she's a maiden so she's pretty tight. We will see! As uncomfortable as she is I can't imagine her going too long. She has milked up quite a bit more this morning too.
Baby was kicking at me when I brushed mommas belly this morning, lol momma didn't think it was quite as funny as I did!
Will keep you all posted!