Checks we are in the breeding section
Asks OP did you read the warning about posting here
I hope that you have two beautiful and healthy foals to show off pics of very soon, and two healthy mares as well.
I have to ask WHY did you breed your mare? She is a pretty girl, but why breed her, especially ironic when you describe her as a rescue. Yes I get that you will love her forever, she will always have a home etc etc, but what is it that you are looking for in a foal, and what did the farriers stud add to the mix?
I am really concerned about the
Quote:
Miss kitty has had two foals in the passed but lost them both because she had them in the colder months and I didn't have any idea she was pregnant
WHY didn't you know she was pregnant? If it happened twice you must of deliberately bred her, so would of known her dates, I can't believe that you lost two foals.......if you lost one due to being a 'colder month' surely you would of bred later for the second try. I probably am sounding rude, and I don't actually intend to be so, but I do intend to sound very blunt, and very direct.
You appear to have little experience, and a history of unfortunate things happening. I really really hope you have your vet on speed dial. I am feeling especially 'hot button' on this today having just read a story from a fried of mine.....
She was asked at the last minute to look in on a pair of draft mares while their owner was away. These mares were bred by AI, so a lot went into getting them in foal, and the owner chose to be away when they were due, very odd. Anyway one foaled while owner was away, experienced friend was there to help her out, and mum and baby are doing fine.
Second mare foaled under owners care and this is the update today:
Quote:
Went to see the baby goat I'm getting.... and saw the horses. Mama Betty never passed her placenta, and they weren't keeping a good eye on them. Mama had 103 temp, got the vet out. Shes sick and foal foundering, and has NO milk. Baby is VERY thin and starving. Tried to get Wilma to let her nurse, she did fine when I covered her face but baby wouldn't latch on. Looking for some replaced, owners said they cant milk the goat! She fights
Well yes, I am inexperienced when it comes to breeding but I did not intentionally breed Miss Kitty. The first case was quite a few years ago and I was barely a teen and it was a case much like this one. I had a mini colt that I had gelded in the fall. I didn't think he had figured out what to do yet but come next November, on the coldest day so far that year with sub zero temps Miss Kitty gave birth on the cement unbedded part of the barn where the horses walk. She had eaten the placenta when I had discovered her and the foal. Any number of things could have gone wrong but I think being born in sub zero temps was the culprit. She had never been bred before and I didn't notice anything different about the way she acted. I was young and didn't know. My parents are not into horses, my mom is disabled and my dad is a truck driver. So care for my horses is my responsibility and trust me loosing that baby made me sick for days.

Anyway a few years later, my brother (who knows nothing about horses either) brought home a stunted QH colt he got for nothing, wanted me to care for it and train it for his daughter... He was a gangly thing that had been separated from his mother waaaayy too early. I nursed the little guy to health but he was not going to grow up to be any taller than 13 ish hands. Anyway when he got old enough I moved him and my other friesian colt out from my pasture to be safe. I didn't want what happened last time to repeat itself. Well it did... Next February Miss Kitty had a foal out in the snow bank. She had access to the barn so I don't know why she didn't have it out of the elements... Again she had eaten the placenta and she was being a good mother, licking and nuzzling it... My heart shattered all over again. I got my vet out to check her and he said she was healthy. Both foals looked to be full term but I really cant say what went wrong other than unfortunate things happen.

Anyway this time I KNEW that she could be exposed and when she would be due. The story behind this one is, an elderly couple that are really good friends of mine wanted to throw a "pony party" for the kids from our church and they wanted me to bring a few safe horses. I brought Miss Kitty and Maggie (my other mini) and some older riding horses.
They had bought a mare mini and colt (not related) pair. The little guy was very studly and I warned them that their mare may be bred since they were always kept together... Well anyway they gelded their guy on april 26th, the pony party was on may 12th. They fell in love with miss kitty and wanted to keep her for the summer. Well they let them run together, all three of them for the summer, despite my warning, until I bought their TWH later in july and then they returned them both to me.

I have been checking both Miss Kitty and Remie since the first of April (way before they are due) My vet knows that they are due soon and I have her number plugged into my cell in case of emergency. They are kept in my turnout that is fenced with solid gates, has barn access, and fresh water. I give them some grain, and feed them good quality alfalfa grass mix hay. They are treated like queens.

As for Remie's hooves, yes I know she needs a trim, most of my horses are in need of their spring trim, but my farrier was in the hospital recently with heart issues. He has gotten back to trimming but his need-to-be-done-now-client list built up while he was laid off. He was supposed to be out here a couple weeks ago but up here in Wisconsin we had a spring blizzard and he couldn't make it out... so we got pushed back. He says he's going to try and get out to us as soon as possible. Remie has good hard feet and has never gone lame or had any issues with her feet so I'm sure she will be fine until he gets here. If I have to I will find someone else.

As for my reason for breeding her, I guess its what you all would call an ignorant decision. I wanted to see what she would throw since she is such a sweet, smart, and good natured mare and the mare that I had bought bred to the stud turned out to be infertile. So Remie would be the only option to breed other than my Clyde cross though, I'm glad shes not bred cause for a 10 yr old broodie she is turning out to be quite the laid back trail horse that maybe will get my mom and dad back into horses. Anyway I really love this mare even if she has no papers and I just wanted her to have at least one baby. I don't plan on rebreeding her so worry not for I am not going to start flooding the markets with a bunch of grades. And if she has a colt I plan on gelding him and separate him much sooner from my mares (my herd runs together usually). I want to keep the baby, raise it, and train it for a trail horse. As for the sire, goldie has good confirmation, good health, and a sweet disposition from the times that I've met him, to be honest I don't know much about his past other than he has been breeding QH mares for a long long time. I hope both parents pass these traits to the foal. I'm not looking for a super show horse, just healthy good looking trail horse that will have a matching lovable temperament and easy going manner.
I don't think I've ever had a mare eat their placenta? makes if difficult to check that they have passed it all.
Oh and this Stewie the Moose, born outside in February, into temps below 0*F, because momma HATED the barn.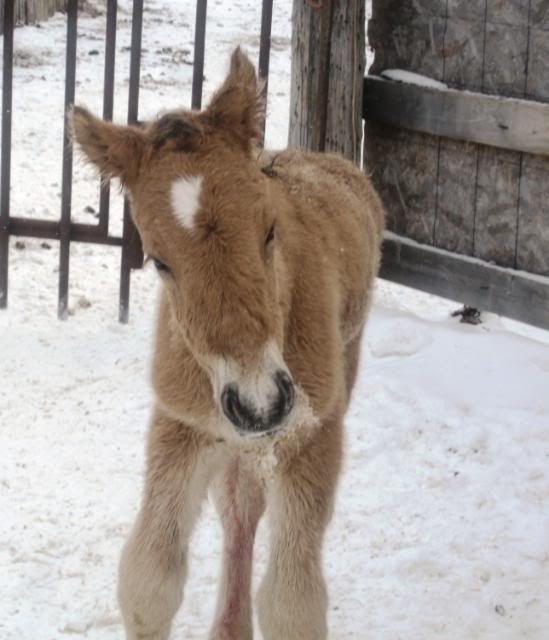 Looked after properly it can be done, maybe not for a mini though, they are far more vunerable in all sorts of ways.
He is adorable. Poor fella to have to be born out in the cold but I'm happy that he is alive and healthy for you :)
I know that mares can have foals in the worst weather and still have them be ok, but unfortunately since they were miss kitty's first foals she maybe didn't have the know how? Or maybe my other horses accidentally hurt it? Maybe they were too early but close enough to look full term? Maybe when turning it broke the ambilcal cord? There are all kinds of what ifs... But right now instead of the past I want to focus on the now, I'm treating Miss Kitty as a maiden since I have no idea what to expect and yet I want to be ready for anything.

With Miss Kitty's bad timing with getting bred for colder months and with this years wacky weather, especially with that blizzard the first week of may... I was a nervous nelly, constantly checking my mares, praying that history would not repeat itself a third time. Now that its warming up I feel a little better but I'm not letting my guard down.

I just checked on both and they seem like they're doing ok. Miss Kitty's "heat" pee ran down to her udder so that was kinda like "omigosh! milk?! wait... *sniffs* nope just pee" lol (it was too dark to see when I checked them so I was feeling by hand, plan on going out again later to put up my 30 yr old pony so I'll bring them into the lightened barn). Nice thing about working on a farm with late hours is that I can be a night owl and keep an eye on my girls later in the night before I go to bed.
Well good luck with your foalings!! sounds like things are way more prepared this time around!! :)
Teen Forum Moderator
Join Date: Dec 2010
Location: South East Texas
Posts: 7,157
• Horses:
2
Being that she is a small miniature and that the past two foals (if I understand correctly) were half full sized horse, its very possible that their shoulders were just too big and that the foal suffered trauma or lack of oxygen before birth. I know that the general consensus is that a goal can not outgrow the uterus, but they CAN be too 'wide' to pass correctly.

Your mare could also be one of the unfortunate few that just does not seem to be capable of carrying a foal to term, and birth live. There are SO many factors that can go wrong with horse pregnancies, and miniatures are worse.

Do you have a foaling kit ready, and a stall to start putting her in how? My mare lives with a small (3) band of broodmares until 3 weeks before her due date (she ended up foaling 3 weeks AFTER her due date ._.) and then I switched her to a small 30 x 30 run with a shed that was bedded deeply with straw. She, ofcourse, chose to foal in the run, not the shed, but it was there for her anyways.

You need to have someone check on her at least once or twice a night somehow, when she's getting really close. That way if it IS a red bag birth, or either of them need help otherwise, you'll be there to help and you can call your vet immediatey too. Make sure you have the vet come check the two of them also, and don't let your mare eat the placent (mine never did that) so he can check and make sure it is whole, and that your mare passed the whole thing. Otherwise she can die.

Is it still cold where you are? If so, when the foal is dry, I would put a small human jacket or dog coat on it to keep it warm, and help your mare dry him or her off if you can.

Don't let either of them in with your other mini mare until the baby is at least a month old, and don't let your other horses around them at all.
---
Everyone in your life is meant to
be in your journey, but not all of
them are meant to stay till the end.
Quote:
Being that she is a small miniature and that the past two foals (if I understand correctly) were half full sized horse

Well the first was by a miniature like herself. The second was by the stunted QH colt.

"Do you have a foaling kit ready, and a stall to start putting her in how?"

Yes I have a foaling kit all ready to go: towels, navel iodine, scissors, pen-paper, plastic bags, rubber gloves, mineral oil enema kit, vet wrap, gentle soap, flashlights, colostrum replacer + bottle, wormer, and two doses of tetanus vaccine in the fridge. Halter n leads are in barn. Vet contact number is in my phone and they know that my mares are due soon. And yes my barn has stalls ready for use for miss kitty and remie.

"You need to have someone check on her at least once or twice a night somehow, when she's getting really close."

When I think she is getting close I will be checking on her pretty consistently, even if I have to nap in another stall. I work late nights and am close to home with a VERY considerate boss... I mean he will probably drop all that he's doing and come help or watch. I have helped birth all kinds of calves on the farm so I know to make sure that once the foal is born to make sure that its head is free of the placenta, clear the nose of anything, and if mother will allow it, while she rests rub the foal to stimulate it and make sure it is breathing normally. (that's what we do for calves and that's what I did with my other 3 foals that I was there for)

"Is it still cold where you are?"

No! lol Thank goodness its not cold anymore, though it seems like it jumped straight from winter to summer. It felt like 90 degrees the other day. But its in the 70s plus during the day and 50s or more at night.

"Don't let either of them in with your other mini mare until the baby is at least a month old, and don't let your other horses around them at all."
I have built a separate turnout for my two mares so that its just the two of them and not the whole herd. They can visit through the gates but they cant do anything more than that. The run is pretty good size... I haven't measured it but there is plenty of space for mommas and babys to move around and play safely. The barn access is 14.5 wide and 16 ft long and its bedded heavily with corn fodder. The access also can be made into a stall, though I also have another smaller stall that I can have ready anytime for Miss Kitty, should the other one be needed by Remie.
I had planned on keeping my babies in the turnout most of the summer so they could grow up and lower their risk of getting hurt by my bigger horses... not that they would hurt the babies on purpose but they might get clumsy and baby might get caught in the way. Just lowering the risks as much as possible.
Do any of you recommend anything else?
And forgive my speaking in a quote... I am still figuring out how to post in the forum lol
---
Last edited by LadyChevalier; 05-17-2013 at

01:06 AM

.
Here is my turnout and more pictures of my girls... Also the pic with miss kitty and the two kids is her from last july... only a month or two along but she looks very pregnant... maybe this can give you guys an idea on how hard it is to tell the difference btw preggo and not.
Wishing you safe foalings. Hope to see pics of nice active foals after they are born.