Breeding: Family Photo's! (Dam, Sire and foal)
---
Hey guys,
I thought this thread would be a bit of fun, the aim is to post a picture of Dam, Progeny and Sire together - or Dam and Sire in same pic (if progeny is not born yet) The foal can be any age :)
Post away
I have one of Zeus and Juno (Dashbardee Jet, Ima Skippin Standout) together as they are pasture bred, my other mares aren't, foal due in May 2012 - all being well. As Juno is a dunalino it should be interesting colourwise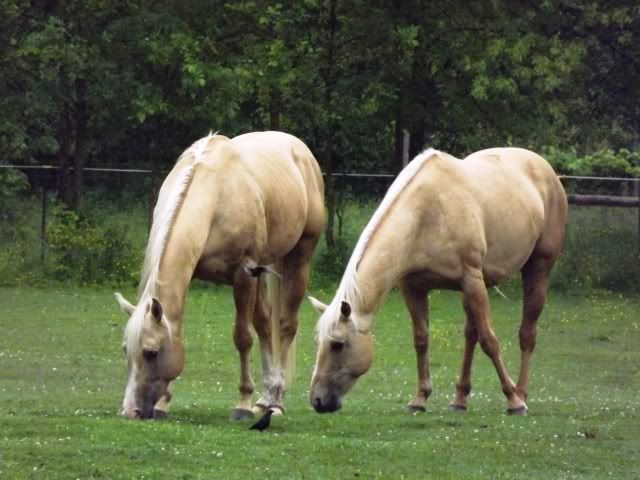 This one shows the true difference in their colouring:
2011 colt by the same stallion out of the APHA mare Outlaws Robin Gold: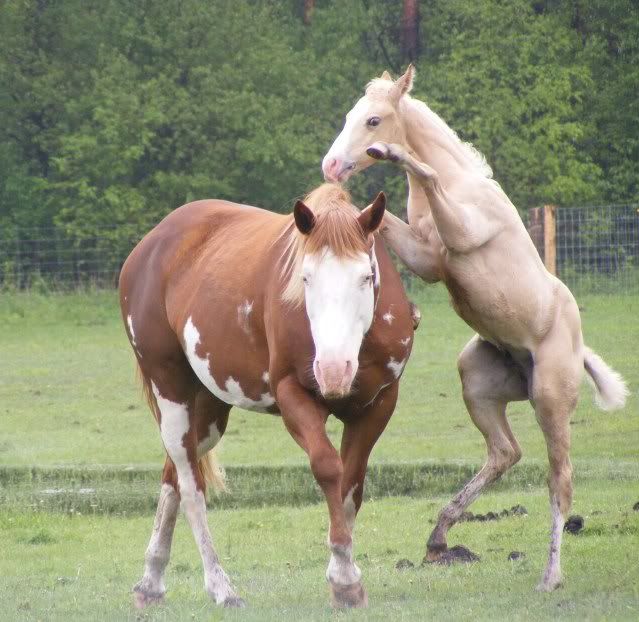 ---
Last edited by Lolamae; 10-28-2011 at

12:11 AM

.
Apollo. 2010 full brother to Thor the 2011 colt:
I love how the 2 brothers have the exact same pose in each pic! You have some gorgeous horses there!
---
Treasure Valley Gypsy watching over her kid brother CR Sizzlin' Jet Chex
Well there is prince ma princey bub (my little baby love him to bits)
Princes dad don't know his names but he is a fell
Princes mum Molly (this was taken the day before heh was born
Molly's half sister and her foal in by the same stallion prince is by.
Oh WOW Mollies Sister is Stunning!!!
---
The Truth Harsher Than One Would Think
Black one if Mara as a foal and I think that is her half brother the skewbald
Her mum
Her half sister out of the same mare
These are all by maras dad
hildafoals
Mara's dad
The Mom, "Rose" Reg. TWH:
DSCN2259.JPG
That Dad, "Poco" my Reg. APHA stallion:
Their filly, Secret (this was a baby pic):
---
Challenge me, Dare me, or even defy me. But do NOT underestimate me...
For on the back of my horse nothing is impossible!
Yearling
Join Date: Jun 2010
Location: On my horse's back! Obviously!
Posts: 925
• Horses:
2
The Dad, Rashid Van Ryad:
The Mom, KAF Serendipity:
I can't find ANY pictures of her :( but she is a chestnut mare!
If anybody can find any pictures of her you would be amazing :)
The Baby, Shariid (barn name: Echo):
(not the most flattering photo, and it was from about 3 months ago)