Here is Rodeo's sire Timeraker, registered TB
Here is Rodeo's dam High Caliber Fancy, registered APHA
Here's Rodeo, APHA registered
And here is Rodeo's full brother APHA registered, Higher Time
Higher Time was foaled in 2009, and Rodeo was foaled 2010
Okay, how fun!

First photo
Sire: "Peppy" QH (registered name unknown)

Second photo
Dam: Sundust's Suzanna J. (registered Missouri Fox Trotter)

Third photo
Foal: Zane (shown at 13 months of age)
Unfortunatly, I have no picture of the sire. Though I will get after that. Might find it on google, or somewhere.

Here is a picture of my mare, Ladybug. Her foal is pictured beside her. They both look exactly alike except for the difference in socks. Jasper is I like about 6 months in the picture.
Crimson (left) the sire and Sonic (right) his son. I don't have a picture of his mom but she was a flea bitten grey mare.
---
KEEP HORSES IN THE STABLE & OFF THE TABLE !!!!! ♥♥♥
Thes are awesome - keep them comming


Next challenege (if you want to) Is to get them all in the same picsture :)
I'll play
We've got a whole family here.
Sire - bay sabino Thoroughbred, Puchilingui (Pictured in his early twenties)
Dam - palomino Quarter Horse, "Molly" (Pictured at 22 years old)
(
Molly's sire
, Palomino Quarter Horse, Calvin Sackett pictured at 30 years old)
Puchilingui & Molly's appendix QH colt, Native Image
Image is six years old now so it is time for a new baby in the family. Image's half sisters (Also Puchilingui daughters) are in foal to my palomino Thoroughbred stallion for April and May of 2012.
Momma-to-be #1 - Jinx
Momma-to-be #2 - Zavrina (& 5 month 'baby belly')
Sire - palomino Thoroughbred stallion, Beyond Blonde
Here is one of the last three together this summer.
Sunny's dam, Indy Lady, reg. TB (Foal shown is not Sunny):
Her sire, Mountain Legionair, reg TB:
And then of course My Lady Livermore(Sunny), reg TB filly, 3 years old in picture: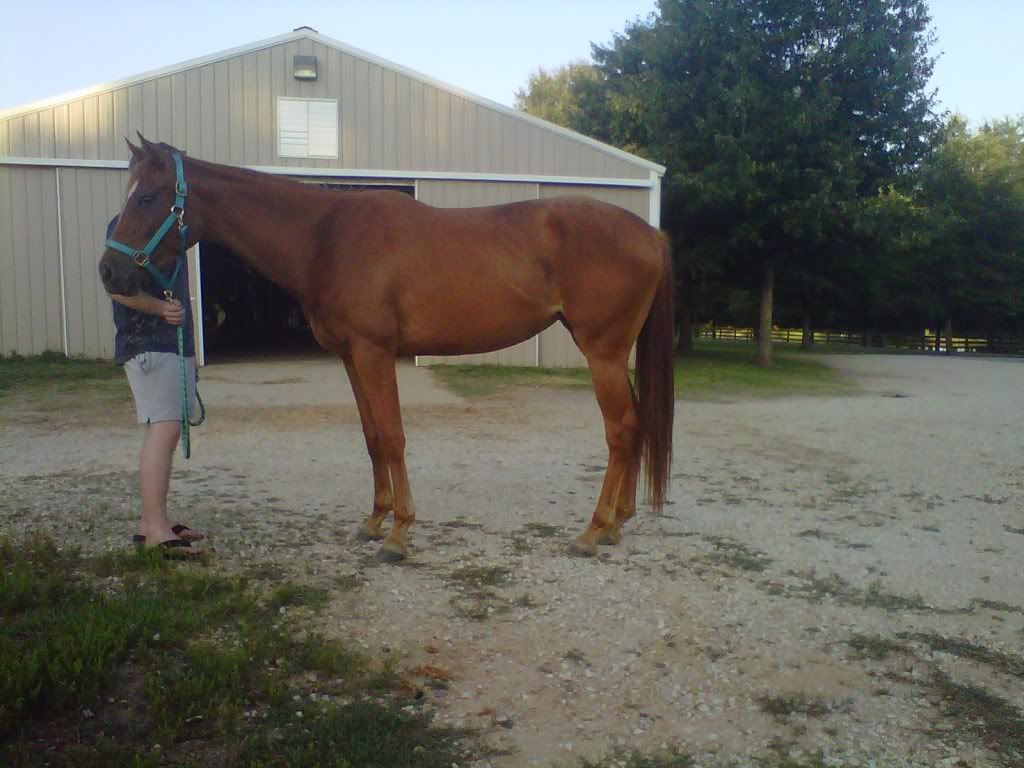 She may not be a foal anymore, but she's not a mare for another 5 months!
Posted via Mobile Device
Oooooh! QH stallion Calvin Sackett is hubba hubba! Funny how so many QH are too extreme for my taste, but this guy floats my boat even at age 30.
I like that he has bone substance and feet to hold his body mass. That is really lacking in some QH's these days. The only thing I would change is I would like a little more slope to the pasterns.
But anyway, I just had to comment because he really caught my eye. Hubba hubba!
I don't have a picture of her sire and I can't track down much information on him because whoever owns him doesn't have him in their name with the AQHA. But Abby looks just like her dam. I used to have a picture of them standing in almost the same position with similar expressions, but this is the best I can find of her dam.
The one on the left is her dam:
Abby
Nice posts
I love how rodeos brother is the exact oppisite.. solid colouring and QH build lol