Will you post a picture of the mare in question, OP?
If the horse is breeding quality in terms of conformation, temperament, and ability, I don't see an issue with it. While the dam may not be registered, there are several registries out there that will allow half-breeds to be registered so it doesn't necessarily mean the resulting foal won't be registerable. There are also color registries if the foal ends up being pinto, palomino, etc. It just means you have another aspect to consider when selecting the stud.
The first rule of breeding is you should never breed unless you have a reasonable expectation of the results.

If your mare has an unknown ancestry then it would not be prudent - or smart - to breed her. If she is "grade" in circumstances only and you know her ancestry, that is a different matter.

Always remember that a horse that is not true to its breeding cannot be reasonably expected to breed true itself. Even a registered horse with the best of lines, if it is anomalous and not true to its breeding, should not be bred.

So the question is NOT whether a horse is registered, but rather if it is true to its breeding. If you know the ancestry and can determine that she is true to her breeding, then there is no reason not to breed her, assuming she and her line have qualities worth breeding for. If you don't know her ancestry, then it is nothing more than a crapshoot...you could end up with something entirely different than what you expect...
It is all personal preference and no one can say that it is right or wrong but I don't deal with anything that isn't registered.
Here's a picture. It's not the best pic in the world, as she is actually very stunning in person. And yes, I know she is way over weight. Working on that.
I do know a little bit about her bloodlines/background. She was actually bred for/born on the place but that was before I moved in with my grandparents. I know very little about her dam except that she was a beautiful stout mare that had been rescued from an abusive home. She was supposed to be full blood and registered except the papers had been "lost" and they couldnt tell us what the mares lines were. i know her daddy in person. He is full blood registered appendix quarter horse with skipper w lines, but again the person we got him from had lost the papers in a fire or something like that. He is an amazing horse ( gelded now). My grandpa actually got a couple foals out of him. All of them are level headed and easy going. I think that these breeding a were accidental, but I ain't gonna swear nothing my papa is an old cowboy and doesn't think twice about breeding unregistered horses, even though he used to raise running quarter horses
---
There is no sport like barrel racing. It requires more speed than a sprinter, more balance than a gymnast, more grace than a dancer, and a stronger team than football.
This is not a confo pic, just a pretty pic.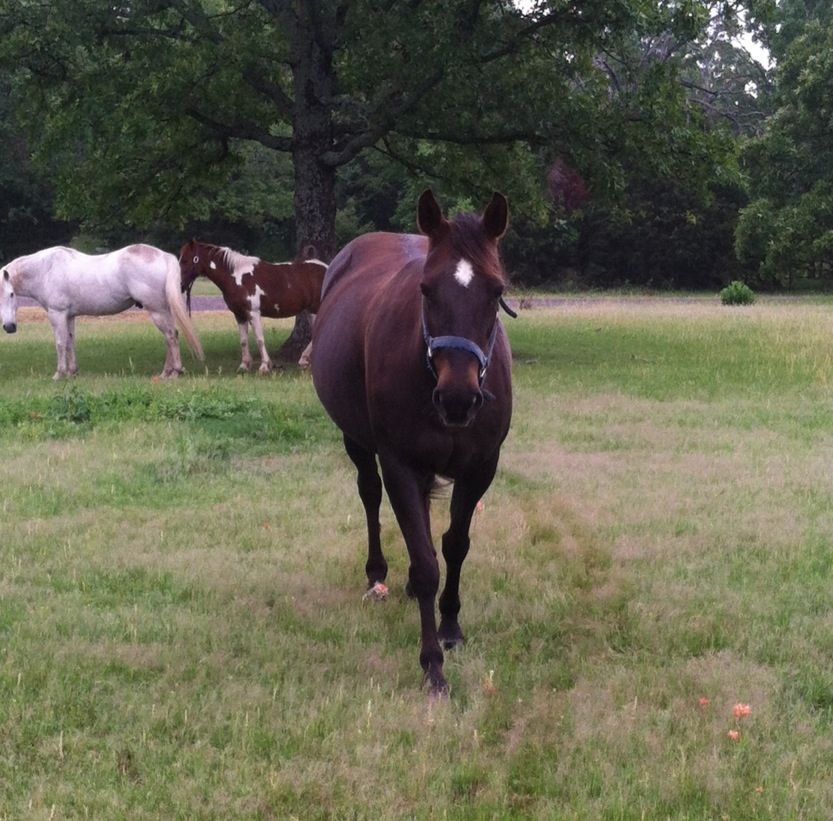 ---
There is no sport like barrel racing. It requires more speed than a sprinter, more balance than a gymnast, more grace than a dancer, and a stronger team than football.
Although my mare is registered through a half registry I still consider her to be grade. Because I knew the QH side, she is built beautifully, has an exceptional temperment and can really haul a$$ I decided to breed her to a registerd QH. If nothing else at least I get another half registered horse. I'd say go for it. If you've got the money, desire and need for a prospect and don't want to purchase one...why not. (Yes...ppl can come up with all kinds of why-nots...but it's your horse and i'll be ****ed straight to you know where if someone tries to tell me what to do with my horse lol.) Use your jugement. The horse I decided to breed I've owned for 10 years. Many of her siblings are 1D horses or very sucessful roping horses.
---
Hakuna Matata!
Thanks roanypony! I'm going to give her a couple years and really see if she is going to be worth it. I might raise a mule out of her to kinda get an idea of what she throws and ill then have an extremely stout pack mule for my next hunting trip, lol. Mules are worth so much more around here right now and I don't think you can register a mule anyway and it would be a good way to kinda get an idea about what she throws. I know that the jack ass side will throw some funny quirks, but it'll give me a bit of an idea. I think I'll wait at least 2-3 years before I breed for a barrel prospect if I decide to try for it. That will give me a chance to really see how good a barrel horse she in herself could be. If she makes a good one, and I think she'll throw good ones, if I haven't found a good prospect or registered proven broodmare by then, I may breed her, if not, I won't. I really don't like to just breed grade horses, but this mare is so exceptionally gentle natured and well built and fast that it's been really tempting. But I think I'm going to wait and see.
---
There is no sport like barrel racing. It requires more speed than a sprinter, more balance than a gymnast, more grace than a dancer, and a stronger team than football.
I do have and know people that own some of her siblings (some from momma, some from daddy) and every one of them are really rather amazing. She has a half brother from dams side (father was a registered quarter horse, my current barrel horse is a registered gelding from this sire) that has potential to make a crazy good cutting horse. He's done cutting in the past and did really well with it but he's my papas horse and he's getting a little old to ride cutting horses. He is about 2 years older than this mare. Her brother on her daddy's side (he's a son of the poa mix mare mentioned above. Accidental breeding I know, the others I'm not sure about) is a really nice horse. He actually beat a professionally trained registered aqha barrel horse in the last play day I saw him in, ridden by a 16 yo girl. He is level headed and has a very willing to please attitude.
Her sister I her dams side is just now being broke in, she's only a 5 yo. She is level headed and is breaking in really easily. Her father is the poa mix now gelding mentioned right above. Another accidental breeding.

Now before you go bashing me for bad management and breeding habits, keep in mind that I wasn't any part of it. This all took place when I was in Alaska, so I had no part of it. My family here are all old fashioned cowboys that are not anywhere near as picky or careful about their horse breeding. I am very careful and particular about the horses I buy/breed. This mare was given to me as a gift when I moved back down here. I did not breed for her or buy her.
---
There is no sport like barrel racing. It requires more speed than a sprinter, more balance than a gymnast, more grace than a dancer, and a stronger team than football.
Green Broke
Join Date: Aug 2009
Location: New South Wales, Australia
Posts: 4,847
• Horses:
1
If she's just being broken then I don't think you can yet breed for "talent", just that she is responding well. To me that is not enough.

However, in your position I would ride and compete her and if she does prove to be very competitive, then I would consider breeding later on. In this case though, I'd want to have a list of achievements, rather than just being a good barrel horse. In addition, I'd only consider breeding if I was breeding the horse for myself, and I had the intention of keeping it forever. If I was breeding in order to sell it on later, then I would not breed a grade horse.