breeding quality?
---
is this mare breeding quality? i realize she stands under herself in the front a little, but she has vary nice straigh legs. sorry she is not standing realy square and you cant get the exact view of the angle of her hocks. she is almost six now. she is broke and can turn barrels real nice, not a tone of speed but ok for youth or non competitive. beautiful stopper and collects up real nice too. she is going into reining training and she will not be bred till she is much older probably, if at all.
just wondering what you all think.
here is a link to her pedigree
Kool Glory Girl Quarter Horse
IMG_5363.jpg
IMG_5365.jpg
IMG_5366.jpg
Loaded question..

She doesn't wow me. She's nice, but not sure she's exceptional, and I think you should only breed exceptional horses. The market is flooded with "nice" already.
She really isn't bred up close with any horses who have been proven and have achievements, but she is a nice looking mare. What would you want to breed her for? To sell or keep? What discipline?
She also goes back to Poco Bueno, who is a known line for HERDA, i'd definitely plan on testing her!
her sire and dam were actually show her horses, but only around here, he dam was a real good and quick cutting horse and i cant exactly remember what her sire did. im not sure i am even going to breed her, if i do it will be a long time from now and i am not exactly sure what i would do with the foal. i was just wondering for in the future.
thanks
She doesn't impress me that much..Her bloodlines are okay, but everything really nice is further back on her pedigree. The foal wouldn't even have any of those names on it's papers. She is also a little toed out on her front end, it may be just standing funky but it looks really weird. She has tiny feet too for a bigger body, almost like the halter horses who blow up before they get older and it end up hurting them in the long run.She's rather long backed and it's already looking swayed at 6, it's only going to get worse with age and riding..It will do a lot of damage to her back when pregnant and carrying all of that extra weight. Her neck doesn't tie into her chest great. She is standing very under herself, almost like she's leaning or stretching forward with her body...Most importantly, she's not proven in anything..As someone else has already said..I wouldn't breed anything that wasn't proven, has really nice bloodlines, near perfect conformation, and has awesome traits that potentially could be passed on to a foal..and the stud would also have to have all of those qualities and compliment the mare..and the HERDA possibility.

All in all, IMHO, no. I wouldn't breed her...She's an okay mare but not great and she hasn't done anything really impressive..
---
I am Sparkly Meanie Doodie Head and I approve this message!
---
Last edited by DrumRunner; 02-12-2012 at

02:56 PM

.
like i said.... she would not be bred unless she excells in something!she is NOT toed out and she also does not have small feet.
I thought she had plenty of bone and nice sized feet on her, but every eye is different, so to speak!
I have to say her hind right looks like it turns out pretty bad but I can't tell if thats just how she's standing or a conformation thing.
---
just a small town girl with a big town dream :]
Being toed out isn't a death sentence, just not something I would want to be passed on..If I'm correct, I even think it can be slightly corrected with corrective shoeing..
Toed-Out/Lateral Deviation of Pastern from Fetlock/ Fetlock Valgus [19]
An angular limb deformity that creates a toed-out appearance from the fetlock down.
A fairly common fault
Creates excess strain on one side of the hoof, pastern and fetlock, predisposing the horse to DJD, ringbone, foot soreness or bruising.
The horse will tend to wing, possibly causing an interference injury. May damage splint or cannon bone.
This conformation diminishes the push from rear legs, as symmetry and timing of the striding is altered with the rotated foot placement, particularity at the trot. Thus, stride efficiency is affected to slow the horse's gait.
The horse is unable to sustain years of hard work.
Your mare's feet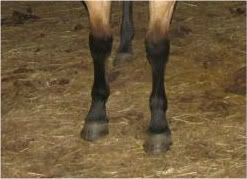 A toed out horse's feet...considerably similar to your horse's feet..
She looks slightly toed out to me. You can see her hind foot in this picture as well and it turns out.
---
I am Sparkly Meanie Doodie Head and I approve this message!