Breeding Quality Mares Critique
---
So I thought this would be a cool thread to start.
Basically if you have a mare (whether you are going to breed it or not) you can post it and give us information about it and other people can post saying whether or not they think it is breeding quality and an explanation as too why.
I think it would be a nice way to make an educational thread.
Here's a little form you can follow if you like, or you can make your own
Quote:
Name:
Age:
Breed:
Height:
Pedigree:
Discipline:
Personality:
Other:
Accomplishments:
Photos: (please limit it to 3 photos)
Videos: (please limit it to 2 videos)
So I'll throw my mare to the dogs first.
Meet Brandi!
She's a 9 year old Quarter Horse Mare. She's approximately 14.1hh. And she's a reining mare.
She had a bit of a late start in her reining career, she was started in reining as a 2YO, but after her 3YO year she didn't really have much in the way of professional training. She was barely shown (mostly at a few club shows), and trail ridden a lot. So last show season was spent putting miles on her (she literally wouldn't stop 2 inches when she came to the barn). This year will be us going hard for the money in the Non-Pro events :)
I have had her since December 2008
Personality wise: She's good minded, I've had 5YOs riding her on their own (no lungeline/leadline). She's a saint with little kids. When she's in heat, she's a bit funny sometimes, not really dangerous though, just lacks focus. No real vices, you can bath, clip, tie, etc.
Here's a link to her pedigree:
Footworks Wonder Quarter Horse
She doesn't have much in the way of earnings, but I believe I put around 30 NRHA youth points on her, and I was Top 5 in Youth 14-18 in Canada. Made the top 100 in all of NRHA out of nearly 700. And this was all with limited showing last year + her basically being green to the show pen and trying to erase old habits she had.
Here's some photos and videos: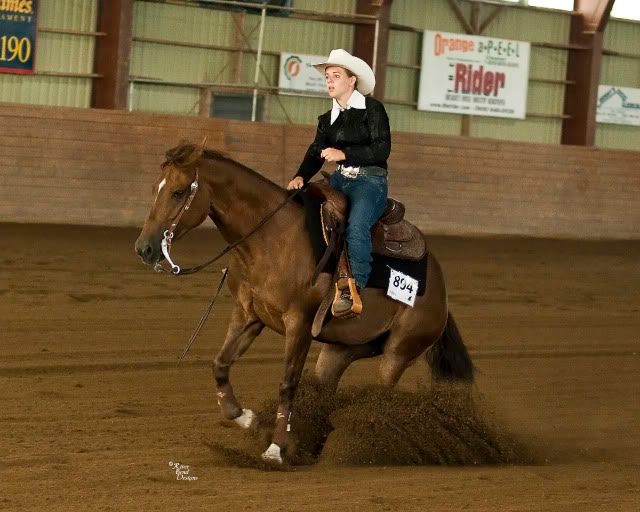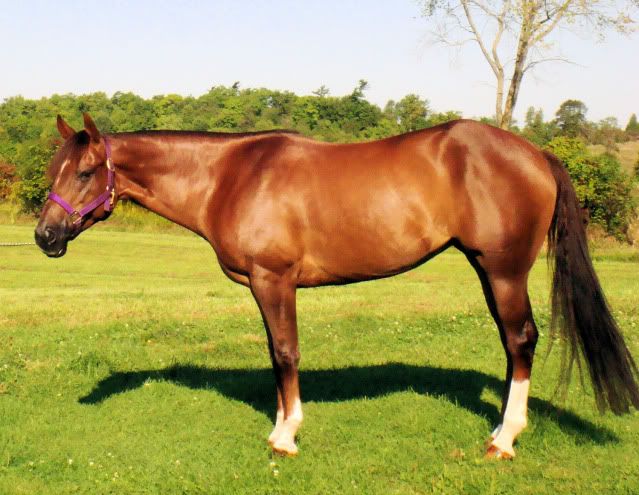 I'd like to note, our rundowns have improved since the video :)
Reining Video (there is bridleless at the end)
So critique away on her for breeding quality, and other people can post their mares too!!
**Note**This thread is for people to post their mares even if they aren't going to breed.
---
Last edited by StylishK; 03-31-2010 at

09:08 AM

.
Over all not bad. She is a bit straight through the shoulder and pasterns and you can see the end result in her stops. I would like to see more substance through her stifles but her hocks have a nice angle to them and with work and added muscle through the rear it might improve. Over all she looks a lot like her breeding. If I was going to breed her I would look at horses with lines not known for longer backs as this line tends to produce them and she is a tad long but again that is normal for this line and I have found in no way limits their talent and ability to perform at what they are bred for.
---
-I'm so busy... I don't know if I found a rope or lost my horse.
-An Armed Man is a Citizen an unarmed man is a subject.
-Where ever free speech is stifled Tyranny will reign.
She's beautiful and for sure is breeding material. FINALLY! I didn't think I would ever see a horse on this thread that is breeding material!! I can't see any major conformation faults, she looks like a quarter horse.
Thanks :). She definitely has her faults, I wish she wasn't bum high, and the shoulder/pastern part then NRHA reiner said. She's "tight" up front if you will, and you definitely have to work harder to loosen up that front end then anything else.

We've been working on getting muscling in the right places (ie. stuff that comes from collection and impulsion). I'll have to get new pictures this summer, she looks better this year which I'm happy about.

Anyone else want to post their mares?
I only have one mare and she is certainly not breeding quality (though she was bred at her previous owners). Your mare is very nice looking though.
---
Always remember that feeling of looking at a big, open country over the ears of a good horse, seeing a new trail unwind ahead of you, and that ever-spectacular view from the top of the ridge!!! Follow my training blog:
http://robertsontraining.blogspot.com/
She's a pretty girl, definitely bum high and everything else nrhareiner said. I only have one mare and she's a 30 yo TWH. I suppose I could post her and we could talk about how she's a terrible breeding mare though in addition to the dangers of breeding such an old horse.
LOL, but that would ruin this great thread idea.
Name: Hickorysamazinggrace
Age: 2002
Breed: QH
Height: 14'2
Pedigree:
Hickorysamazinggrace Quarter Horse
Discipline: Reining
Personality: Not her daddy. Thank God.
---
-I'm so busy... I don't know if I found a rope or lost my horse.
-An Armed Man is a Citizen an unarmed man is a subject.
-Where ever free speech is stifled Tyranny will reign.
Brandi's gorgeous:). very nice mover. I'd like to get into reining....my uncle has a reining ranch in CO....but I can't afford a reining horse lol. My Paso gelding is a bit too old, plus I wouldn't know how to train him to rein.
---
Last edited by equiniphile; 03-31-2010 at

12:32 PM

.
Name: With Thanks
Age: 2001
Breed: QH
Height: 15hh
Pedigree:
With Thanks Quarter Horse
Discipline: Reining reined cow horse
Personality: Typical Dun It
Other:
Accomplishments: Too many to list.
---
-I'm so busy... I don't know if I found a rope or lost my horse.
-An Armed Man is a Citizen an unarmed man is a subject.
-Where ever free speech is stifled Tyranny will reign.
Here's my girl for the fun of it, especially since she's been used as a brood mare all her life. Be honest please, I've got thick skin.
Name:Rio Deja Vu (Deja)
Age:9
Breed: 15/16ths Arabian
Height: 14.2(3) haven't measured exactly
Pedigree:
Rio Deja Vu Part-bred Arab
She is high percentage CMK, her sire being straight Davenport. The only two horses not being CMK being Bask and the non arab mare.
Discipline:Western
Personality:A sweety, she's my baby doll.
Other: Deja came to me from a bad situation. She was underweight, pregnant, and the people still had her 8 month old filly on her when she was 8months pregnant. She was "broke" when I bought her, but I found out she has only been broke for a year or two. I am starting her over completely as my trail mount and for local shows. I learned from her breeder in January or so that she has actually had 6 foals in her life time. Apperantly she was bred with great success to a paint stallion(DeJaVu's Cheif Taboo) before the lady was forced to sell her horses. At which point Deja was bought by the people I got her from and was bred twice. I bought Deja pregnant and she gave me a beautiful little boy. I have to say that Deja is not a show horse. She is a working horse.
Accomplishments:Trail horse and broodmare
Photos: Three of her and one of what she produces.
Videos: She doesn't move around much, but you can get a look at her confo.
This is her colt, Mana. You can see how he turned out as well if that helps any.
---
Proud owner of ~Mana: 6yo Arabian gelding~Pearl 13yo Arabian~Danzer 14yo Arabian mare~ Tiny mini filly
---
Last edited by grayshell38; 03-31-2010 at

01:13 PM

.