Every foal Ive ever seen has had blue eyes at birth that slowly change. I have a tealring whos a draft cross and his eyes are brown but still have a hint of a blueish tinge from when he was a baby. By the time hes 2 it should be gone though. I wouldnt worry about it too much unless her eyes seem cloudy or foggy.
---
Tomorrows another day, and Im thirsty anyways, so bring on the rain.
I would get pictures of her eyes in the sun without the flash. The blue in the pupil looks like it's form the flash, and in the iris they don't look blue, they look cloudy. I would also call the vet. Better safe than sorry.
Blue eyes are caused by a double creme gene (perlino/cremello), frame, or splash white. Your girl doesn't have any of these so I'd definitely get her checked over.
>>> Blue eyes are caused by a double creme gene (perlino/cremello), frame, or splash white. Your girl doesn't have any of these so I'd definitely get her checked over.
The blue eyes associated by the genes/patterns mentioned above is not navy blue-- it is a much lighter blue-- like these--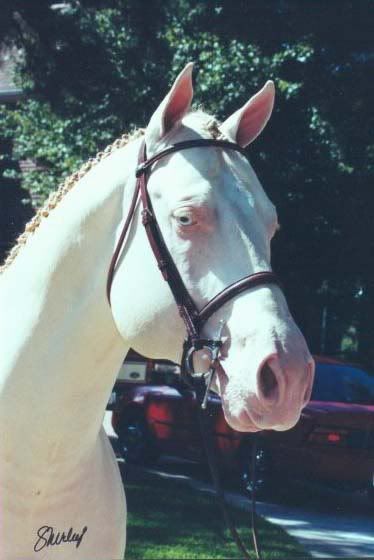 I think the appearance of her pupil is due to the flash on the camera. The navy blue tinge to your filly's irises might indeed be just a temporary shade that will turn brown as she gets older (its not uncommon for foals to have a blue or grey or hazel tinge to their eye color that fades to brown as they grow). Some horses keep the "off" shade into adulthood, and it is of no concern.
However if there is any cloudiness, any behavior that would indicate eye pain, compromised sight, etc.--- or just for your peace of mind-- it would not be a bad idea to at least ask the vet and/or have him look at her next time she is out-- always better to be safe than sorry if there is any question or concern at all.
---
Last edited by Eastowest; 01-11-2010 at

11:14 PM

.
The pupil isn't bright blue, correct? It's black normally?

If it is, then you're fine - the blue is a natural occurance in almost all animals where the light from your flash reflects off the retina; it's like red-eye in humans.

Unless the eye is cloudy blue, I would take a pretty safe guess that she was born with dark blue eyes (not extremely uncommon, I've seen at least four foals that were born with dark blue eyes) that will eventrually fade to brown.
hi,

thanks for all the great advice. her eyes are dark blue all the time since i have had her in sunlight and not in sunlight. They are not the ice blue that I have seen on Paint horses. So just to be sure I am going to have the vet out anyways. Thanks again :)
The eyes sometimes look like that, especialy on older horses, but it's not the iris that's blue it's the fluid in the eye that make that color. And when you take a photo in the dark it wil always glow a little. Sometimes if you take a pic straight in to the eyes thatäre realy glowing, maybe you've seen a horse from the car a dark night and the first thing you see is the eyes~

If they glow like that the eyes is all fine! You should worry if they didn't =)

Blue eyes s when the whole eye is light blue, comonly when a white part goes near or around the eye.
let us know what your vet says!!
---

/)___~~
<\ <\
Lipizzaners do not have blue eyes...genetically not possible. There is a slight possibility of a TB having blues eyes.

Having said that, your horse doesn't have 'blue' eyes per the equine definition. And several have explained what's going on in these pictures.
It could be a sign of future moon blindness. Not sure, just a guess as the eye will turn greyish blue when they become blind.