Growing very nicely! She is beautiful!
---
"True friendship is sitting together in silence and feeling like it was the best coversation you've ever had."
Areion - 2010 AQH Palomino Mare
She's looking good. Glad to see she's doing so well.
Awww she's so cute!!
---
Being horseless is the pits!!
wrecker is 1 month old today! she is a little tank and developing a nice booty! i cant believe shes 1 month already. shes been spending 24/7 outside lately. it hasnt been horribly cold. all horses came in when we had bad rain storms last week, but she is so content to be outside. she is eating hay already. or...trying to. and is loving little bits of mommas grain.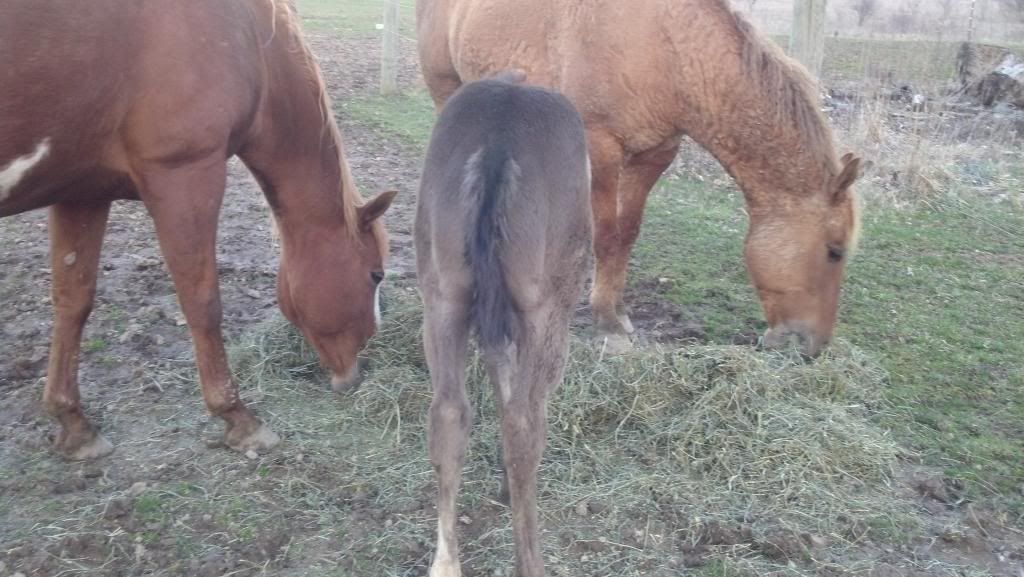 Posted via Mobile Device
She is a cute little girl =) Whaaaaa.....how in the world did she get to be a month old already, lol. Time flies by once they're born!
What a butt! Awesome!
---
I am her eyes, she is my wings. I am her voice, she is my spirit. I am her human, she is my horse.


She is so cute. She is filling out nice!
Gah. What a cutie!! You have any updated pics of your baby? Love to see some :)
Posted via Mobile Device
I'll get some tonight for you. She hated the 82 degree weather we had today.
Posted via Mobile Device
Yay, lol. Haha, it's kinda funny how the babies respond to new weather. Simba hated the rain and would so anything to get out of it!
Posted via Mobile Device