Chocolates Foaling Thread
---
Last year we bred our bay miniature mare to our friends silver chocolate miniature stallion. The vet preg checked her and confirmed her in foal for 2013. So here I am posting with great excitement about my first own foal. I have foaled out for other people before and am currently at an equine science college majoring in production and breeding so I do know what I am doing. Last time the vet came out she guessed we would have a baby any time from now to two weeks from now. She is to the point where she is barely comfortable and her udder is full but her teats have not filled yet. According to the previous owner that is normal for her to not have the teats fill till about half way through first stage labor.
Last night we were sure she was going to foal and was showing signs of first stage but then a storm came up and all the symptoms went away.
So if anyone has any guesses on when baby is coming go for it!! But we're definitely hoping for a silver bay filly.
Here's the little girl 4 weeks ago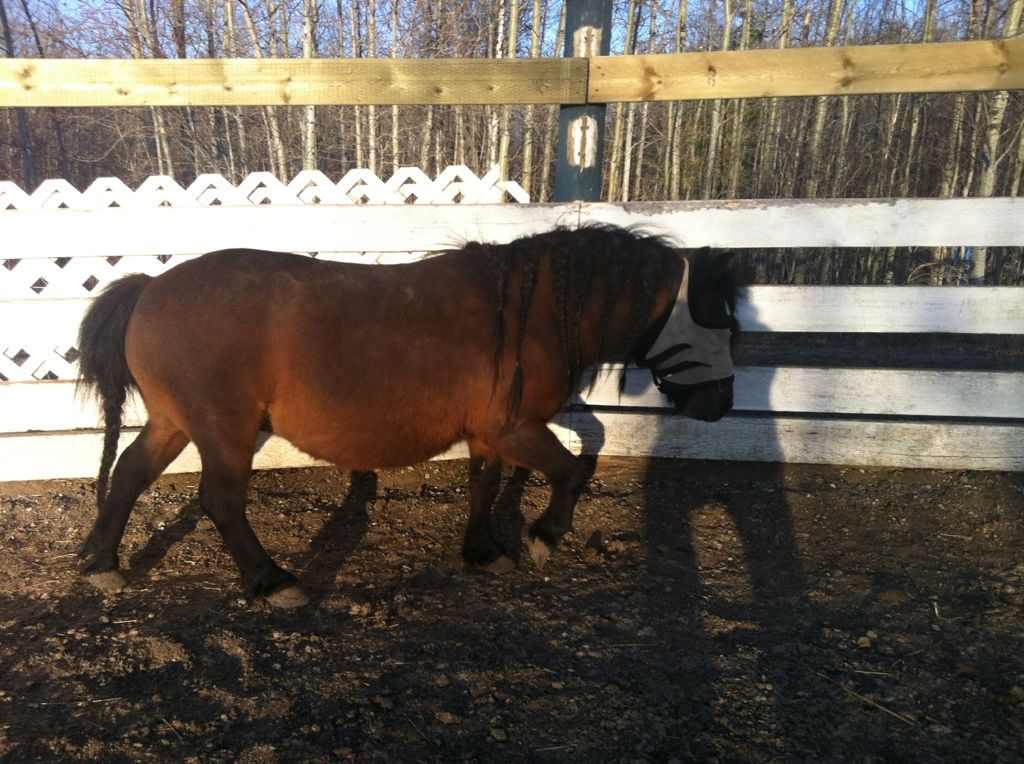 Posted via Mobile Device
So excited for you. Good luck, can't wait to see this little one.
Posted via Mobile Device
Do you have any pictures of daddy to be that you can share with us?
Can't wait to see your little one
Unfortunately I don't have any pictures of the sire to share, but if you can take my word for it he sure was beautiful! He had such an adorable stripe and i have never acually owned a horse with a stripe just stars so ive got my fongers crossed that baby will pick that up too. I plan to get a couple more updated pictures tonight.
I'm confused. What colour is the sire? Is he black, bay or brown silver? Also what stripe and stars are you speaking of? Sounds like a flag.
Is this your first Mini baby? If so,
make absolutely sure, you do not leave her for even a minute, when she is close
. Minis are notorious for having difficult foalings and losing the foal and often the mare and foal are lost. Red bag deliveries are common too.
Hopefully all will go well for you and please do keep us posted. We love to see Mini babies.
Lizzie
Quote:
I'm confused. What colour is the sire? Is he black, bay or brown silver? Also what stripe and stars are you speaking of? Sounds like a flag.
I assume she means facial markings
I also thought of the flag first, though!
Like I said in the first post I do know what I am doing. I have gone to school and studied Foaling in theory as well as practically. Also the person I worked for before Foaling out his mares had 40 miniature broodmares. I have dealt with 5 red bag deliveries personally and all has turned out fine as I was quick to jump in and reacted properly. My vet is also highly skilled with the problems that are out of our hands and I know how to recognize earlier signs and do not plan to wait until last minute to call her out if I think something may be wrong.
As far as the Stripes and stars that I was talking about I was talking about face markings. And the silver chocolate that the dad is is liver chestnut with one copy of the silver dapple gene Zz creating a slight lightening of the liver chestnut coat and turning the mane and tail a creamy flaxen color.
Posted via Mobile Device
I'm so glad to know you are up on all the foaling problems which might present themselves. Your mare looks like a sturdy little girl.

Re. Silver. It does not express itself on chestnut. Liver is just a darker expression of chestnut horses. But I'm sure you know that. Certainly there are many chestnuts who carry the silver gene. Many go unknown unless tested or produce a silver. We have many of them in Gypsies and Minis.

Lizzie
Very interesting. We never noticed anything else in the stallions genetic combination but he does carry one silver gene and he has a weird silvery cream mane and tail. But he is dark like liver chestnut and has the genetics of a chestnut and a silver gene. We weren't entirely sure what color to call him since it was so unusual so we sent in some hair samples and that's what we got back. Maybe faulty results? I will have to see if I can track down a picture of dad so that you guys can see what I am talking about.
And thanks so much, I wouldn't have even considered breeding her unless I was completely confidant I could handle pretty much anything she threw my way properly.
Posted via Mobile Device
Sounds like the sire is a silver black, as they often look 'liver chestnut' in the body with the light mane and tail.


Would be curious to see a copy of his color genetics testing. Are you sure he is ee (chestnut base)?
---
Last edited by Tryst; 05-14-2013 at

11:48 PM

.