Color Experts! Sabino? Rabicano?
---
I finally got around to taking close pics of Zierra because this has been bugging me for awhile - someone told me awhile back she was sabino and rabicano and I kind of scoffed. Now that I've started researching the patterns more, I'm curious if they're right or not.
Would you see white speckling like this on a chestnut horse, or is it automatically an indication of rabicano? It seems so slight, she's got literally like 12 white hairs in her tail base and then a lot of white flecking all over her hind quarters and around her flank/belly. She also has a rather unusual facial marking - the blaze is normal, but I've never seen the white "splotch" over her eye quite like that.
Also, I apologize for the clay on her legs - it's like, the single worst substance to have to deal with. You have to wait until it's completely dried out to brush it off or Zierra gets crabby - it pulls at the hairs and she HATES when I do that. Thankfully it's stopped raining and her legs are clean now, I managed to take pics right when the pasture was starting to dry up for the 40th time this year. :roll:
Any opinions would be great, she'll also be my little chestnut, but I find it very interesting that she may have those genes.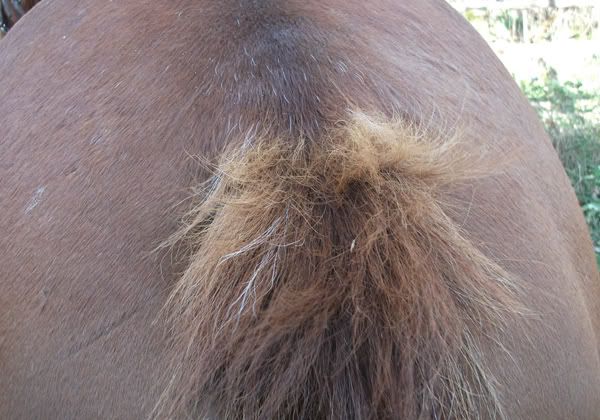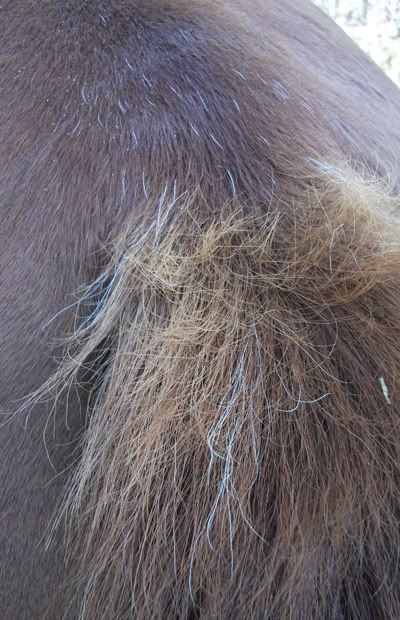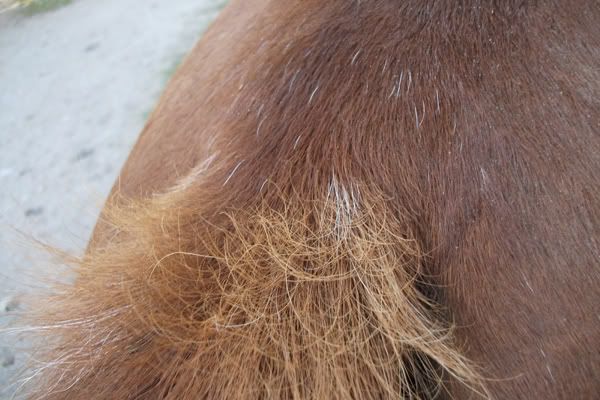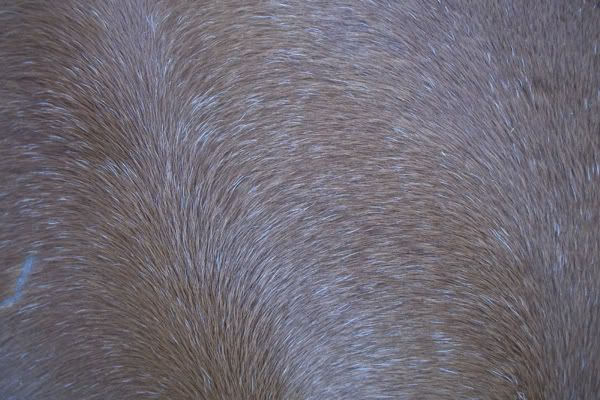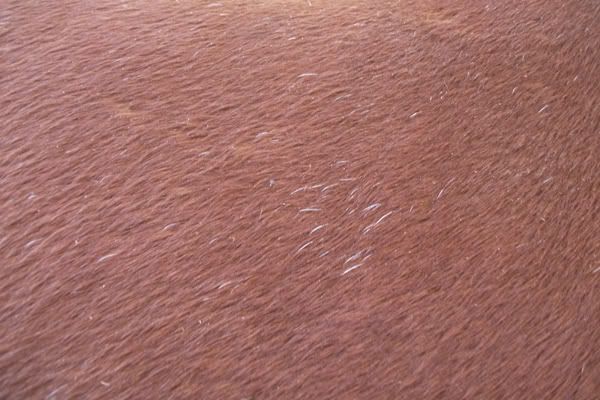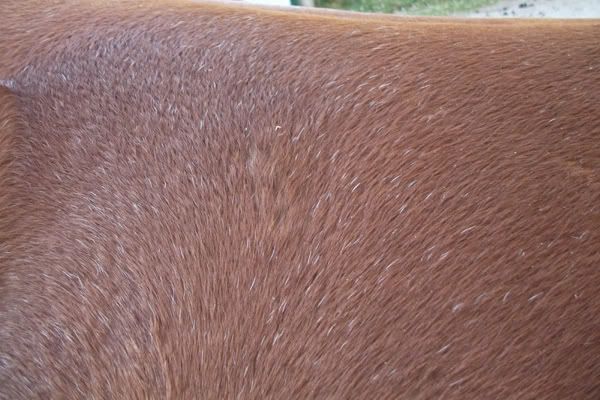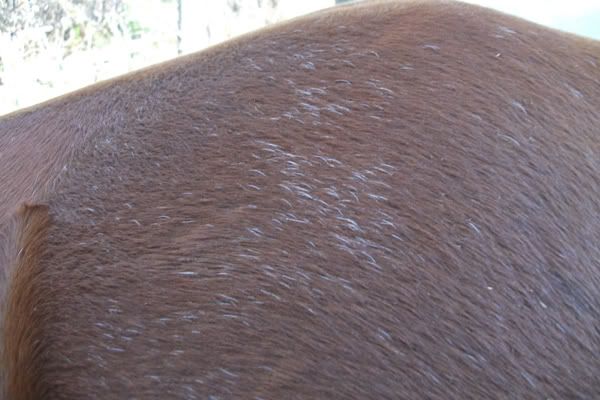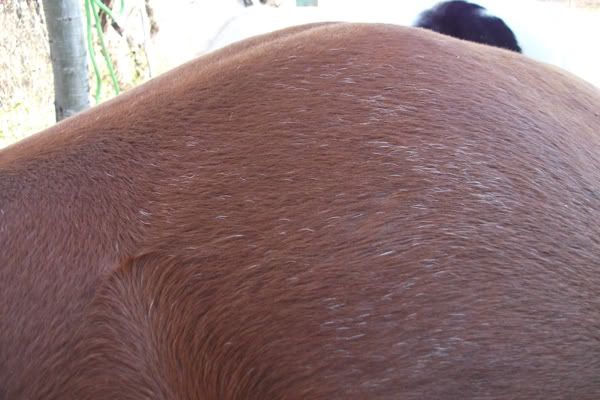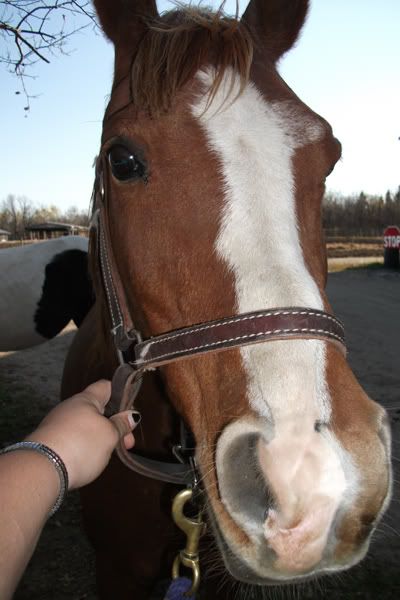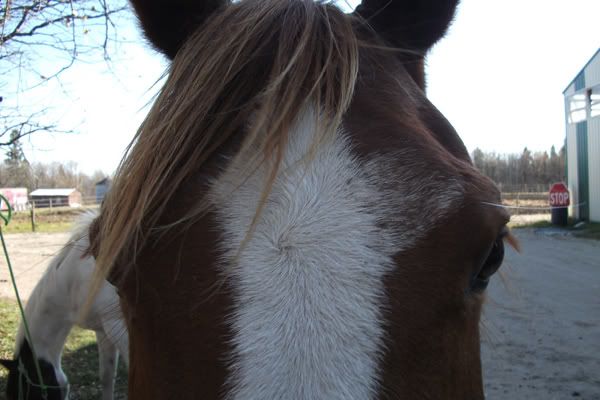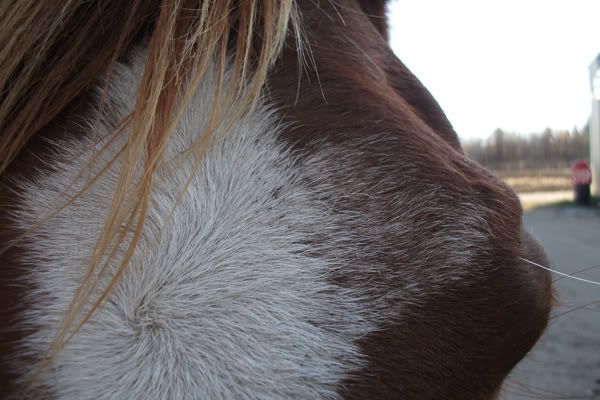 ---
Quote:
I hope God tells her to smash her computer with a sledgehammer.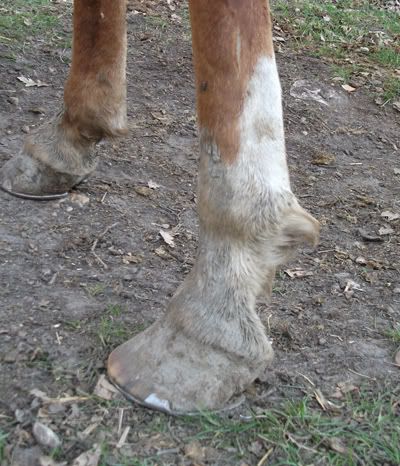 Front outside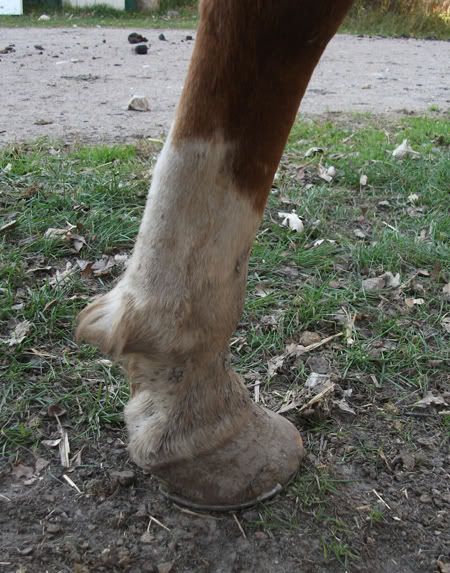 Front inside
Back outside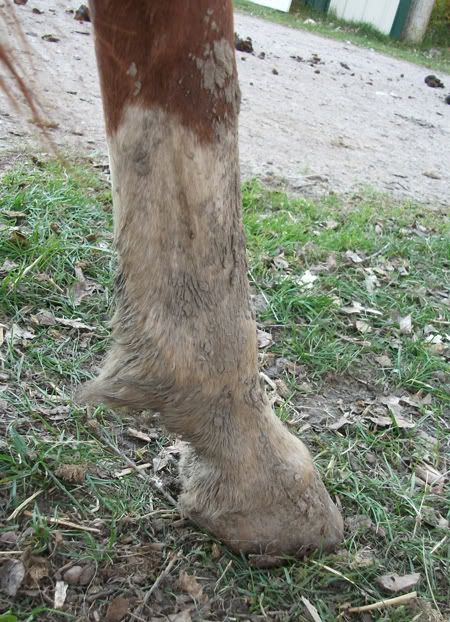 Back inside
Only her left fore and left hind have white markings, her right fore and hind are solid.
---
Quote:
I hope God tells her to smash her computer with a sledgehammer.
Im not sure but in one photo it looks like you need to get her shoe fixed.
Most chestnuts i see have those white hairs i thought it was standard
---
To give a horse your heart guarantees a love that will last forever undamageable
Nope, her shoes are fine. We are having severe problems with her angles, and so she is being corrective shod right now with the shoe being set further back to bring back her heels and shorten up her toe. She was just checked a couple days ago by another top notch farrier in the area for a second opinion and he agreed with the method being used.
---
Quote:
I hope God tells her to smash her computer with a sledgehammer.
I have been told both my Freyja and Finn are sabino. I don't know a lot about how the gene manifests, but Freyja has stray whites like that throughout her coat in the black areas. She also has the similar "blotch" on her blaze - and her lower lip/chin is white as well. Finn at the moment has very few stray white hairs - a total of like 20 over his entire body, and then he has the small white belly blotch, but I have been told his tail is a giveaway in the sabino genetics. It's about a million different colors. That and his white socks come to a "point", along with the belly splotch, are also indicators, so I am to expect his "stray whites" to spread over the years to eventually be everywhere like Freyja's are.
Now, this is all just conjecture from horse color gurus I have spoken to. Neither Freyja or Finn have ever been actually TESTED for the sabino - just so you know.
I don't have a good pictures of the whites spread throughout Freyja's coat, I'll run outside and try to take one, but it's similar to the picture you showed around the base of Zierra's tail - only it's everywhere (and spreading more every spring) on Freyja.
I should also specify that Finn and Freyja are both part Shire - a breed known to carry the sabino gene. I personally don't honestly know how to tell the difference between sabino vs rabicano, to me the look very similar.
Finn's tail:
Finns jagged socks and belly spot:
Freyja's blaze splotch:
---
Last edited by Indyhorse; 10-20-2010 at

03:39 PM

.
Yes, that would be much the same thing as yours are blatantly pinto and rabicano is a manifestation of sabino. I'm fairly sure a goodly amount of white hairs is indication of rabicano, I'm just not 100% sure if solid horses can have white hairs that are "nothing" or if the mild display of her white hairs mean she must have rabicano. What I'm reading about rabicano is that it's often hidden as it can display minimally as very few hairs.

It also appears to be spreading, as she did NOT have this many white hairs a few years ago.

---
Quote:
I hope God tells her to smash her computer with a sledgehammer.
Most solid horses develop white hairs as they age. I have seen many elderly chestnuts go practically roan when they get into their 20s. How old is Zierra again? I would say if it is from birth then there's a possibility she might carry the genes, since everyone and their mother for the last 50 years has bred for color most horses have "color" patterning of some kind in their genetic history. I have a 7 yr old mustang that is doing the same thing. He's a true black with very minimal white but is developing those sporadic white hairs around his flanks hips and belly. I'm more inclined to think he has some roan in him versus sabino but who knows. The only way to tell for sure is to shell out the $100 for a blood test and get her tested. Regardless I love her little splotch over her eye. She looks like a pirate princess with an eye patch!
She's only 11 this year, so not very old yet. She's always had sporadic flecks, but even I was a little surprised at how much it had spread when I REALLY looked at it to take photos.
---
Quote:
I hope God tells her to smash her computer with a sledgehammer.
Robicano is usually ONLY in the tail and along the ribcage. and sabino can basically be anywhere
this is Robicano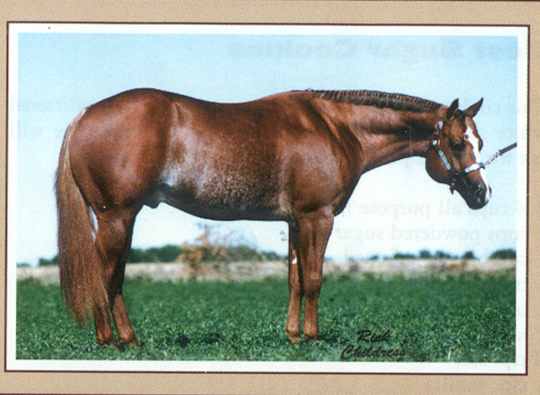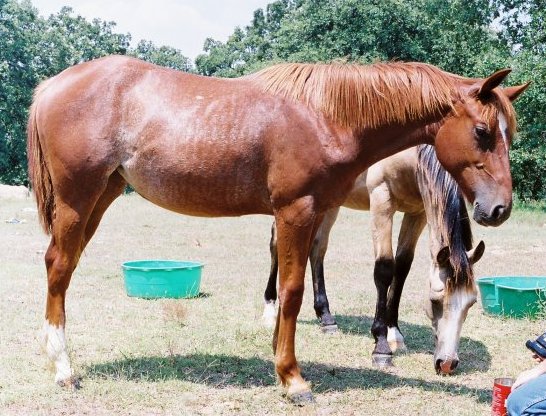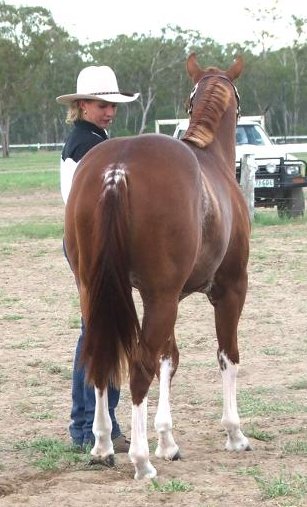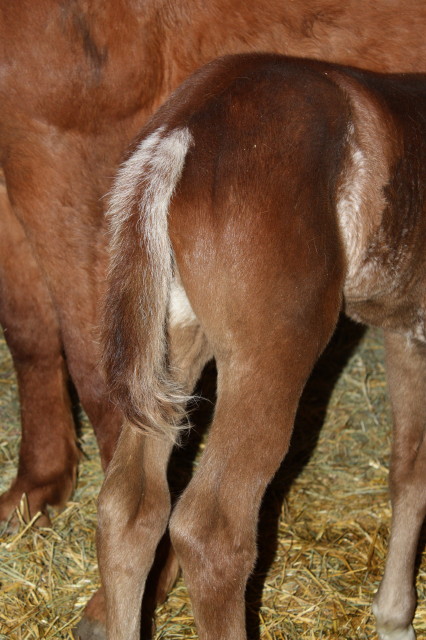 ---

Baby, Sparta, Carmen, Henry, Hooch, Mercedes, Butterscotch
rabicano usually expresses itself early.
these are both sabino and rabicano
notice the high jagged leg markings.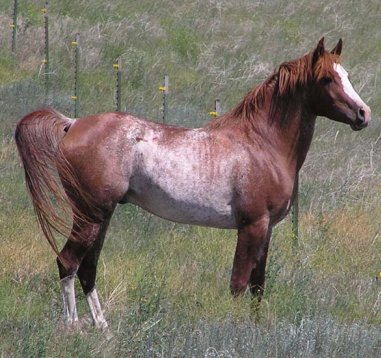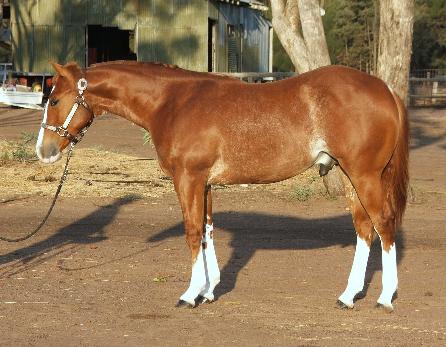 and these are all sabino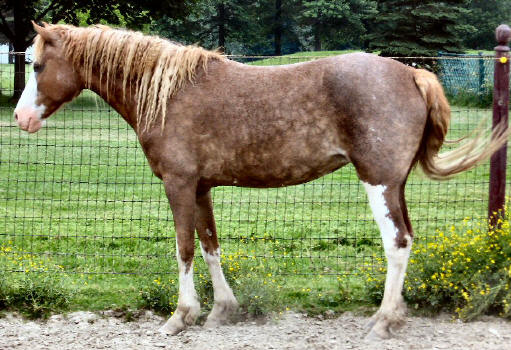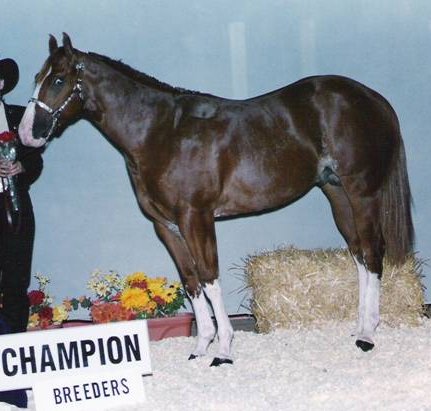 and here is a good link
Sabino
most chesnuts and bays have some ticking of white hair. but if it's that much it may be sabino as it is definitely a characteristic
---

Baby, Sparta, Carmen, Henry, Hooch, Mercedes, Butterscotch