Color question
---
What color is Winter? I've been calling him a Bay.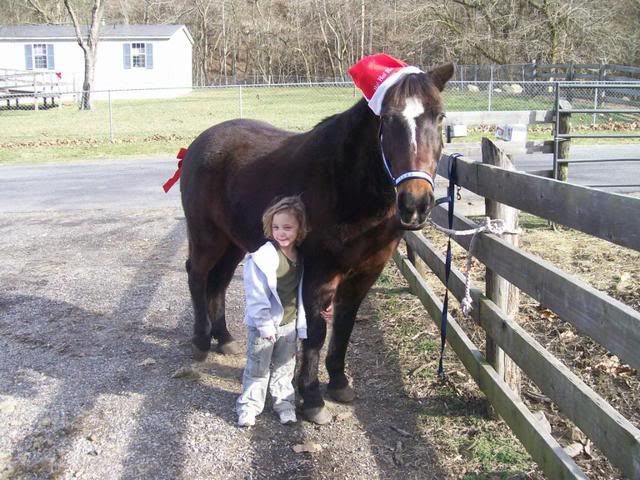 Thanks
---
Blue Eyed BLY~ 2/3/03
Calico Sonny Stockman x She's On Cloud Nine
ya i would go with dark bay!! mine is black in winter but like a drak drak bay in summer when that sun shines all the time!!
Okay, thanks :)
---
Blue Eyed BLY~ 2/3/03
Calico Sonny Stockman x She's On Cloud Nine
I would call him bay or dark brown - the slightly lighter tail and tan around the muzzle is throwing me off. At least with TB registries a lot of horses are put down as "dark brown or bay"
---
The lovely images above provided by CVLC Photography cvlphotography.com
Despite the light brown the nostrils are black so I'd say bay as opposed to black.
I say dark bay. You can see the variation from body coat to the legs. Hard to tell from the photos but looks like he's got red in the otherwise black mane and tail. I've seen that on quite a few bays. Just like sometimes you see chestnuts with some black in their mane or tail.

Awh I like his bow and santa hat.
I'd have to see his summer coat. We have a reg. brown gelding that turns more red in the winter. In the summer does he look black with brown points, or brown with black points? Look for reddening in the flank and on the nose. Bays have a black nose, and browns have a reddish/rust nose.

But from what I can see in the pictures, he has black nostrils... I'd call him a bay.
I would like to say dark bay because his legs look like they are black, but his mane and tail are throwing me off because they look brown, usually bays have black points with black mane and tails. Do you have a picture of him in the summer?
I'd go with Dark Bay. I really don't see him as a black, just MHO.