Cool relatives?
---
I like looking way back into lines and seeing who horses are related too :] for example I recently looked into the papers of an appy I used to show when I was younger (Potential Judge, barn name is Lilly. Big bay roan, if anyone on here knows where she ended up I'd love to know!) and she's got Man O War wayyyyyy back in her lines. I thought it was cool xD she's also got Doc Bar, Spotted Bull, and Peppy :]

Anyone else got some famous blood in horses they own/work with?
My reining mares all have famous sires and their dams have a nice following along with their dams sires are well knows. Although it is fun to see what is back there anything past the first 3 generations plays little role in what the horse is.
---
-I'm so busy... I don't know if I found a rope or lost my horse.
-An Armed Man is a Citizen an unarmed man is a subject.
-Where ever free speech is stifled Tyranny will reign.
Oh yeah believe me my paint has the legend Scribbles in his lines, and my boy is no in-hand champ xD I just think its neat if they have interesting relatives :]
My First horse's grand sire was Northern Dancer. My second horses sire was Floristan I. He also had lines such as Diamantino, Rheingold, Romadour. Here is his pedigree
Frobisher Westphalian
.
---
"You know, for as long as I can remember, I've had memories." ~Colin Mochrie
My mom had one of Secretariat's foals when she was younger.
I love doing these. Mine has:
His grandfather was
Top Vantage
, who had 100 Halter points and was the 1983 Reserve World Champion and a Superior Halter Horse.
His great grandfather was
Impressive
who, anymore seems is most famous for The genetic disease Hyperkalemic Periodic Paralysis (HYPP) that has been traced soley to him. He was HYPP N/H. He was a World Champion Halter Horse.
(I'm actually proud of the fact that he has Impressive in him and I really love the line)
Bimelech
(tb) who was a Champion 2yo Colt & Champion 3yo Colt. He won the 1940 Belmont and Preakness and was entered Racing Hall of Fame in 1990.
Luke Mcluke
(tb) who won the Belmont Stakes and Kentucky Derby.
Three Bars
who many will say had the greatest influence in the QH bloodlines, in all divisions, the world has ever seen.
Leo
- 100% NFQHA AQHA Champion, Race SI-100/AAA+, 100% FQHA, and AQHA Hall of Fame
West Australian
(Never heard of this guy but apparently he won the UK Triple Crown in 1853!)
http://en.wikipedia.org/wiki/West_Australian_(horse
) (I'm going to brag about this!)
Man O' War
(copied from allbreedpedigrees) His groom, Will Harbut, eloquently summed up Man O War. He said, He wuz de mostest hoss that ever wuz. 21-20-1-0, $249,465. Retired top money earner. Won: Preakness S., Belmont S., Dwyer S., Travers S., & Jockey Club Gold Cup. Sire of 1937 Triple Crown winner WAR ADMIRAL and grandsire of SEABISCUIT. Foaled March 29, 1917. Died on Nov. 1, 1947. Final race against SIR BARTON, the 1919 Triple Crown winner, which Man O War won. Lost to a 100-1 long-shot named UPSET after a botched start. Man O War was facing the wrong direction when race had begun.
Blue Tit
(I don't know anything about the mare other than she was born in 1908... Her name just cracks me up!)
Oh... and King P-234, and I think Steel Dust...
---
"Be a best friend, tell the truth, and overuse I love you
Go to work, do your best, don't outsmart your common sense
Never let your prayin knees get lazy
And love like crazy"
---
Last edited by farmpony84; 11-10-2010 at

02:12 PM

.
All my horses are nobility!
---
...............
................
It's better to stand in mud, than manure!
It depends on what you mean by 'famous" and it what breed-- for example on your Potential Judge mare, she traces to High Hand, a Hall of Fame Appaloosa stallion who was famous as far as Appaloosas are concerned-- as well as his sire Hands Up who was pretty famous as well...
Here is a painting of High Hand--
and photos of High Hand----------------------and Hands Up (as a very elderly horse)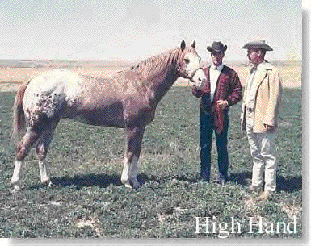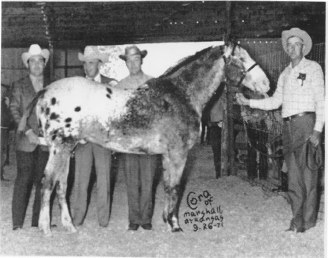 Here is a reprint of an article written about the Appaloosa stallion High Hand when he was 31 years old. Besides being a famous sire and a well known show and rodeo horse, he was also quite a character.
High Hand - Appaloosa Stallion in ApHC Hall of Fame
---
Last edited by Eastowest; 11-10-2010 at

03:33 PM

.
Started
Join Date: Mar 2009
Location: Middle-of-Nowhere, Illinois
Posts: 2,225
• Horses:
1
My Thoroughbred has a bunch of famous racehorses in his pedigree. Which isn't real uncommon, but I was excited when I looked him up, anyway. =]

Native Dancer, Mr. Prospector, Damascus... and his sire, Classic Account, was the 1995 Illinois Stallion of the Year. I thought that was pretty cool.
---
"A musician must make music, an artist must paint, a poet must write, if he is ultimately to be at peace with himself.
What a man can be, he must be." Abraham Maslow, 1968

Just Passin Bayou Paint
I was creeping Abby's pedigree before I saw this thread and found some stuffs that were interesting. Most of the names aren't really close enough to be relevant, but it's still cool.
On Top:
Three Bars - 8 gens back (twice)
Doc Bar - 6 gens back
Dry Doc - 5 gens back
Poco Bueno - 6, 7, and 8 gens back
Cragos Doctor Nick - Grandsire. I can't find much more information on him other than what the website says: " Nick placed among the best rope horses at the American Buckskin Registry Assoc. World Championship Show in 1996! Nick placed in 7 out of 8 roping divisions entered!!!"
Bottom:
Olympia Joe - Great grandsire
Joechief Bar - 4 gens back
War Admirial - 7 gens back
Man O War - 8 gens back
Three Bars - 8 gens back (three times)
Plaudit - 9 gens back and 10 gens back
Skipper W - Found quite a bit 9 and 10 gens back
A handful of those are just foundation Quarter Horses and not necessarily famous like, say, War Admiral, but whatever.