Could my mare be pregnant?!?
---
So I purchased my Benny back last March, and she went to my best friends home till June(yes she does have a stallion). Then she went off to her trainers(who also has a stallion and apparently a two year old that was in trainining at the time whom her friend claims wasn't old enough to breed grrrrr!!) Anyway a little over a week ago, she got sick and I had the vet out. The vet asked first thing if she was pregnant, I ofcourse said no. Then I spoke with her former owner and was laughing how Benny was such a good girl even in season, that I never even know when she is in heat. She then proceeded to tell me that I was crazy that my mare is very very vocal about her cycles and will squirt on a fence post. Nobody at the barn has ever noticed her in season. She's been here since October. This gets me a lil worried and then when another border asked if she was pregnant that was the last straw, I have to find out and she's off to the vet tomorrow to get tested. In the meantime we are watching for any sign either way. She has started to produce milk and has been for atleast a week, but no sign of heat. I'm not used to mares, I've always had geldings to me she looks nice and fat(maybe a lil to fat) she gets free fred bermuda, and is still eating the stuff from last year so it's not even the nice new stuff yet. Anyway heres pics tell me whatcha think.
This is Benny 6wks to 2months ago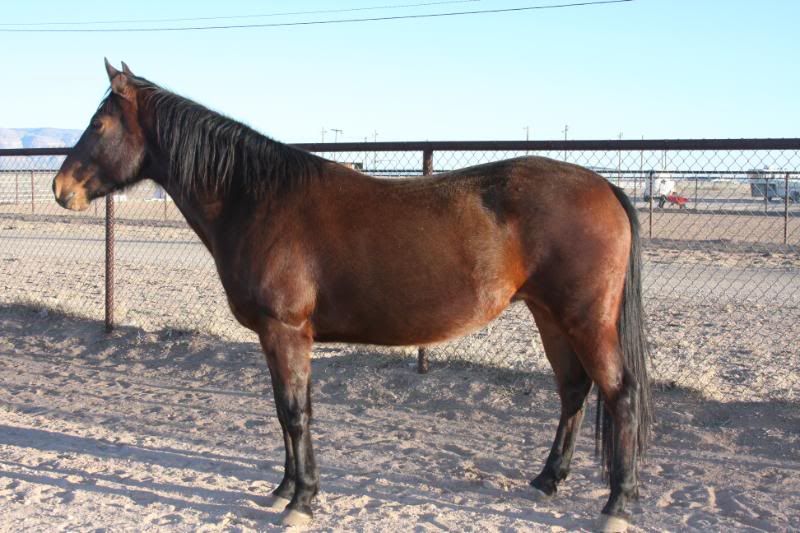 Benny last weekend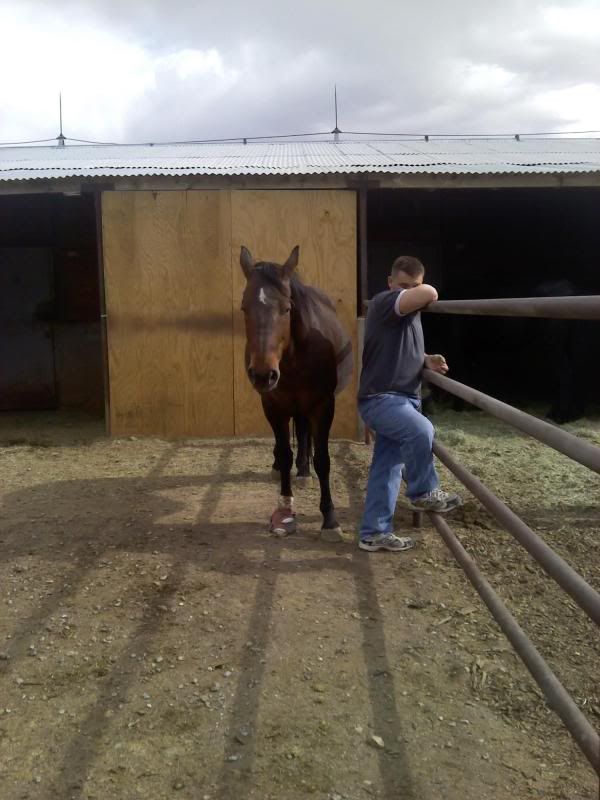 Finally some pics of Benny yesterday, sorry so many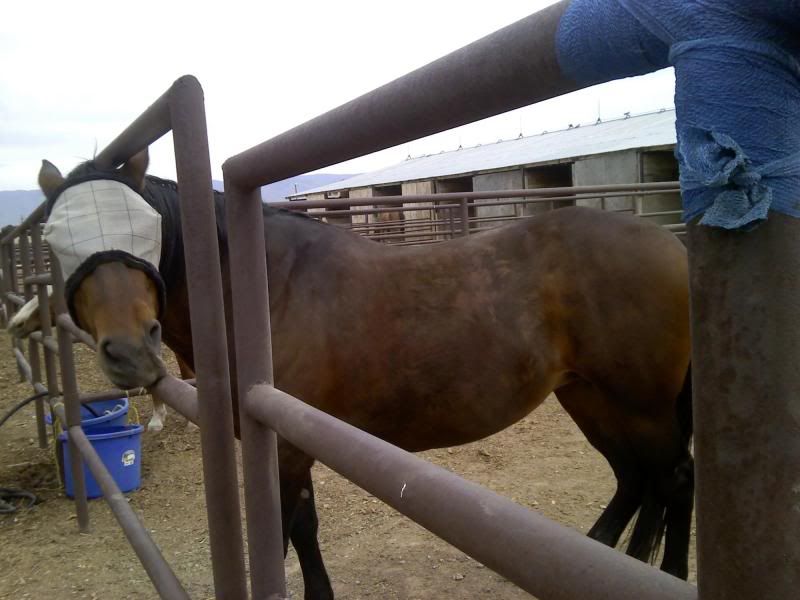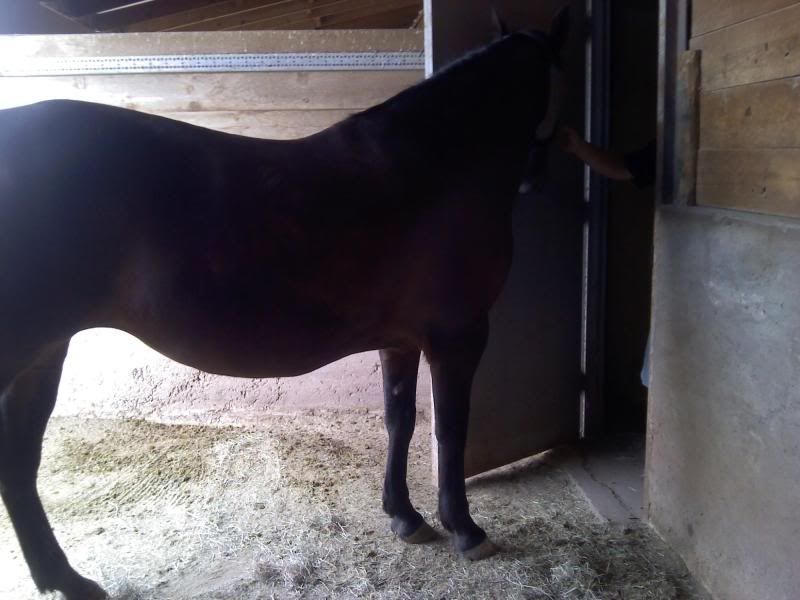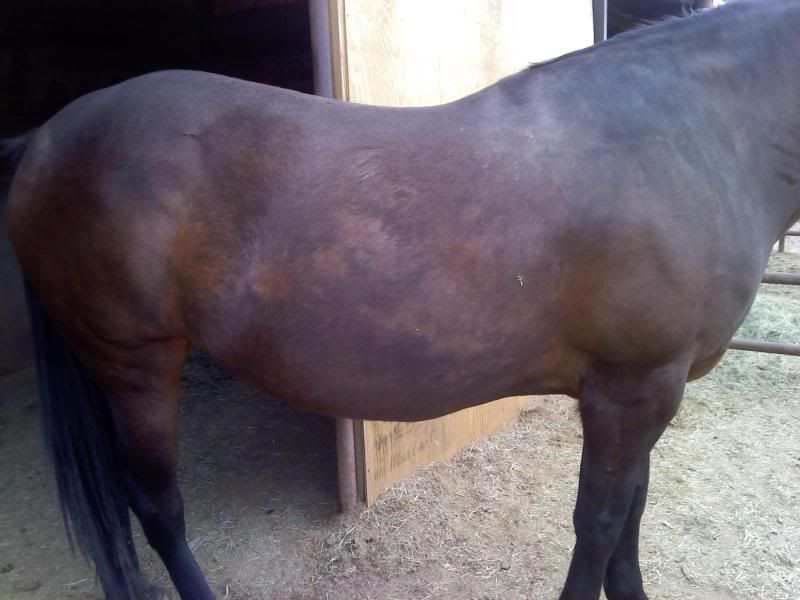 I am so hoping she's not in foal, I didn't buy her to breed especially right now with the economy so bad(even if NM horse market is still decent). If I ever decide to breed her I wanted to pick the stud and not have someone ooops it along for me. Atleast I will know for sure soon.
Hmm I can't really tell if she's pregnant or just chubby. But I can tell you a 2 year old stallion is capable of breeding. What happened to her foot?
She has an abcess right now, that was after a couple of days of wearing her poltice boot, lol she did a number on that poor thing. Thats what had been making her ill, she had a fever and a high heart rate.
Green Broke
Join Date: Jun 2009
Location: Was in Ocala, Fl Now In West Union SC!
Posts: 3,175
• Horses:
1
IDK either BUT I do know that she is beautiful!!!!
Green Broke
Join Date: Mar 2009
Location: Kansas in the summer, Kentucky most of the time
Posts: 3,028
• Horses:
3
It's difficult to tell by just looking at a mare if she's pregnant or not. however, She has had a dramatic change in weight.

I would get her looked at by a vet since she has been exposed to stallions.
---
Look like a SUPERSTAR, Ride like a FOUR STAR, Win like a ROCKSTAR
Eventers: Making BAD Dressage look GOOD!
Time for a vet call....or you can order a Weefoal (basically an EPT for horses).
Did you say she's making milk? Although it does happen, some mares will lactate during heat cycles, or just generally all the time, but it's not common. I'd definitely have the vet out to check, she's definitely had some weight gain in the belly department!
She's going first thing in the morning, also her urine is an odd color and leaving whitish color spots on her legs, we thought maybe she had actually went into season and thats what was on her legs, but today I saw her urinating splashing down her back legs(actually peeing not squirting) don't know why it would leave whitish marks tho unless its dust sticking to her, but it's white not tan. this has only been happening the last couple of weeks. Ugg can't wait to talk to the vet.
Quote:
Originally Posted by
myhorsesonador
View Post
IDK either BUT I do know that she is beautiful!!!!
Aww thanks, I actually purchased her sight unseen I did see a snapshot, and thought hmm why not. I was in AK at the time and she was in Az, she's a breeding stock paint, don't know much about her pedigree but she's reg. with Mardel Dixon(sp?)lines Her sire has performance points and
is by Nixon Dixon not sure about her dam.
It's hard to tell for sure, just by pics, as she is a mare that has a lot of body capacity...My mare is the same way...would be easy to 'hide' a baby!

I would just go ahead and get her Ultrasounded, or checked internally.
---
"The ideal horseman has the courage of a lion, the patience of a saint, and the hands of a woman..."