Nothing much today, just went out and grained her. I had to collect the fly masks that were strewn about the pasture. After walking all the way down into the swampy part of the pasture I came back up only to see that I had walked right past it.
Tenakee puttered after me as I walked around, but she decided to wait when I went into the mucky end of the pasture. I am really starting to like her, and since my dad has fallen in love and stolen my first Curly girly I find it easy to settle for a broke curl with a bun in the oven.
After years of riding my green broke gelding, my muse for my username, I am looking forward to working with Tenakee and getting her to be a solid trail horse.
But since text is boring, I found some pictures on some of her foals and ancestors on curlyhorses.info. Credit for the pictures of course goes to their respective sources.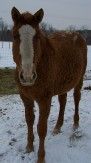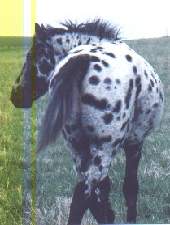 On the left is her foal from 2003,
MCH Mystque*
; on right is the foal's sire,
Mead's Dakotah Deauce*
.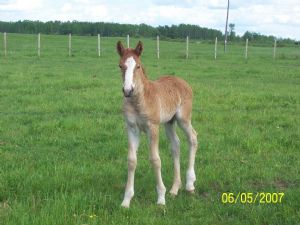 MVR Blue Moon
, a nice looking colt by the stallion below.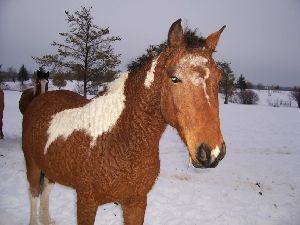 MVR Eclipse*
, I've seen pictures with this boy before. I think that to his left the horse you see a sliver of is Tenakee.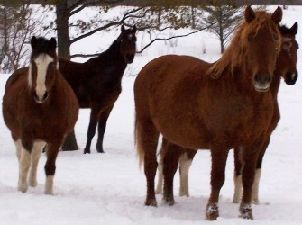 If you look in this picture the pony peeking out from behind her to her right is the stallion above.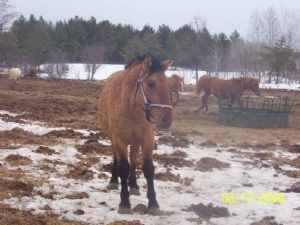 This is
MVR Greyling*
, sired by
TD's Black Eyed Buck*
, who is pictured below, but only as a colt. There is Tenakee moseying around in the background.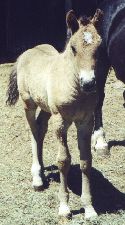 The sire of the gelding above.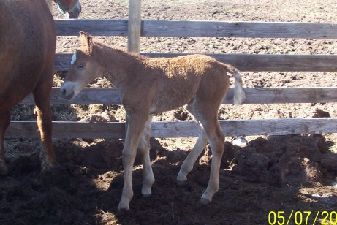 MVR Topaz*
, a pretty looking little filly who has some extreme curl! Sired by
Mead's Aishihik Sorrel*
, pictured below.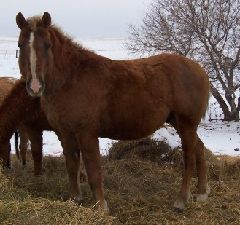 Stallion mentioned above, what a porker! But a decent looking guy, aside from that.
I always love seeing horses that have some sort of tie with my own horse. If you ever want to look around at certain curly horse lineage than this would be the place to go.
Here is mama Tenakee:
Tenakee*
And papa Buddy:
MCH Buddy*
Curlies arenso cool to me, I'll be stalking this thread for a while now :) cant wait to see the baby!
We went for a walk today, mainly just to take some pictures. Tenakee did well, but still needs to learn personal space. I only really took the first one for a looksie at the baby/conformation the rest are just to show off the pretty mare. I took a lot more than these but I figured that I would just limit myself to ten. ;3

Tenakee is of course the lighter mare without white. I included a few with Scarlet in them, my other Curly horse, who is a darker color. Then the two dogs were just for fun, because they are so darn cute. ;] The blue merle is Edgar, my Pembroke/Cardigan Welsh Corgi mix. Then the sable merle is Jelly, my Border Collie/Pembroke Welsh Corgi mix.

Edgar actually was the reason we learned about the Curly horses. The breeders had two Curlies, Scarlet and Lil' Hornet, when we first went up there to get Eddy. Then we took our next trip up to pick up Scarlet, but there was also Tenakee, April, Tenakee's colt and Lil' Hornet residing there. On the next trip up, where my mother got a puppy (dubbed "little Eddy", but really named Katie Bean), they had the stallion, Buddy, finally there. Then we went up and got Tenakee, and all of the same horses were there in addition to some Highland cattle. But it was quite interesting how we got into all of this just because of one dog. But the chaos was worth it, because I learned so much of this fantastic breed.

A little bit of a novel, but I tend to ramble on about things I love.
beautiful pregnant mare there..and i love those corgis as well
I love curlies, but I fear the grooming o.o
Posted via Mobile Device
Quote:
I love curlies, but I fear the grooming o.o
Posted via Mobile Device
They are actually fun to groom lol My extreme Curly x Arab sheds out in clumps to a thin, almost transparent, summer coat within a few weeks. No need to even use a shedding blade to her. I just use my fingers lol
She is a gorgeous mare, OP :) The Curlies are the best out there. IMPO, no other breed comes in such a variety of body types and have such solid personalities.
Posted via Mobile Device
Those Corgis are just so cute!
Showing
Join Date: Jun 2011
Location: Cariboo, British Columbia
Posts: 11,954
• Horses:
3
Waiting for a curly, cutey baybee.........
Quote:
I love curlies, but I fear the grooming o.o
Posted via Mobile Device
Their grooming isn't too bad, actually. One of my Curlies feels the need to roll all the time in the mud, so she is usually crusted in dirt and mud. xD I could see if they managed to get into lots of burs it in that mane could be horrendous, but I am lucky enough not to have encountered that. I can also vouch for the shedding in clumps; it was easy to hand strip her entire coat and collect it for spinning into yarn. (I am going to mix it with Alpaca hair and hopefully get enough for at least a bracelet or something. ^-^)
Similar Threads
Thread
Thread Starter
Forum
Replies
Last Post
Toppa's foaling thread

cmarie

Horse Breeding

145

04-06-2012

05:23 PM