i hope so she gonna go pop soon otherwise
---
milk being tested again later and i will take some pics i am hoping it will be here by end of week i have a feeling it will be a colt
ok tried to take pics but phone died on me typical had the milk tested there was no difference he said no point testing calcium until the sodium and potassium line crosses? there we are tomorrow there will be pics
more pics she looks closer it can't be to long?
---
I don't think she'll make it till Sunday. I see wax and a very relaxed backside.

As for the milk - Dancer's was only cloudy Sunday afternoon - looked like really thin skim milk. Her filly, Rain, was born early Monday morning.
---
Plain Old Dee, horses Dancer and Rain
I believe in dragons, unicorns, good men and other mythical creatures!
I think She still has a few more days to go personally.We breed horses & I think her Vulva needs to drop & puff out alot more. Also Her Udder will more than likely loose that crease infront of the teat too.Can't wait to see photos!!
thats interesting keep watching her she was sweating like any thing on her neck this morn everywhere else was fine it was wierd also got a phone call at 2 last night saying she was breathing heavy but she calmed down after half hour? weird or what. i will def have pics of her and foal when it pops out can't wait to see what its colouring and markings will be. i'm having milk tested this eve again
yeah i still think it's going to be a few days. but you never know with mares!! i'll give you some reference pics of my mare the day she had sparta. i took the pictures that morning and later that evening she finally had him = ) excuse the dirtyness in the vulva picture! she had JUST went to the bathroom! silly girl!

and while most symptons are the same and most mares look the same THEY are all different. one mare could have a busting bag full of milk and the next could barely have any and they could still foal on the same night. so it's always a waiting game
---

Baby, Sparta, Carmen, Henry, Hooch, Mercedes, Butterscotch
thanks that is really helpful looking at another horse, checked milk vet reckons tuesday/ wednesday poss mon but unlikely unless milk rapodly changes over weekend
Here is a picture I took of a Maiden Mare we had here.
This is a week before she dropped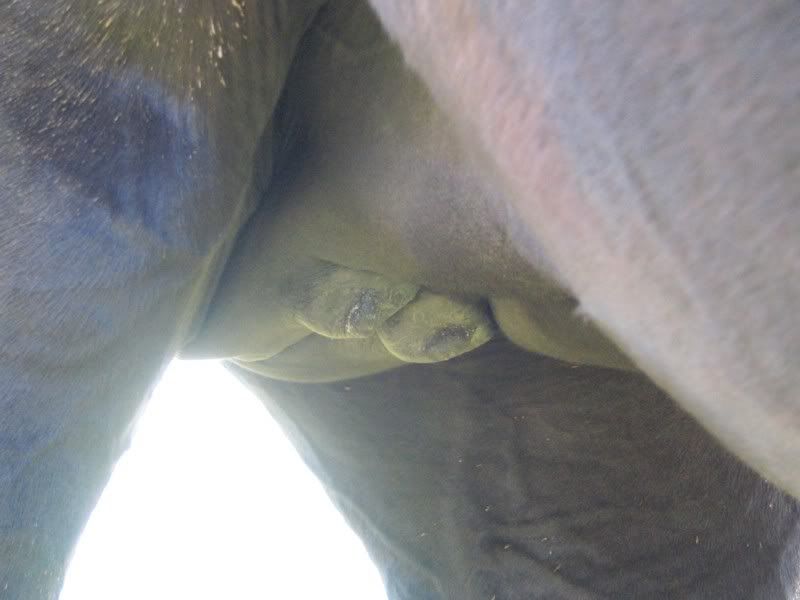 & this is the day she dropped about 12 hours prior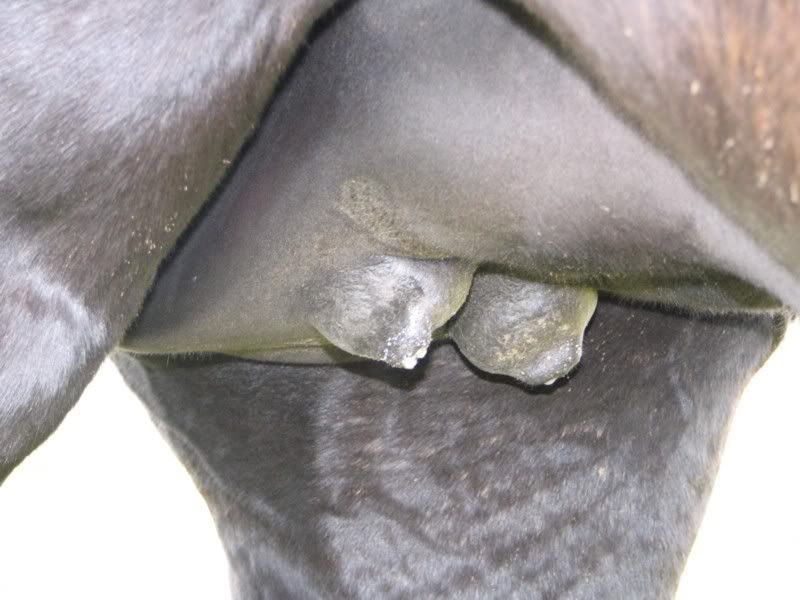 thats can increase in size over a week u can really see the wax. bag needs to fill up bit more and teets to get bit bigger