Epiphysitis
---
Hi all,
I found this forum on my search for information about Epiphysitis.
A bit of 'history' - I'll try to keep it short:
On Friday (September 24th) when we got the horses in from the pasture, I noticed that my 5 month old filly had VERY upright pasterns on her hind legs (left side worse than right). They were not swollen, just 'off' and she was not lame.
On Saturday her hind left fetlock was buckling forward a bit in the evening and when she walked, it 'hickuped' a bit... not sure how to explain but you'll see in the attached video what I'm talking about.
So for the past 5 or 6 days it has been the same patern, she's completely good in the morning and you coudn't tell there's an issue, and she's bad every evening. Some days better than others.
Last night was the worst bout so far and I took some photos and a short video of her movement. Having said that, they came running home yesterday (about a quarter mile full gallopp) and she was sore 5 minutes after. About an hour later, it got better already and this morning she was ok again.
I contacted my vet on Tuesday and he just recommended to wean her right away and keep her on grass hay only with limited turn out (even keep in paddock if possible).
I have a good friend who's a vet tech and she suggested to have her vet-checked right away. I also talked to another good friend who is a breeder (for many years) and has dealt with such a case a few years ago and said the same as the vet; to just wean, cut back on protein intake and wait-and-see...
I'm worried about my 'baby' and somehow none of the aricles I found online are giving me any 'peace of mind'.
ETA: Her legs are perfectly fine from the day she was born, issues just started now. She is turned out with her mom and our other horses from 6:30 AM to 7PM and then on drylot over night with a flake of hay grass hay around 9 PM
No other feed is given to her but she is still nursing.
We are going to wean her on Saturday.
And here are the pictures... of course also a 'full body shot' so you can see why I love her so much
Any input is very welcome!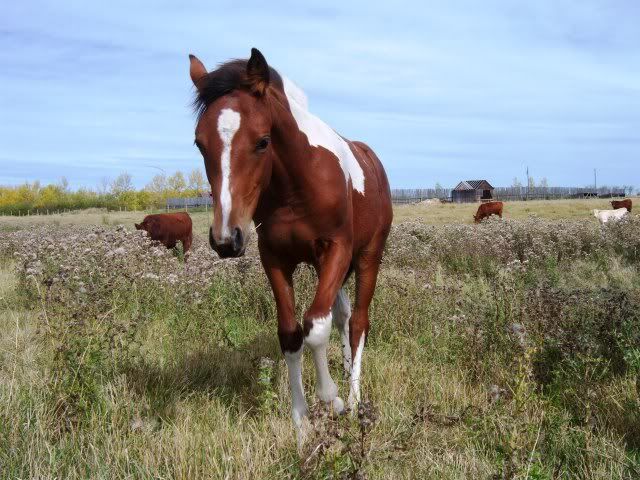 Yep, cut her out of all grain if she is getting any and it probably will be a good idea to wean her. Basically she is growing faster than her joints can handle and they are getting inflammed. Have seen lots of babies like this, they are usually fine.
I am surprised about keeping her from exercising though, I always heard exercise was good for this.
good luck she is beautiful
Thank you wyominggradma!
So if you had the choice of keeping her in a 175x250' dry lot and on grass hay only OR on 120 acres where they do run a lot throughout the day, what would you choose? I'm working full time so it's one or the other, I can't just let her out for a few hours a day
.
But it sure is good to hear that you've seen this before and the horses usually turn out to be ok! *phew* I'm just so worried about her...
Now let's just hope for a quick recovery!
She wouldn't be on the 120 acres by herself would she? And what is the fencing? When a baby and mom are first weaned from each other on the same property, they will call out and try to get to each other. The baby will go through a barb-wire fence, or the mom will.

If the small pen has metal fencing, you'd best use that to keep the baby in, it would also be easier to gentle her and work her in it as well =) But I don't know the full situation.
---
Lettin' the cat outta the bag is a whole lot easier than puttin' it back. -- Unkown

I appriciate your concerns ChevyPrincess but trust me, she will be weaned safely. We have large paddocks with 10' windbreaks around them and all wood fencing. This is not the first foal we have and/or wean; just (unfortunately) the first one that has come up with the leg issues
If anyone else has experience with Epiphysitis I'd love to hear about it!