Equine Color Genetics & breeding special colors
---
Is anybody out there interested in Equine Color Genetics? I'm interested in seeing your unusually colored horses. I'm hoping we can put together a kind of knowledge base of rare colors, and observations about colors to help out with the discovery of new color genes. I'd like to see colors like Black Chestnut and Black Palomino (chestnuts who shed out to black in Spring, and palominos who shed out to black at first shed - often chocolating up at age 3 or so); silver dapple; champagne; pearl - or something you have in your back yard that nobody knows what it is - please let's see 'em and talk about them here!

Also any information about REMNANTS of genes in subsequent generations (eg. a non-roan horse with roan ticking from two generations ago; a non-Champagne horse, with frosted mane, from a champagne predecessor; etc). If it seems unusual, or out of line with known breeding inheritance, let's talk about that!
---
What? A great horse can
ABSOLUTELY
... also be a wonderful color!
I am extremely interested in color genetics! I have done a good bit of reading on it and although I am still pretty fuzzy on Appy and Paint patterns I have a relatively firm grasp on solid colors and the possibilities from different combinations. I know of a site that has a lot of very good material, if anyone is interested PM me.
Great website. Nicely laid out, and pretty horses too.
I love the little shetland mare, and would be interested in buying her if I weren't living in the UK. Already done my share of importing this year!!
---
What? A great horse can
ABSOLUTELY
... also be a wonderful color!
I love knowing about color genetics... also have a number of unique individuals
My Amber Cream Champange Tobiano mare. She's a 6yr old American Saddlebred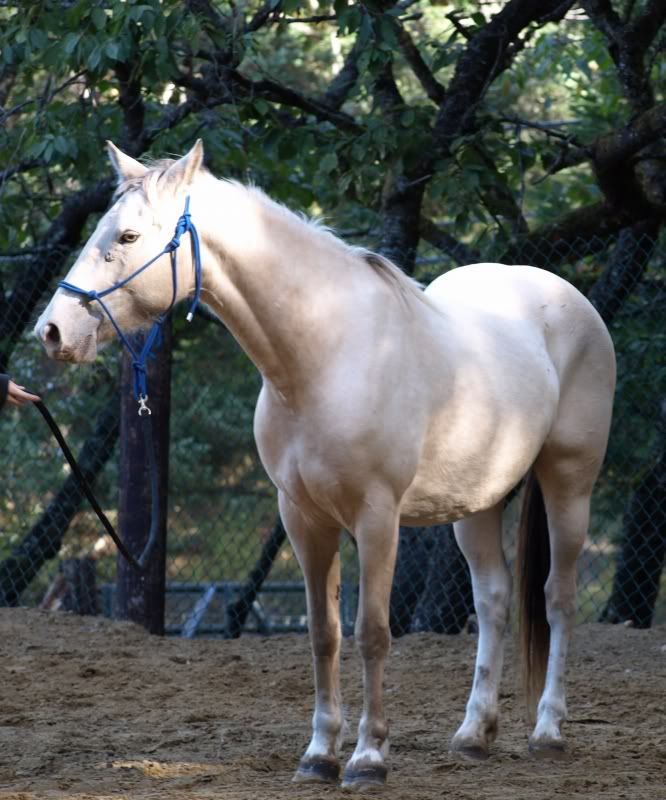 My Bay or Black (not sure - haven't done the DNA test yet) Max. Sabino mare. She's a 6yr old Clydesdale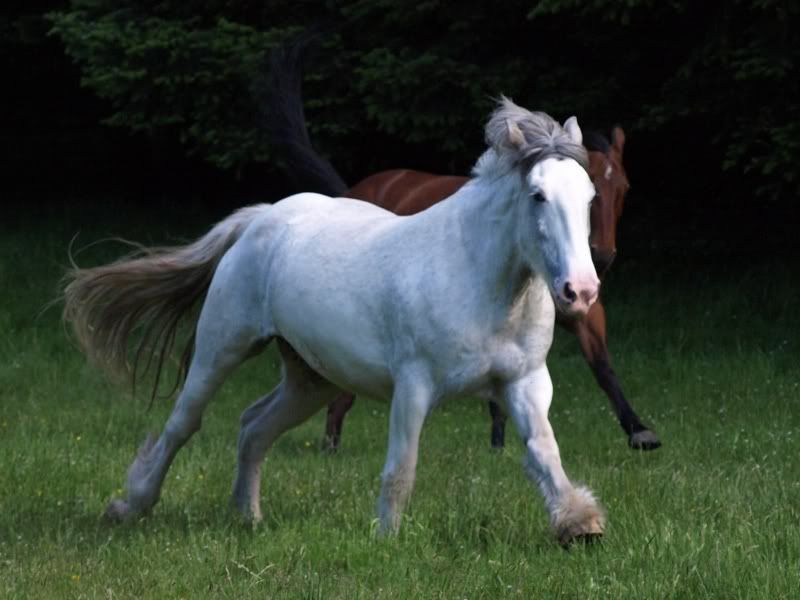 I will get to bring home my cremello American Saddlebred colt this fall... he's just a "run of the mill" cremello though.
I also have a pretty "run of the mill" Palomino American Saddlebred colt, 4yrs old. He goes from pale "peach" colored in the winter to a deep dappled gold coat in the spring/summer. I have to get updated shots this year still - he's got a lot more "soot" on him... this photo was Apr 15 of this year, and was his second ride under saddle
ooo boy...
I have "Fathom" who's a yearling maximum white and black tovero filly who we're sure is positive for sabino and splash and most likely frame as well. She's 98% white and 2% black with one blue eye and a TON of ermine marks and cat tracks hidden across her (sometimes they only show up when she's wet). We're also 99% sure she's homozygous as she comes from heavily homozygous stock (parents are both tobiano, sire's tovero by homozygous sire and solid dam and dam is tobiano out of an unknown status tobiano sire and a solid dam) and she's also a true medicine hat!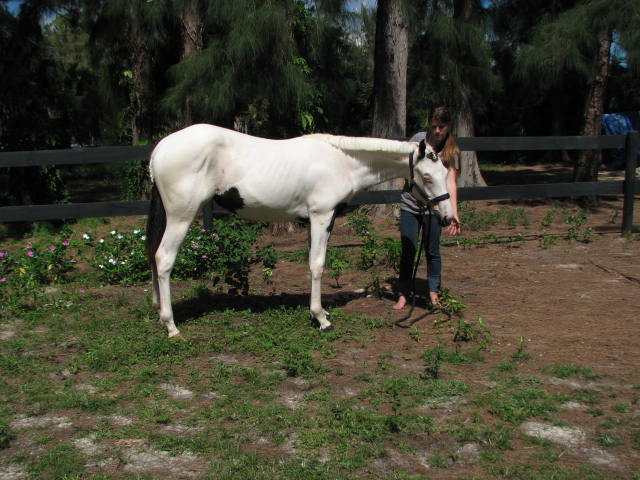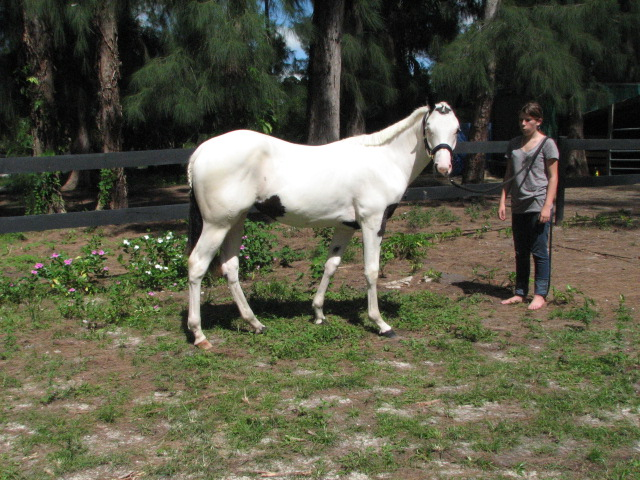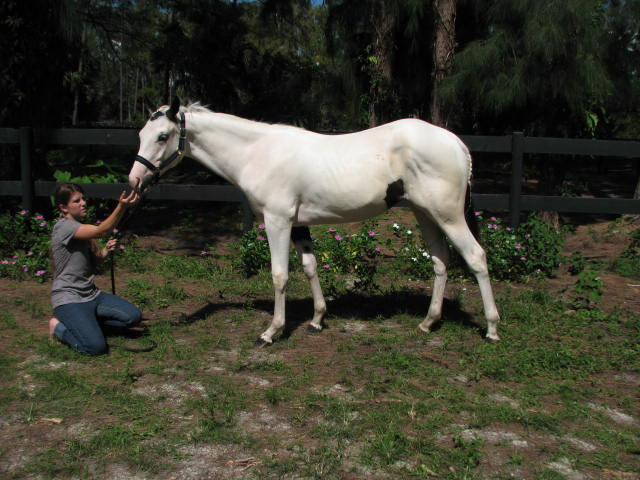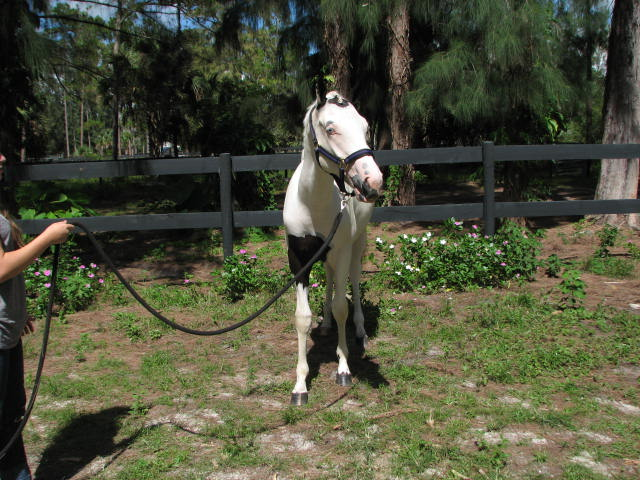 and
"Sedona"
who's a sorrel splash/sabino overo mare out of a splash/sabino crop out AQHA sire and an overo dam (presumably splash/sabino/frame as I've never seen a photo of her) we're almost positive she's homozygous for sabino and most likely splash since her dam's side has a TON of Splash. She's also starting to roan out EVERYWHERE. IE: white hairs scattered all over her body. However I think this may just be sabino ticking as there's no real roan in her pedigree anywhere close up front. We also are pretty sure she carries the frame gene as well, if she doesn't she's the weirdest marked splash/sabino I've EVER seen. The two photos of her left side are of her from March when I first got her so pardon her lack of muscle/condition and the rest are from June... And I think she may be in foal: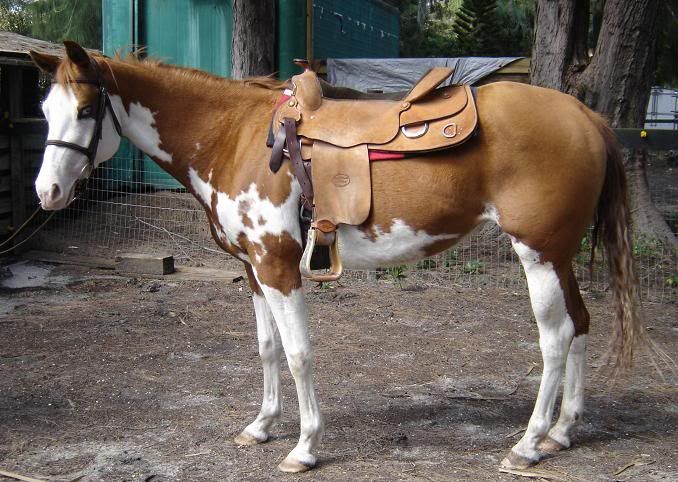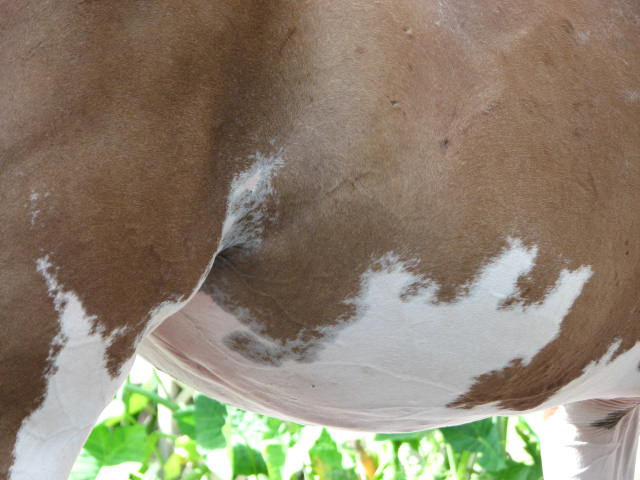 Neat markings on both of them!
hehe thank you. They're the whole package: great conformation, great temperament, amazing pedigree, and awesomesauce color! <3 my ponies.
Riding well
---
Quote:
Originally Posted by ... this photo was Apr 15 of this year, and was his second ride under saddle
[IMG
http://i113.photobucket.com/albums/n225/riosbravo/Finlay/Ap15/P4152850sm.jpg[/IMG]
Hey that palomino is traveling in a very nice outline for a second ride!
---
What? A great horse can
ABSOLUTELY
... also be a wonderful color!
Thank you... he's a great horse, and very willing to try for people, and extremely intelligent. We haven't put a lot of work on him because he keeps growing on us, and with his intelligence it'd be really easy to push him too fast.