Fantasy Horse - what breeding would yours be?
---
My fantasy horse is a black TB filly by TB stallion Rock Hard Ten:
Out of a Wando mare:
The hope would be for an athletic filly who could be a good low-level eventing prospect, as well as have the ability to do Western Pleasure.
How about you? What would your dream breeding be?
---
A canter is a cure for every evil. ~Benjamin Disraeli
I actually had the oppurtunity to purchase horses. My stud is one of them. His is a AQHA Dunskin stallion that has won a fair bit of money in reining and proven to be an even better producer than he was perfomer! The other is my mare Gunnie, her pedigree, to me is amazing, a daughter of millon dollar stallion Be Aech Enterprise and out of a daughter or Mr. Gun Smoke. She has amazing conformation and the bonus of added color, chestnut with 4 high whites, belly spots, and a big blaze.
BTW in my opinion that black is one of THE best looking TB's I have ever seen. Super cool looking and he has awesome feet for a TB.
I would kill for a
quality
homozygous black mare with Doc O'Lena and Mr. San Peppy breeding.
Then I would breed her to this guy in hopes of ending up with a blue roan stud colt.
Metallic Cat - High Brow Cat x Chers Shawdow - Beau Galyean
Of course, I would be happy with a healthy foal of any color/sex from that combo...but since we're voicing our dreams here... LOL.
---
Always remember that feeling of looking at a big, open country over the ears of a good horse, seeing a new trail unwind ahead of you, and that ever-spectacular view from the top of the ridge!!! Follow my training blog:
http://robertsontraining.blogspot.com/
Gotta love Wando! (and Rock hard ten of course) but go canadians ha ha!
I think my fantasy horse would be a pitch black Thoroughbred crossed with either Friesian or Andalusian, mare, between 15 & 16 hh, NO taller! Tall horses and short legs don't mix lol for me anyhow
Versatile with a good nature that could do some minor jumping, barrels and go for long rides on the trails and look beautiful doing it all!
---
"If a horse fails to do something that is because he was not trained to do it. If a horse fails to do something properly that is because he was not trained properly."
www.wildestheartart.com
I have my fantasy horse. She's a Morgan/Friesian. Everything I dreamed about in a horse.
---
"And somewhere in the northwoods darkness a creature walks upright. And the best advice you may ever get is: Don't go out at night..."
Oooooohhh! A fun game!!
My "dream horse" would be by the Hanoverian stallion "Dancier"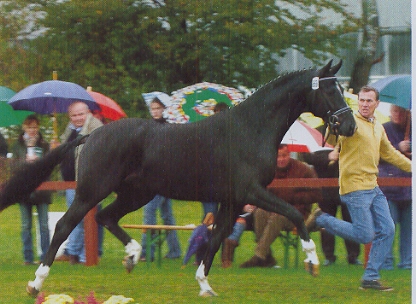 (By De Niro by Donnerhall and out of a Lauries Crusador xx line)
And then out of a mare with one or all of the following lines:
Rubenstein (or son Rotspon :P)
Quattro B (or sons Quando-quando, Quarterman or Quarterback)
Cor de la Bryere (or sons Come Back II or Calecto V)
Basically I love the Donnerhall line - it is the most highly represented Hanoverian line in the Olympic dressage ring. However I do think he needs some refining and I like a little heat - hence the Lauries Crusador xx lines on the bottom of the stud's lines.
However I do need a shorter horse and for sure the Rubenstein lines generally throw a shorter horse - Come Back and Cor de la Breyere lines can throw tall horses however they are usually still small in the body with a long leg and a notably active hind limb. Quattro B is a line I have never personally ridden however it is a highly ranked line in Europe, has a French flavour and seems to throw a lot of nice moving, willing, international quality horses. I would love to try one!
A combination of my 4 favorite lines would be totally ideal!! My horse now has 2 of them - by Rotspon and out of a Come Back II mare.
---
They say money doesn't buy happiness -- well happiness doesn't buy horses!
Oh man, I would love to have a black SE Arab filly with a blaze and 4 white socks/stockings. It would be amazing if she was by True Colours and out of HAF Allieena, or EAI Shahtahna. My hope would be that she would excel at whatever the heck she's pointed at
Posted via Mobile Device
Anebel, the stud that I purchased my yearling from had a filly the same age as Billy, by Dancier..... wow was she lovely - and black! But the price tag was far out of my budget for a yearling.

Quando-Quando is now in Australia for breeding - that will be a great boost for Aussie dressage breeders. We have also just imported 007.... very exciting!

I would love to get my hands on a Rotspon (as you know Anebel, I have been drooling madly over your Rowan for years!!), ideally Rotspon over a Fisherman's Friend mare (Fisherman's Friend x TB to be very specific). I love compact horses, with 3 quality paces that you can ride, improve and work with.


But I'm very happy with my Fisherman's Friend (Fabriano) youngster for now :)

I love Furst Nymphenberg as a sire. Again the breeders of my Fisherman's Friend yearling, have had some absolutely incredible results breeding F.N. to their Pommery mare - both foals have been very leggy, with unbelievable, uphill, balanced paces. She has already had offers of around AU$25 000 for each of them, the oldest being 14 months. If I had the funds and the skill to ride horses like them, I would snap them up in an instant.
My Fantasy horse is my own.

Comes from the same Hannovarian line as Anebe's fantasy horse...so no need to improve.