Foaling Camera - Adventures with wireless IP on a budget
---
I have wanted a fancy barn camera for
ages
and have been researching them for what seems like months now. Initially, I was dismayed to see $200+ price tags per camera, and that was for some of the lower quality stuff. I think I have found an excellent solution.
It started with the revelation that
we ALWAYS had an ethernet line in the barn from conduit to the house
. Imagine how steamed I was to learn that I could have had a computer/wifi in the barn over 10 years ago
So I was able to hook up a $50 wireless router this fall that got me back on the camera kick. A techie friend suggested I look at video baby monitors, but I found them to be too expensive with not enough features for what I wanted.
Here are the features I needed:
no battery - must plug into an outlet because I won't remember to charge them.
internet streaming and mobile viewing (iphone/ipod/ipad)
no dedicated computer to run it
wifi capable, but able to run ethernet to a router
color (okay I don't need this, but I want it)
pan/tilt/zoom (another want)
I was able to find something suitable on Amazon for $47 per camera. Toss in a free one-month trial of Amazon Prime and I get them overnight shipped for $3.99. This means I hope to be up & running when they arrive this Friday
I will post some pics and further review when I get them working. It is supposed to record video, so maybe we will get to see some of Teena's antics when she's alone in her stall. (if you don't know little Teena, you can meet her starting on page 20 here:
Navajo's Baby-Mommas
)
Sorry though, I don't think I will be able to give out live-stream video feed. From what I have read it eats bandwidth, has a limited number of logins (5-10 viewers), and could open my router to hackers (which might not matter if there aren't any computers hooked in.) I will do some more research and get a definite decision though.
Foaling/barn cams are the best! I used one for the first time last spring and loved being able to keep an eye out without having to be out there.Plus,it can be very entertaining! I just used a wired surveillance camera setup and hooked it up to a laptop or a tv in my bedroom.Then at night,all I had to do was flick on the remote,see what was up,and go back to sleep;no staggering outside to the barn in the middle of the night in my pjs. :) Would have liked to have a live stream on something like MareStare,but as you mentioned,it gobbles up a pile of bandwidth,which would get very expensive very fast.
Still waiting for them to arrive. Fed ex called to say they were having trouble finding our house. I was hoping to get them set up tonight yet, but it will depend on how long chores take. I will update tomorrow though.
Posted via Mobile Device
well this little adventure is proving to be like I put on my shorts and announced that I was going mountain climbing in winter. (unprepared!)
After a couple attempts to set the cameras up, I cannot get past assigning them an IP address and testing them while connected with ethernet cable to the router. I am not a technical genius, but do consider myself smart enough to follow directions. The problem arises with each router being slightly different.
I have thrown in the towel and called a friend for tech support. He is coming to the barn after work tonight. I am 100% confident that he can make them work wirelessly! Hopefully I have a wonderful photo update for tonight.
I am beyond excited to get these little plastic pieces of frustration working because the glimpse I got of the video feed while they were connected was nothing short of AMAZINGLY crystal clear for what they cost and had beautiful sharp COLOR
Need to update this thread too! The cameras work AWESOME. I would totally recommend them to anyone who has a little bit of patience with the set up and internet access in their barn. Set up is fairly easy, and google has tutorials for almost every type of modem/router ever. You don't really need any computer smarts when you can follow photo walk-throughs.
As it turns out, 99% of the troubles I had are completely limited to BS from my internet service provider, which is a local company limited to a 10-20 mile radius of our city. They refused to give me access to the modem in order to forward the ports. Forwarding the ports is what makes the cameras visible on the internet. They all work perfectly on the intranet of my home network all the time though.
Having the cameras made for easy foal watch (for the first foal of this year anyway). I simply had to get up every hour and roll over to look at a screen rather than hustle out through the cold in my PJ's. I elected not to post the cameras live on my website. It initially seemed like a great idea, but I just felt too creepy not knowing who might be watching. If I can figure out how to do a restricted page where a viewer would have to be some sort of "member" and provide information to verify the person viewing is a real person, I may revisit that in the future. I did give viewing access to some of my friends, and have not had any complaints as to video quality.
Now for some still photos of the cameras
Semi-night vision. Taken with half the barn lights off for the night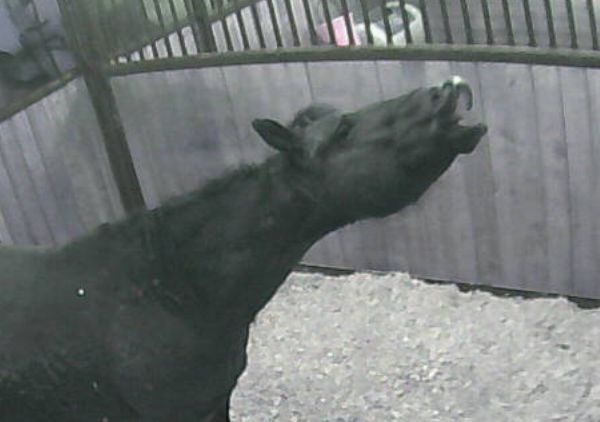 Same stall, different camera. Here you can kind of see the difference between a brown horse & sorrel, the hay looks a little green & the navy blankets look blue.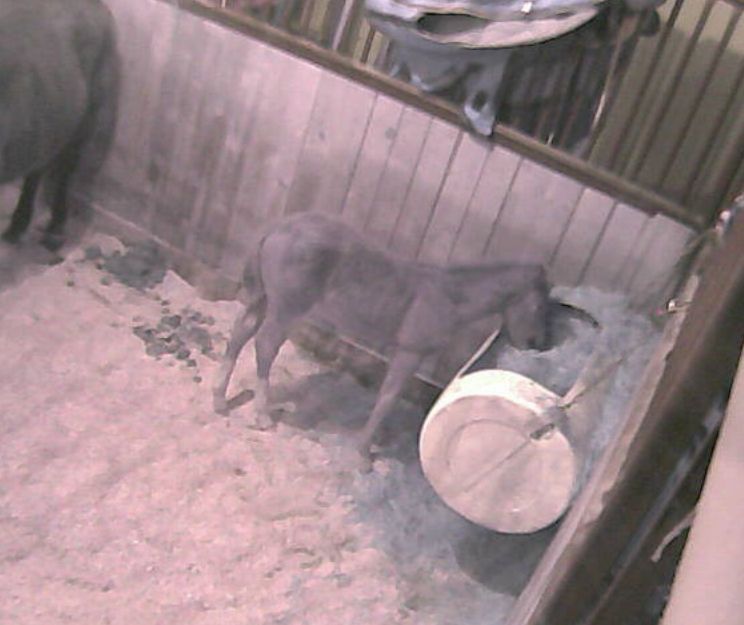 Same camera as the photo directly above, with all barn lights on. I have turned it to view the alley. You can see my horrible cluttered mess, but it is a better view of the color. This is also a view using the internet viewer website (hence the deletions of the camera's address) on my work computer rather than at home on the intranet on my iphone/ipod. You can see from this view that the camera's really prefer fluorescent bulbs in the alley to the 150watt incandescent stall lights. In reality to my eye, the stalls have more natural lighting than the alley.