Foaling updates for my mare
---
Okay so I thought I would start a thread for my mare... She is 290 days today still a ways to go but I figured she is far enough along now that I can start posting preggy pics of her.. I hope you all enjoy... Excuse the muddy muddy mess we just got done with a snow storm and it's melting like crazy! I hope you all enjoy the pics and counting down days with me
I will be posting more at 300 days...
This is from the right side.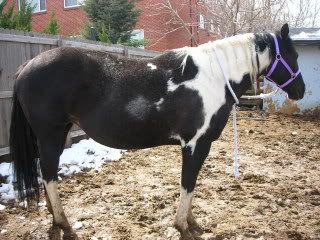 Left Side: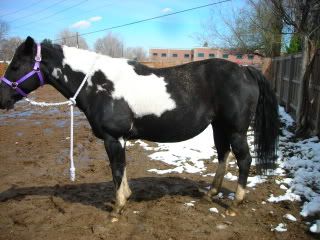 Front: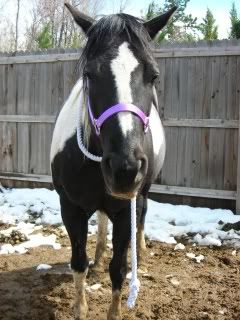 Rear: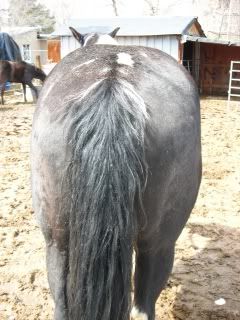 Udder, she is starting to develop that a little bit you can express fluid from her teats it is still very clear and watery in consistency.
Awww she's adorable! I've always wanted a black and white horse, ever since I got my first book on horses >.<

Is she the one bred to the Friesian? Her lazy face is just to cute.
---
Wait! I'll fix it....
yup she is the one bred to the friesian see where most mare's pregnancies show in the early mornings she lets hers all hang out in the afternoon when she is naping in the sun that's when I get good pictures :) ... They are loving this sun after the cold and snow..
She has a nice, muscular body type and a cute face. Does she have a real flashy trot? Most of the Friesian x baby's I've seen inherit that classic knee action.
---
Wait! I'll fix it....
thank you for the complements.. and yes she extends really pretty has natural collection, and a jog to die for can be described as riding glass honestly.. the stallion owners said between the two should produce a really nice moving foal I guess we will see here in about a month and a half..
thank you
there will be more pics when she is at day 300 I try to update every 10 days that's when there are noticeable changes.
Can't wait to see that baby =)
---
Strength lies within the heart
but the strengh to trust lies between the horse and his rider!!!
She's gorgeous. :)
Hopefully the foal will be healthy and stunning!
Can't wait to see pictures.