Fae strutting her stuff in the endless rain...
These are not the best in clarity, taken in the rain with low light, but they do show her impulsion, engagement, and powerful hip: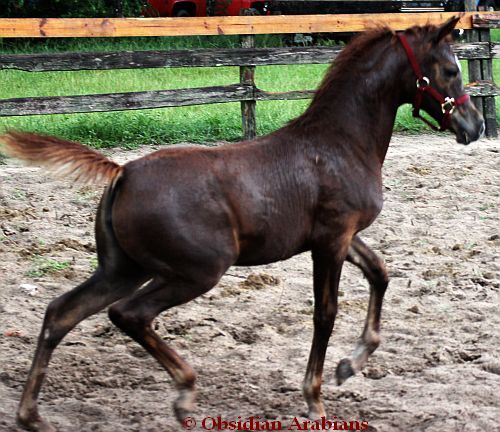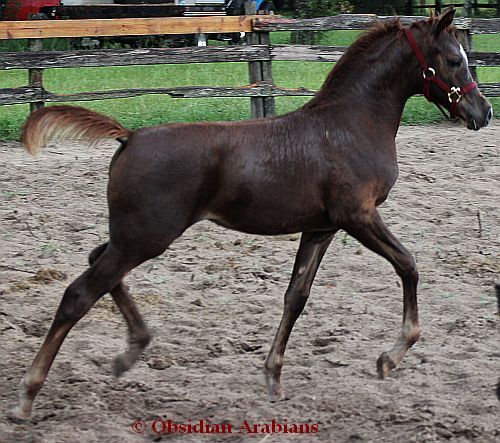 And just for the joy of being a foal:
---
For those who don't like me-- it's mind over matter; I don't mind - - and you don't matter.
www.obsidianarabians.com
I love the last picture. I am never quick enough to get action shots of my colt.
Posted via Mobile Device
---
Proud Partner Owner of Me Too Radical, Top 10 PQHA Quality Improvement Program Futurity. Sire of AQHA, NSBA, and NRHA champions. Sweet, gentle, excellent mover, excellent temperment, and so much more. Standing in Indiana.
Here's Gunner, he's going on three months old. He's finally starting to get a bit more social. He is getting very curious and daring. He has proceeded to get himself stuck in my fence and break a post in half...so we tore down the middle fence and tightened loose wires for his sake!
Not much action, way to hot and momma is limping again :( So if he runs he's running with our filly or our gelding, making laps around the pasture until he's heaving.
Just received an update pic on my colt! He will be 5 months old on the 23'rd! I'm head over heels in love with this guy. He's such a lover. Everyone adores him for his friendly disposition. He's been going through trailer training in preparation for his trip to us in just a matter of weeks! Eeeeek. So excited. Hope his adopted aunt (my mare) will love him as much as we all do! Photo credit to Lazy A Ranch and used with permission.
(Darn colts and their wieners always out!! lol!!)
---
Riding: The art of keeping a horse between you and the ground.
My lovely filly is doing great thus far, and I am just head over heels in love with her. The more she grows the more plans I make for her, I am just so excited to have a horse that will know how to work from the beginning. Makes life so much easier training them later and working with them for the rest of their life. We also plan on breeding our mares for a full-sibling and half-sibling to Takala next spring. I am conjuring up images of having my young team of driving horses already! Perhaps I am getting a little ahead of myself here... In the mean time I just gaze at my beautiful little filly.
---
On the sixth day, God created the Quarter Horse.
On the seventh day, he Painted the good ones.
YAY FOR NEW PICS FROM THE BREEDER!! Well. One new pic at least. It's never enough! He's coming home soon and I can't wait!!
---
Riding: The art of keeping a horse between you and the ground.
shes gorgeous. Dallas is coming home tomorrow! Its been a long summer wait