His dams dam (his great-dam) was BB ORAKALIA AHR*476169 24 Feb 1991 Mare Grey. Apparently very noted in the Arabian world. His dam was a 2001 gray.
You can see some of her info here:
http://www.deshazer.com/arabians/Ima...fina%20Ped.jpg
I would kill for a brindle
Favorite color in horses and dogs, next to Merle.
---
Wait! I'll fix it....
Quote:
As far as I know, the Arabian horse registry has no rules against showing a horse based on what color it turns out. Now, an Arabian might not show very well if they are an odd color, especially in a halter class, because it is not considered ideal.
As fasr as grey and brindle.... if he is a chimeric brindle, I am not sure how the combination would play out.....perhaps one or both "twins" that he is made of could have been grey, and since the brindling is the striped combination of the colors of those twins, his stripes might be greying at different rates.... or, one set of stripes might grey and the other remain chestnut (or whatever it is.) OR, perhaps the command from one set of DNA trumps the other DNA, and will grey him overall.
But to me he DOES look like he is greying. Most brindles who are non--grey look like lighter and darker shades of whatever color without the white hairs--
Here is a chestnut brindle as a foal and as a 2 year old--
Here is a brindle who is either red dun or chestnut (had seen him called both) as a foal and as an adult--
Here is a bay brindled with white-- but the bay is not lighteneing or changing at all. Makes me wonder if he is chimeric, and one twin was bay, the other grey, or one bay and one roan, or....? Or maybe his brindling is non-chimeric, but more like roan gone crazy, LOL....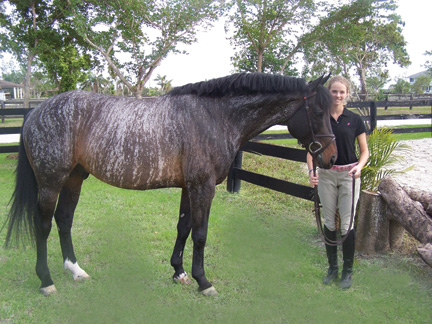 I love Dunbar Gold's conformation (whom I believe is the horse in the middle set of photos above). Even if he wasn't brindle, he would be a stunner. That is the way I feel a Quarter Horse should look.
You should name him Van Gogh! After the painter! ... and a show name could be one of the paintings names... just a idea lol
---
I am the master of my fate:
I am the captain of my soul.
Quote:
You should name him Van Gogh! After the painter! ... and a show name could be one of the paintings names... just a idea lol
That would be cute!!
---
Is all that we see or seem
But a dream within a dream?-Edgar Allen Poe
I am kinda leaning toward a more "Arabian" name...

Amir=prince
Nimr=tiger
Mirage=well..mirage...haha

So I was thinking registered maybe..
Amirage Nimr?
What do you think?
Or more ideas welcome!!!
---
Is all that we see or seem
But a dream within a dream?-Edgar Allen Poe
His coloring looks kind of like camouflage. The kind the military uses in the desert. How bout: DESERT CAMO his barn name could be Cam.

CAMO HIDAWAY

CAM-O-FLAGE
I'm sure I saw this horse on FHOTD blog AGES ago O.o .. I'm gonna go take a look now haha.
---
"If you can't see a thoroughbred has talent, you're probably too dumb to ride one anyway."

Sadly it looks like he is greying out. Look at the difference of his blaze from the september 2009 pics to now.
---
There is something about riding down the street on a prancing horse that makes you feel like something, even when you ain't a thing. ~ Will Rogers
Wow, this is the most interesting thread I have read in the longest time. It sounds like science fiction! Two twins merging and having two sets of DNA in a single animal and the coat is a mix-match of the colors the twins would be? I'm totally blown away. Coolest thing I've heard about horses / breeding / color absolutely ever.

Congrats on your horse! I think it's fun that he's something of a celebrity and others had seen him before you got him! Neat that they saved the pictures for you! Looks much better now than he did in some of the older ones someone posted.
---
I have no idea if he really is "stunted" or not, but I have a very well bred Arab mare, who's 5 years old right now, and she's only 14.1-14.2, and she's not stunted, thats just how tall she's supposed to be. She was 13.3-14 hands when I got her almost a year ago.