Grade Stallions/Grade Mares
---
What is wrong with people breeding grades if they have good conformation, temperament, test N/N for HERDA, hypp, etc, and work well in their discipline? They say theres no marekt, but if they are grade and good for family/trail/kids/horses, and all around fun horses, what's wrong? Here, there is a market for those horses if they'renot showing in breed shows. I wouldn't breed grades, but other people could if the only thing wrong with their horses is being unregistered. Being unregistered isn't a fault, its just a lack of papers and tracing ancestry.
Heck, JUSTIN MORGAN< the founder of the Morgan horse breed, was a grade! They aren't even sure today who his parent were, though they're pretty sure. He was part TB, half Arab, and who knows what else.
Now, with studs now days, its good for them to be registered, but with mares, if the mare has everything listed above, and is bred to a nice stud, even if grade, whats wrong with that? It would be a better registered stud, but its their decision. Even if the mare has faults that can be bred out, people say no, and say to just get a foal at an auction, but the reality is, its hard to find good foals at auctions that have everything you want, like to be a Registered Morgan with excellent conformation and such, for a cheap price, depending on your area. Not that is is always hard.
This is just MHO, and a friendly debate! I was just thinking........ I know many will disagree with me, and please forgive me if my thinking confuses you, I got bucked off and have a concussion so im kinda confused :) lol
[QUOTE] what is wrong with people breeding grades if they have good conformation, temperament, test N/N for HERDA, hypp, etc, and work well in their discipline? [QUOTE]

short answer - because there are multiple horses with all of these factors, but are also registered. Not every horse with those factors should be bred, and if there is a defining characteristic, such as registration, why not use it.
Posted via Mobile Device
I have a grade QH Mare and while I obviously had no issues buying one that was grade, I'd never breed her.

I have no idea what her lineage looks like. She could come from a couple of psychotic, never should have been bred, horses and by some sheer miracle ended up a wonderfully talented, level-headed calm horse.

My sister-in-law has a registered OTTB that she would never breed because she knows for a fact that multiple siblings of her horse were put down because they were mentally unbalanced. Her horse is perfectly fine but there is a good chance that her offspring could end up like her siblings did and now here's another horse being put down.

With grade horses, you have no idea what is in their genetics. There could be some horribly nasty confirmation faults that didn't show up in *this* horse but have a very good chance at being passed to future offspring.

The unregistered status isn't a fault but the unknown background is.
The best horse I have ever rode was a 'grade' horse and if I had the opportunity, I would have a barn full of him. I don't like the idea of breeding just because but if you have a quality mare and a quality stud and you want a quality foal...if they were registered you wouldn't think twice. My current horse is registered with very good bloodlines and is still an idiot at times...all horses have their flaws, some just have ancestry to back them up.
The whole point of registering a horse with a certain stud book is to allow for selection and documentation of certain heritable traits. Let's take your good quality grade horse example and compare it to a registered horse with the same good qualities. On the registered horse, we can look at pedigree and draw conclusions about genotype and predict the liklihood of their passing certain qualities on. The grade horse is a complete wild card; you have no idea if the desirable characteristics it shows will breed true because you have no data to base it on. A breed registry is essentially a genetic database.

BTW, are you aware that certain registries are open? Meaning that if you have an exceptional individual that exhibits all the qualities that are considered desirable in the breed, they can be conditionally registered with that stud book? This is true of many of the European warmbloods, but the testing and selection of breeding stock is incredibly rigorous. That is why you can have a warmblood stallion registered with multiple breed registries if he's an extraordinary enough individual.
Well, first of all there are not too many people with grade (as well as registered) horses who honestly can judge their mares for the flaws and breeding quality. I'm not saying there are none so please don't jump on me, but from lots of threads going all over the Internet most mares posted "to breed" or "excellent broodmare" etc. are just not a breeding quality. They still may be exceptional trail horses, but it just doesn't make them breeding quality.

Now I don't have a problem with someone breeding good confo/disposition mare to the complimenting stud, even though this mare is grade, for themself or if they have a proved home before they do breeding. But if you then want to sell it... Well, grade horse most probably won't bring tons of money (although I'm sure there are exceptions). However I do believe there is always a market for the well trained horses with good conformation. EVEN if they are grade.

Another thing to consider about the grade horses often people look for specific bloodlines. It's especially true for those expensive horses. If you want to pay $$$ for the baby you want to know what you get.
Thunderhooves, Justin Morgan isn't a good example to use as a grade horse, because he bred true. He was also conformationally well put together, as well as had an iron constitution.

He threw his look, type, and personality onto the foals he sired, which is what encouraged people who bred these horses to start a registry.

The founding stallion's genetics may not be known, but you can bet every registered Morgan today can be traced back genetically to the founding animals of the breed.

I want to know an animal's genetics, their possible temperament, their susceptibilities health wise, as well as what performance disciplines he or she may have been bred for. There's no sense trying to fit a round peg into a square hole. If an animal's been purposely bred to do a discipline I don't want to do, it would make no sense for me to purchase it.

When you have no clue to an animal's parentage nor any idea why they were bred in the first place, why would you continue the tradition?

Breeding, even when using the best on the best is a gamble, but at least using registered horses whose genetics are known levels the playing field more in favor of getting a useful animal who can live a long, productive life.
---
Last edited by Speed Racer; 05-03-2010 at

05:18 PM

.
I honestly dont see a problem with it, if your not mass breeding and the foal has a purpose, I personally prefer grades as they are not bred to look like show horses, and after working at a show barn, they seem to care more about what the horse looks like instead of if it can function.
Quote:
I honestly dont see a problem with it, if your not mass breeding and the foal has a purpose, I personally prefer grades as they are not bred to look like show horses, and after working at a show barn, they seem to care more about what the horse looks like instead of if it can function.
Are you aware that not every registered horse is bred to be a show horse?
---
Weanling
Join Date: Apr 2010
Location: Somewhere on Vancouver Island
Posts: 601
• Horses: 0
I don't have an issue with someone breeding their own grade mare for a foal that they intend to keep......provided the mare has good conformation and they breed to a proven stud......not another grade.
I do not agree with breeding grades to grades though......no way of predicting what you could end up with as you don't have a history on either side.
We bred our grade clyde/quarter horse mare that my daughter showed and won everything on at the 2'6" and 3' levels. We choose a Holstiener stallion because the type of foal you get is predictable as they breed true to type when breeding two Holsteinrs.........with this I felt that the foal would have a strong resemblence to the sire.
I think grade crosses are tricky at best......but there are things you can do to ensure you get a decent foal.
I know we lucked out but it took me two years of stud hunting to finally come up with what I thought would work.
Here is the dam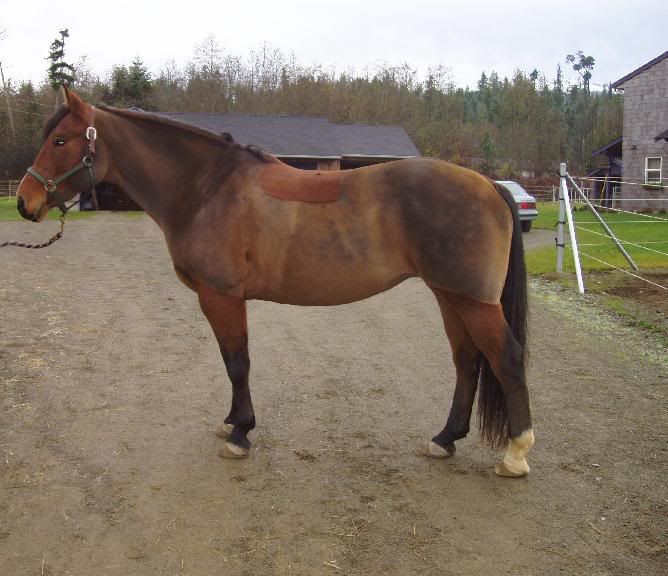 The sire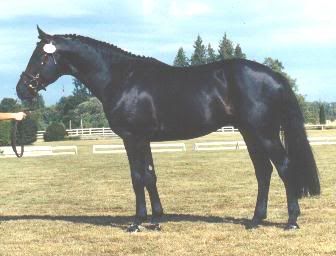 The offspring at 4.5 years