WOW, your stallion is amazing! All of his offspring there is gorgeous as well. He seems to produce wonderful babies!
:O im in love! wish my anglo arab was a mare...
---
Keep your feet on the ground when your head's in the clouds.
I personally think they'd make a fantastic cross. They're probably right - Anglo-Arabs are definately a breed of interest for many people due to the combination of all that stamina and energy, but with the increased height and athletic ability. With the sabino coloring, I think you could have a darn nice foal on your hands. KK offspring are known for athletic ability, not being useless halter offspring, so I think if you're looking at an Arabian cross for a good sporthorse, he's definately a stud to be looking seriously at. I find so many Arabs this days, even the ridden showhorses, are taking on more halter attributes. I love the athletic conformation of KK, and his foals are showing how versatile he is. I'm not a huge fan of Pikhasso, but I believe that's from the mare he was bred to, as WA Outrageous showed the exact same type of conformation as KK. I think bred to a mare like Faux Finish, the foal would be out of this world due to him having a conformation that's actually more like hers then that of your average Arabian.
Anyway, confo shots of my mare - let me know what you think. She definately has flaws, but she's unbelieveable athletic. She shocks people with her very untypical jumping form for an Arabian, and she was free jumped up to 3'9" as a 5 year old (never got a chance to see if she could go higher, she's 14.3hh). We also briefly did some Dressage, and although she hated it, I think she could have been decent at it.
Foal photo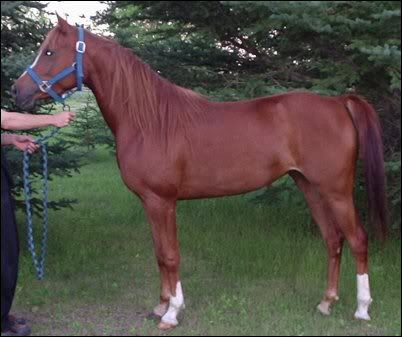 Confo shot as a 5 year old, she's definately matured in her adult years though
First time ever free jumping as a 4 year old
First bath, really awkward confo shot though, she looks a little silly and I don't know why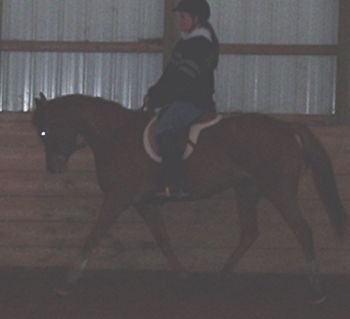 Sorry so dark, schooling as a 5 year old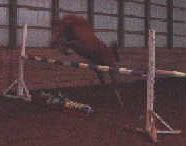 Jumping 3'9"
Jumping last summer
Riding this spring
Bad confo shot this spring
And the chunky monkey this summer looking much heftier then as a 5 year old, LOL
Ok, I'm sorry for all the pics
I was trying to find some that showed confo and some that showed her abilities (I personally think you need to view both when considering breeding) and naturally, I probably ended up going overboard. But there's my girl at a glance!
---
Quote:
I hope God tells her to smash her computer with a sledgehammer.
Green Broke
Join Date: Mar 2009
Location: Kansas in the summer, Kentucky most of the time
Posts: 3,028
• Horses:
3
Guaranteed Gold is at the top of my list when I breed my mare later ( she is only 6 and I am competing her). She is a TB mare and 15hh. Could you take a look at her in my virtual barn ( her name is Nancy Drew) and tell me if you would consider breeding her to GG? Do you think they would be a good match in a few years?
---
Look like a SUPERSTAR, Ride like a FOUR STAR, Win like a ROCKSTAR
Eventers: Making BAD Dressage look GOOD!
Sorry, just had to correct a typo and it's to late to edit - in regards to Pikhasso and WA Outrageous, I meant to say "as WA Outrageous shows the same conformation as the DAM". They're full brother and sister, and they have the same type hind end I tend to see as leaning more towards a halter horse and so I believe this attribute was from the dam Gladiola Bay. It's not that there's anything terribly wrong with them, they're both fantastic winners, I just tend to think with KK's very powerful hind end, he'd actually produce a better foal when bred to a like mare like Faux Finish.

For example, they have a filly out of Kimono who's showing age now, and showing much more like conformation to KK then the Gladiola Bay foals do. Hence why I'd love a breeding to KK, but I would never personally breed to Pikhasso as I'm not fussy on his dam line.
---
Quote:
I hope God tells her to smash her computer with a sledgehammer.
I have seen a lot of this stud, and if I had a worthy mare I would totally breed to him. I think what I like most of about him that he isn't just producing colored babies, and is not just a purdy color stallion, he has actually competed and done stuff and so have his foals.
---
RH Queen O Anywhere "Sydney"
2009 Sugarbush draft
Your killing me. I need to go rob a bank and overnight my mare to you guys!! haha
Weanling
Join Date: Apr 2009
Location: Wilsonville, Ontario, CANADA
Posts: 347
• Horses: 0
eventerdrew - she is gorgeous!
I love her beautiful TB "type" and that gorgeous front end and head on her. She is a stellar mover and an even nicer, tight and scopey jumper ...
Where she is lacking is where a lot of TB mares fall short - she is lighter in her hind end than ideal and as GG tends to put big engines on the foals in behind, it would be a very complimentary cross! Plus he should add some height to the foal as well, keep the same beautiful head and front end that ND has ...
What a NICE mare she is!
MM - your mare is a phenomenal jumper - even for "an Arab!"
Usually (as you probably know) the Arabs dont tend to bascule correctly over a jump - they tend to jump flatter and higher to compensate, but your mare is "WOW!!!
" in the air! All of her mechanics are just perfect!
In those earlier conformation shots, I was going to say she is flat in the croup (very typical of Arabs in general) and could use some help in that area, but as she has matured (especially in that last picture!) uh ... no ... she is quite substantial on her own in behind and doesnt appear to need any help in that area! (what DO you feed them over there?!
)
In that last photo and in her loose jumping photo's she is a "WOW!!!
" mare. I'd love to see a GG cross with her!
Thanks QHDragon. Very very much ...
Quote:
Your killing me. I need to go rob a bank and overnight my mare to you guys!! haha
Okay. Get on it then and let me know when she is due to arrive ...
---
www.TrueColoursFarm.com
Unique coloured TB's & Sport Horses. Standing Guaranteed Gold-16.1hh cremello TB stallion - AQHA, ApHC & APHA listed - CSHA Bronze Premium stallion
Green Broke
Join Date: Mar 2009
Location: Kansas in the summer, Kentucky most of the time
Posts: 3,028
• Horses:
3
yeah, Demi does have a small butt
That's why I'm looking for a stallion (mind you, I'm not looking to breed until she is 10 or older, I'm just playing matchmaker now) with a nice sized hind end and some height to get her foal to an ideal size. Thanks for the compliments on her. She's a talented girl!
I'm still keeping GG on the top of my list along with another TB stallion and a Holsteiner stallion
---
Look like a SUPERSTAR, Ride like a FOUR STAR, Win like a ROCKSTAR
Eventers: Making BAD Dressage look GOOD!
Haha, now now, don't be afraid to critique her
I'd definately agree she's flatter crouped then I like, it's just that being a chunky monkey tends to hide it nicely! That's pure Manitoba grass baby! Haha, I've had some small issues with her leg in the past couple years - we've essentially come to the conclusion that she has wind puffs and I'm just paranoid, so I kept giving her time off anytime it puffed up (never taken a lame step in her life). So, long story short, she's gotten much to long off and being allowed to fill that porky belly! She's in much better shape now, that last photo was taken early summer and she was worked solid this summer with a wide variety of things.
I've always viewed her hind end is looking a bit weak, but her jumping power is phenomonal, and in her younger days, she was one of the fastest horses around. She's taken Quarter Horses off the line (usually lose if we're sprinting, but pulls out if we're longer) and people are always shocked at how fast she can explode into a gallop. Her dam had the same power, not quite as nice jumping style, but was even faster, I never lost a sprint or distance race on her dam against all sorts of breeds.
Anyway, enough babbling, it's always made me think she'd make a good dam crossed with a sporty stud, but I'd love your honest opinion. It's a crying shame I don't have the resources right now, I could afford the fee and care but unfortunately she's not on acreage right now I would ever in my right mind let her foal on, and boarding elsewhere would get out of my range.
Definately my choice for 2011 though if you think she'd compliment him well!
---
Quote:
I hope God tells her to smash her computer with a sledgehammer.