Has anyone seen this before on a pregnant mare?
---
I saw her yesterday and didn't see this lump but today when I saw her it was there and warm to the touch. She isn't due till the end of may beginning of June... Any ideas what it is?
It's just on the one side? It almost looks like an allergic reaction. Did you call your vet?
Just one side, and nothing else on the body. I was thinking lymph nodes? It sure didn't affect her appetite today! I was going to wait and see if it was still there tomorrow before calling...
Weanling
Join Date: Apr 2010
Location: Somewhere on Vancouver Island
Posts: 601
• Horses: 0
Looks like it could be a bite of some sort.........my first thought was it could be edema but not if it is warm to the touch. But because it is so close to her udder I would have it looked at by the vet.
My gelding had some pretty nasty bug bites one year........probably 3 to 4 times bigger than your mare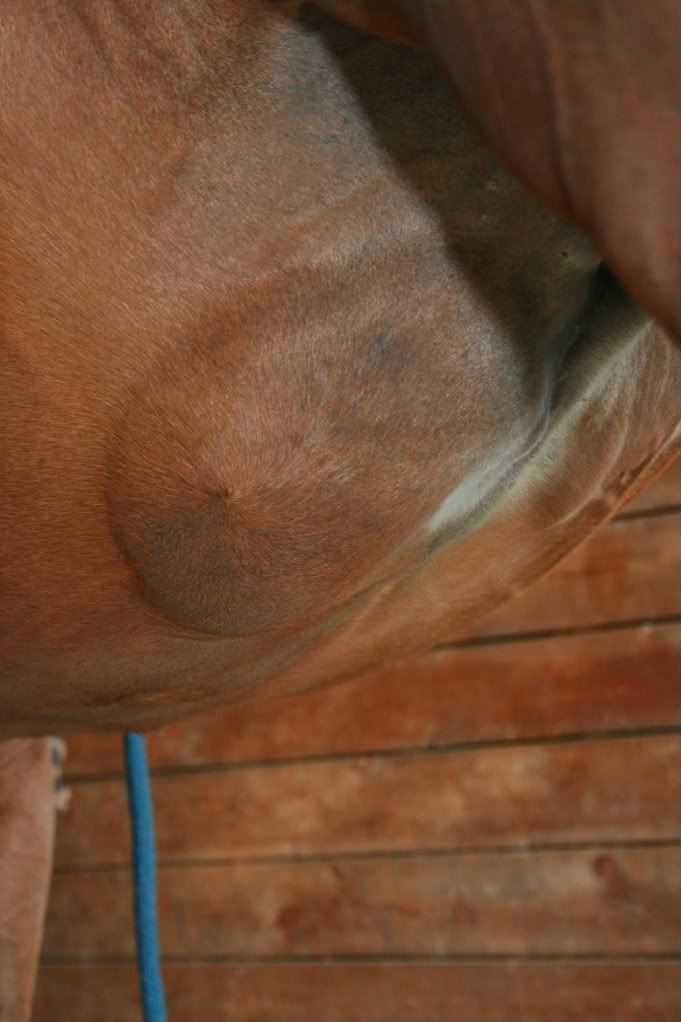 Super Nova
It reminds me of a bug bite reaction but better to be safe than sorry. Could you email the vet pictures?
That was my thought Super Nova. Either an allergic reaction or a bite. If it was edema from the udder in would be lower on the stomach and in front of the udder not in the stifle are that it seems to be swollen in the most.

OP let us know what you find out when/if you have the vet out.
I sent an email to my vet but he is out all day so I won't hear anything back until tonight or tomorrow. She isn't uncomfortable but I hope I hear soon....
well the vet emailed me back and agreed with you guys. He said it looked like a kick or a bite and if it was still there by the weekend to call him. Well.... its gone! sheesh these pregnant mares keep you on your toes!
Honestly I love that you are on your toes and on top of things! Serious kudos for being a good owner!
Is is Mastitis? Im not sure that horses can get it but cows can.
---
Cross Country- The act of hurling yourself and your equine partner at a stationary object with poise and grace while attempting to survive...