Help with AQHA Registry?
---
I've been trialling a horse for the past couple weeks, and just had the vet check today. Unfortunately, he was diagnosed with ringbone.
His owner and I are both very disappointed. Coincidentally, she also received the papers from his prior owner today, and showed them to me. The written description and the drawn-in markings don't seem to match the markings on the actual horse in question. Can anyone track down any photos of the registered horse?
Registry #: 3812355
Registered name: Woody B An Allstar (may have fewer spaces in it than that, but I do remember the spelling and the letter B from reading the papers earlier today)
Foaled April 27, 1999, Breeder William C Miller
The papers described a blaze, snip, white lip and chin, and a hind stocking, with no other white markings. The horse I've seen and ridden and taken photos of has a thin strip on his face, no snip on his nose, and I can't recall white or lack thereof on his chin or lip. He does have a short sock on his right hind, but he also has a white pastern with ermine spots on his right front, which isn't mentioned on the papers.
How common are variances like that between the description/drawings, and the actual horse, or do you think the seller the current owner bought him from was up to no good?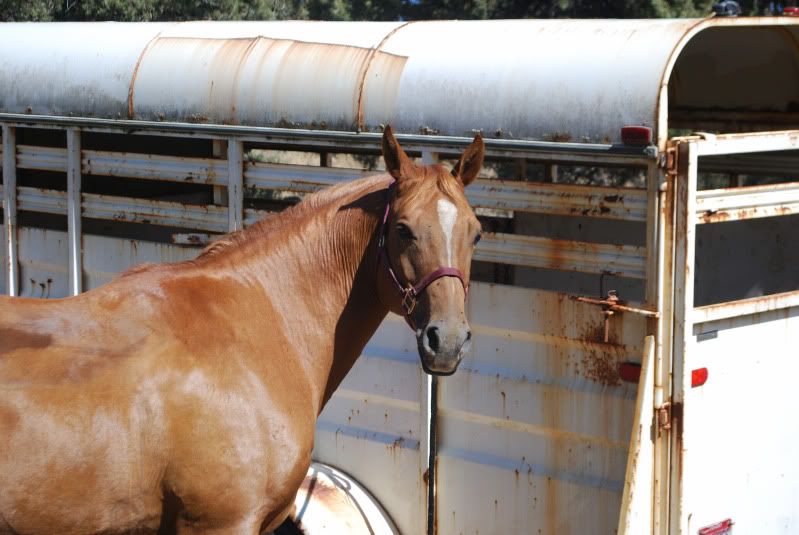 I sincerely doubt that AQHA would mess up the markings that badly. Sounds like a very dishonest seller to me.
Does the AQHA have anything to do with writing or drawing the markings, or is it all on the owner? How likely is it an owner would mess it up? The registered horse was registered at five months old, would a strip look wider on a foal? And would a white pastern just appear on a yearling?
I agree that the prior owner seems unscrupulous. The lady I'm buying him from is MORE than honest, and is devastated at this turn of events. But she hasn't owned him long, and got him from an acquaintance of an acquaintance, and had hoped the connection would mean an honest seller. But they drove three hours or so with a trailer, and pretty much weren't going to NOT pick up the horse, so they brought him home, and he turned out to be a little too much to handle for her newbie husband and young son, so she's selling this horse in order to get a more suitable one.
And now that I've had this vet check, she's kicking herself for having rushed into buying him (without one), and because she's an honest seller, she plans to disclose it to future buyers, which means it will be much harder (if not impossible) to sell him. Though the prior owner does say he'll take him back, for the full purchase price, so that might be her best bet. But who knows what will happen to poor Scoot then. He's SUCH a sweet guy. Poor horsie. I wish I didn't care about soundness, and could just take him anyway. But I plan to try endurance, and can't afford to board a horse I can't ride (much).
AQHA requires photos, and their staff draws from the photos (I believe). Newer registration papers put the horse's photo directly on the form, no drawing required. Is this horse even the age he's supposed to be?
Vet looked at his teeth, and other than a missing incisor that doesn't seem to cause him any problems, and needing all his teeth floated including the incisors opposite the gap, he didn't dispute the age.

Question is, the current owner bought him from potentially dishonest guy for $1,400. I could see swapping a cheap horse with a horse you're selling for $5,000 or higher, but why go to all the trouble for such a relatively small sum? There were no photos with his papers, just line drawings on the back, with blue lines showing the white markings (the "master" drawings were black lines). Does AQHA have photos posted online? Selling price in prior sales? This is intriguing... Neither the current owner nor I are members of AQHA (she just got the papers today).
---
I am Sparkly Meanie Doodie Head and I approve this message!
It is possible that the breeder did not mark the papers correctly. A colt I bought when I got his papers the markets where not very accurate. They where not totally off but not what I would consider good. SO I had AQHA change them. If I had not nothing would have been done and at some point they could have come into question.

Also if the breeder has several horses they could have marked the wrong markings on the wrong papers.

Only way to really know is DNA testing to see if this horse is the correct horse.
---
-I'm so busy... I don't know if I found a rope or lost my horse.
-An Armed Man is a Citizen an unarmed man is a subject.
-Where ever free speech is stifled Tyranny will reign.
If the seller has more than one horse he may have given the wrong papers by mistake. My daughters horse has no white on him but about 5 white hairs on his forehead. They are on his papers :) Papers used to be switched a lot in the AQHA world unfortunately.