Hypothetical AQHA breeding
---
I personally think they would make a great cross. And nothing against your mare. But im sure the baby would surpass her as the father is very cow and work bred. I think it would be a great mix.
Lots of gamers would love the breeding of your mare, though really we would need a photo to determine the cross.

He's definitely a pretty stallion! That's one place I give credit to - the dedicated breeders of reiners and cutters. They have some really nicely built horses - because they have to, otherwise there'd be all sorts of lameness issues with the work they do!

If we had more local competition with reining, I'd definitely ditch pleasure. There's nothing more thrilling than riding a spin.

... -ahem- now if you'll excuse me... I'm going to go look for reining bred mares >8D
---
I've got a lovely bunch of Neuticals,
There they are all standing in a row
Big ones, small ones, some as big as your head
I would love one of those babies! Would be a nice mix!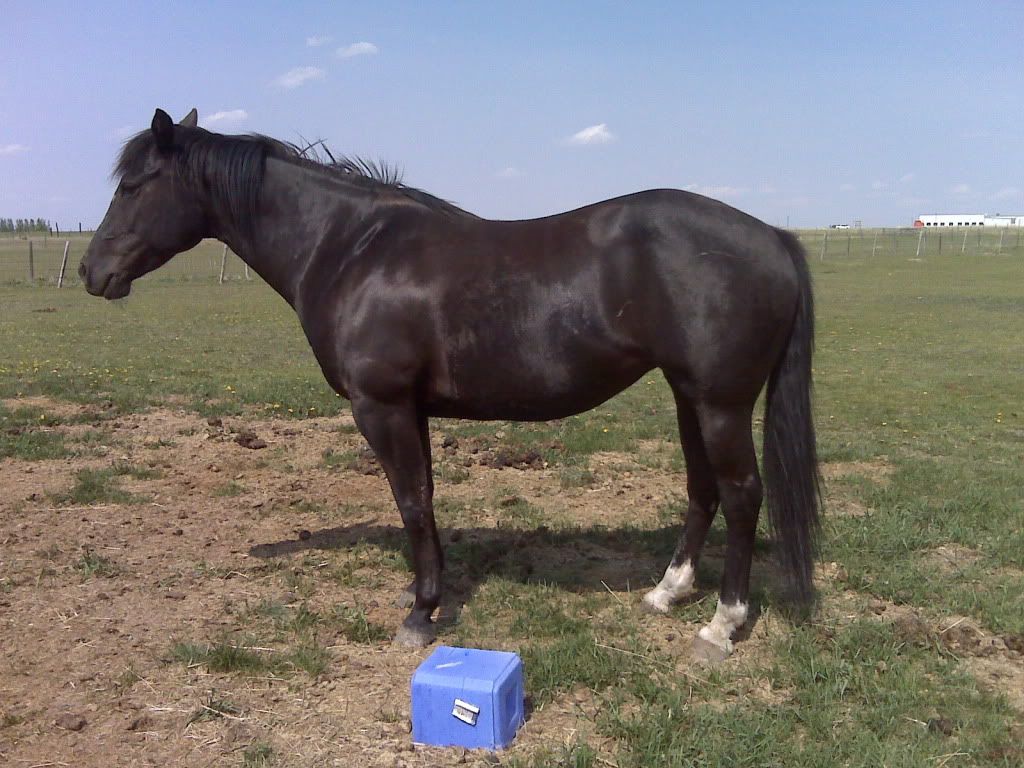 Zena was bred to be a rope horse but topped out at only 14hh. That hasn't slowed her down any.
She does not have perfect conformation but she has a proven performance record.
Soory for the huge picture.....
Honestly, no horse has perfect conformation. QH's and APHA's are very diverse in build for breed, according to their use. HUS horses are lanky, and long (Mine's not, but he's got great movement). And you'd never dream of using a halter horse for any real rugged work - well most of the halter horses - some of them have pathetic excuses for legs.

Really I don't see anything majorly wrong with her, and even though she's bred to rope, she's still classy looking and better looking than most broodmares you see popping out foals every stinking year. I say go for it. Even if the foal gets the worse of both parents, it'll still be a nice colt I think.
---
I've got a lovely bunch of Neuticals,
There they are all standing in a row
Big ones, small ones, some as big as your head
Green Broke
Join Date: May 2009
Location: Winnipeg, Manitoba, Canada
Posts: 4,510
• Horses:
2
Haha, it's kind of ironic that you would post you don't have an intention of breeding your mare and yet you seem better set up with knowledge and a suitable breeding pair then most others!

I agree with PaintsPWN - your mare may not look like a picture perfect halter horse (thank god), but you seem educated about the stallion on lineage and performance alone. I think when a horse doesn't have major flaws, as in your mare, then performance and lineage can definately be deciding factors over conformation.

In reality, I've seen very few performance stock horses with what most would consider "ideal" conformation. They're bred to have certain aspects that look like "faults" to us, but have actually been delibrately bred in to help the horse in a particular discipline - kind of like reiners or barrel racers being built slightly downhill or Dressage horses being built slightly uphill.

In any regard, I think you would have a very good chance of being quite happy with the resulting foal if you WERE to breed them. I'm not big on lineage, but seeing both pictures shows me they both have traits that could help compliment each other and don't share the same minor flaws. It would help to have them both improving upon the foal as opposed to compounding the same fault.

---
Quote:
I hope God tells her to smash her computer with a sledgehammer.
Hi! I am so excited to see this post! Our family proudly owns and stands Little Lenaroo, and what an honor it is to see, that of all the beautiful horses out there, you chose our guy to seek advice about! Words can't say how much I am beaming right now. It's funny the way you put it...that you couldn't get him out of your head...that is exactly the impression we had of him. When we set out in search of a stallion to produce what we wanted, he was probably one of the first that we saw that was the "whole" deal. We got videos, pics, emails on atleast 30 stallions from all over the US, but he was the one we couldn't get out of our head - so we bought him. And he has done nothing but amaze us ever since. Thanks for the link to our website. It's very exciting to see the hits from all across the US! Makes us feel pretty good. And thanks to all those that have provided positive feed back about the cross.
There is just something about him that when I saw his picture I had to dig deeper. And I loved what I saw. But right now is not the time for us to raise a foal. If I ever change my mind about breeding and find the "perfect" mare I will definitely keep him in mind. But I will watch for his offspring in the meantime.
We actually have three mares that we compete with, Zena is my personal horse. Having been a former barrel racer, I am still addicted to some speed blood in my horses. Unfortunately our best mare's papers were lost years ago and we have no idea as to her breeding, only know she was a former reining horse. The third mare has talent but not the mental ability to compete at the higher levels. That was why she was taken out of cutting training before we purchased her. Here are her papers
Uno Bitsy Fox Quarter Horse
Despite considering breeding her we are concerned that she will pass along her mental flaw. lol
Thanks everyone for the positive comments here.
i think they would make a great cross! He is a very handsome stud and i absolutly love his pedigree! Your mare is a gorgeous girl.
---
quarter horses.....simply the best