I just got a new mare... and she is pregnant!
---
Hi all, I am brand new to the forum but excited to have found it. This weekend, while randomly surfing the local online ads as I have done for years without ever picking up a phone to see a horse, I saw an ad for a 3yo pregnant percheron/qh mare. Foal due in March. Within 24 hours I had convinced my husband to purchase it for me as an early birthday present. Within 48 hours we brought her home. It has been years since I got a new horse and never dreamed of having a pregnant mare. She is gorgeous and HUGE, and I hope she will come to trust me quickly as I want to make the most of this once in a lifetime experience! I would love to hear everyone's experiences and tips for a first time owner of a first time momma horse to be.
WOW lucky you
Welcome to the forum - it's a great place (I'm fairly new too but really enjoying being able to brag about my horses to people who know this is perfectly 'NORMAL'
)
One thing we do love here is PICTURES...so come on....where are they?
There are a pile of very knowledgeable people on here also so ask any questions and you'll get a heap of answers
Cheers and good luck with your mare - sounds like a gorgeous cross!
Welcome to the forum! Pictures are a must here. :P

Have you read anything up on feeding a pregnant mare or the 5, 7, and 9 month shot against rino abortion? Very critical to have that.
Keep your worming schedule the same till the last month when several things happen. You'll want to have her shots for next year a month before foaling and her wormer about two weeeks before. That's how I do it. :) but there is more it than that.
Any perticular questions?
Posted via Mobile Device
Thanks!! I was told about the rhino and she has not had it yet. I have a prenatal exam scheduled with my vet for this Tuesday. I do not know of special feed considerations? My horses are on 9 acres of pasture (although dying off now) and get high quality grass/alfalfa mix hay. I am planning to begin senior feed supplement for my 24yo gelding this winter, which usually means all the horses (5 including my newest addition) will get some form of grain.
Here she is.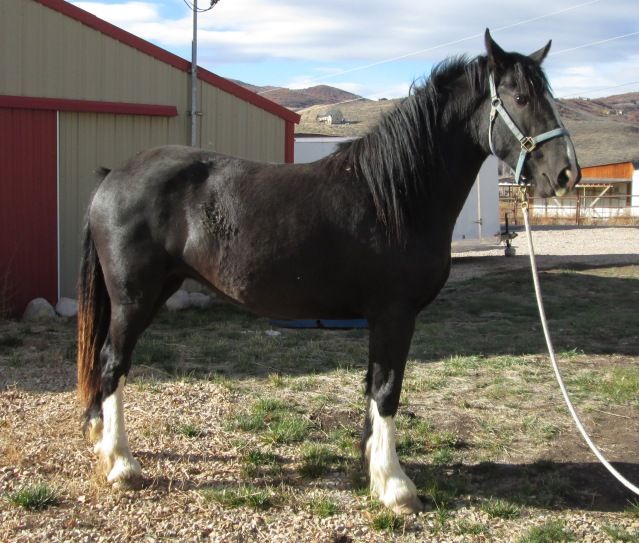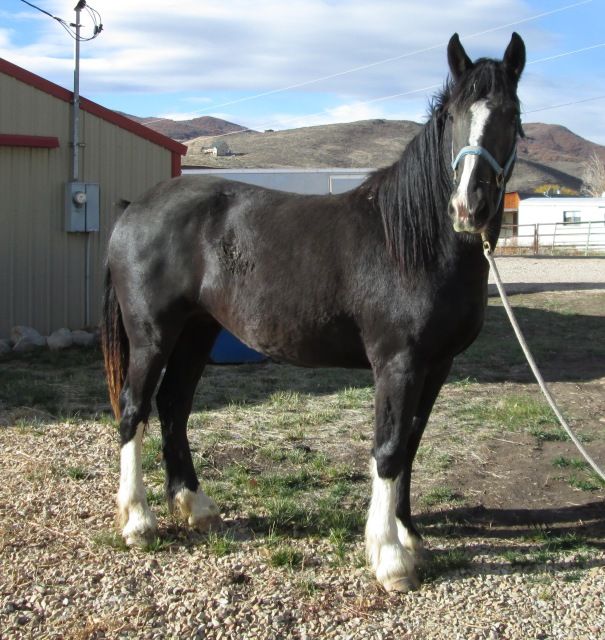 Gorgeous girl!!!
Which country are you in? It is vital to start her on a QUALITY calcium supplement early in the piece. She will need more protein in the last few months - this can be gained through the alfalfa but do be careful when feeding this as it is very high in potassium which can create major imbalances - you must feed around 3 Tbsp SALT a day in her feed to creect this. If you don't live by the sea she should be getting this anyhow
Hope this helps
Cheers
Very pretty! As Merlot said, she needs quality calcium(need a spell check) and mare and foal feeds with "amplitude" are very useful with your mare's nutrition. Of course you can give it to all. I'm not sure about giving her senior feed while in foal but that's just me. I like the purina feeds. Not sure what is around your area...but she's gorgeous!
Posted via Mobile Device
congratulations on your new girl!!! And she is gorgeous! Talk to your vet about what she needs - he/she can steer you in the right direction. Can't wait to see the foal!
Congratulations on your new horse. Is she going to be a riding horse at some point? What was she bred to? Do you want to keep the foal-do you have plans for it too? You have a nice ranch-do you have other horses?
Oops-I see you have 5 others. Is this going to be your first foal?
Thanks!! I am very excited!! I will definitely talk to my vet about any necessary feeding changes to make sure my girl gets everything she needs!

Cowgirl, Patience (my new mare) will be my next backcountry camping/trail pony, as my main riding horse is prone to breaking (insert eye-roll) and I am retiring my back-up riding horse as he will be 25yo this spring.

This is my first foal. She was bred to a perch/qh stallion, so the baby should be just like her. Hubby and I made a deal... if baby is a colt, then I get to keep him. If a filly, then hubby gets her. We figure by the time the baby is old enough to ride, our other main riding horses will be in their mid to late teens, so the timing works out well.