I will never breed this horse
---
Welcome to the 'I will never breed this horse' thread!
This is for people who are ready to admit that one or more of their horses should not be bred! Include pictures!
Whether because you don't want to add to the overhorsed world, or because your horse doesn't have suitable conformation, any and every one is welcome!
(This is supposed to be lighthearted and fun, so no pantie bunches, okay?)
Rainy
2005 3/4 QH, 1/4 TB mare
Bay, one white sock
Reason why: Mixture of the world doesn't need more horses and the fact that her conformation is mediocre at best. She would need a pretty awesome stallion to cover her faults, and even then, the chance of having a good baby would be slim, I think. I also don't see any reason in endangering her, and her personality isn't supreme either. We also don't have the money needed to take care of a pregnant mare, and I want to ride and show her.
In other words, all the reasons NOT to breed, right here.
Your turn!
LOL,
Bessie:
7 year old Belgian mare
I love her, she is a huge sweetie, but she is absolutely FUGLY. No neck, gigantuous head, fat gut. She's green broke to drive at best and while she was preggo when we got her and I think she threw an awesome foal, it was likely a fluke and wouldn't happen again. Besides, we have too many horses already and the last thing we need is another draft or draft cross running around.
---
Always remember that feeling of looking at a big, open country over the ears of a good horse, seeing a new trail unwind ahead of you, and that ever-spectacular view from the top of the ridge!!! Follow my training blog:
http://robertsontraining.blogspot.com/
ooooooh, LOVE it!! Great idea for a thread.
I pledge never to breed this horse:
Freyja
1999 1/2 Shire, 1/2 Paint mare
black tobiano
Reason why: She's crossbred. She's had way too many babies as it is, been a broodmare her whole life. Her conformation is mediocre at best, and she has plenty of faults (ewe neck, stands under in front, ugly back end, just to name a few!) She has arthritis issues. She's also a hard keeper, that loses much too much weight while nursing. And I don't believe in breeding rescues. She came to me with a foal at heels and was bred back - I promised her no more babies for her!
---
Last edited by Indyhorse; 09-25-2010 at

12:27 PM

.
This is a good idea =D
Mmkay, well, I can't speak for what my sister is going to do with Lily (
), but I
can
speak for the horse I own, who is:
Tango
6 year old
Grade (probably paint/QH) mare
Reason(s) Why

-I don't have the experience or desire to take care of a foal
-our farm is over-crowded enough as it is
-I don't want to risk having Tango die/be seriously injured from pregnancy/birth complications
-if I bred her and ever did want to sell the foal, it would be worth less than what we spent on the pregnancy, training etc
-it would be cheaper to just buy a good, already-broke horse than raise a baby to ride
---
While I am at it, lol
I pledge never to breed this horse:
Misty
2010 Welsh mare
silver bay
Reason why: She's cute as a button, but she's unpapered, big bellied, and mutton withered. She has no reason in the world TO be bred.
I pledge never to breed this horse:
Finn
2009 3/4 Shire 1/4 Paint colt
Liver chestnut sabino
Reason why: While he has nice conformation, he's a mutt and has no valid reason in the world to remain a stallion. I'd much rather geld him and have a great riding horse.
I pledge never to breed this horse:
Fiona
2010 3/4 Shire 1/4 Paint filly
Liver chestnut
Reason why: Because there is no reason in the world TO breed her! I'm sure she wont mature with amazing conformation, in fact she's kinda fugly, mule-eared and she's a mutt.
I don't need to include Monty and Claymore on here since they are both gelded already anyways, but if they weren't they would be on the list! lol
---
Last edited by Indyhorse; 09-25-2010 at

12:43 PM

.
Aww! Fiona totally does have mule-ears! That's adorable.
---
I'm glad everyone likes the thread! Part of why I made it was so people coming on here can see all the reasons NOT to breed. :) Keep em coming!
Green Broke
Join Date: Mar 2009
Location: Kansas in the summer, Kentucky most of the time
Posts: 3,028
• Horses:
3
Ginisee
16.1hh 18 year old registered TB mare.
Reasons why I will never breed her:
she's built downhill
she's got a sour attitude on the ground
she's marish
she has crappy, shelly feet
she's already been bred once before and lost the baby
I don't want her foals!
But I do LOVE my baby girl
---
Look like a SUPERSTAR, Ride like a FOUR STAR, Win like a ROCKSTAR
Eventers: Making BAD Dressage look GOOD!
I will never breed this horse:
Lacey
1985 Polish Arabian mare
Reasons:
1. Currently, she's much too old to be a maiden and foal safely
2. She has a few conformation faults that would be easy to pass on and create a horse that wasn't comfortable to ride: very upright pasterns, posty back legs, long back, downhill
3. She has major sass that seems to be very difficult for the average rider to handle, therefore, if that got passed on, the baby would probably be difficult to place in anything less than a very experienced home
4. She's absolutely amazing at her "job" ie, trail pony extraordinaire, and I would hate to have any real percentage of a possibility that she could die/be hurt/etc as a result of her pregnancy
5. If she had a baby, her girlish figure would probably not come back! Ahhh! Hahaha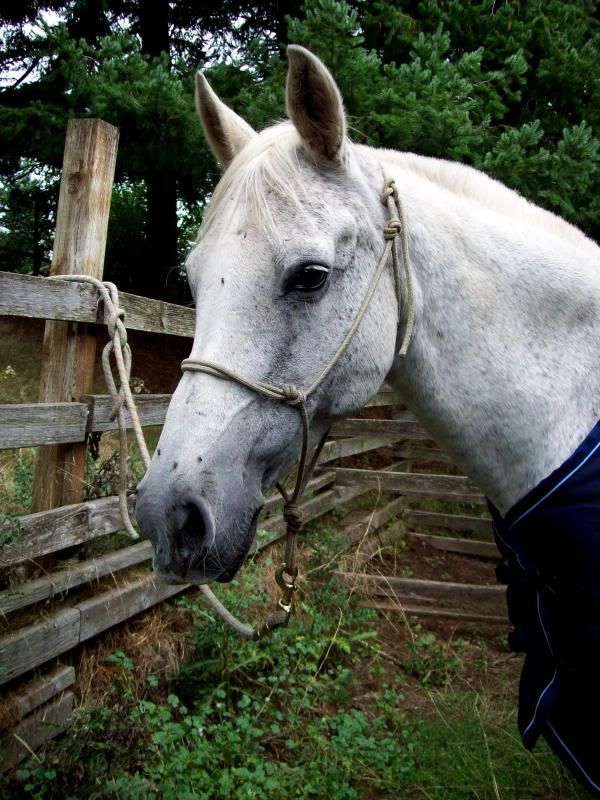 ---
Fabio - 13 year old Arabian/Lipizzan gelding

~
Rest peacefully, Lacey.

Aw, eventerdrew & wallaby, cute mares! Though I totally agree with your reasons- personality, for me, would be a big thing- Rainy's just plain rude. Sure, she's got manners, but her personality is just not nice. She's pushy, impatient, and would rather be eating than anything else. Not something I'd want in a foal.