Ebony Masterpiece or Midnight Sun
If my gelding was a mare... ROFL
Elvis White Diamond, from down here in Louisiana. He's a beauty!
---
"I know that there are some humans who love and understand animals and realize all living things have feelings, even though they don't have the words to express them." - Mork, Mork and Mind
---
Last edited by KatieAndZanzibar; 04-21-2013 at

08:25 AM

.
I'm getting pretty close to my dream breeding, but would definitely go with Smart Little Lena, Wimpys Little Step, or Big Chex To Cash.
Posted via Mobile Device
Im breeding to elvis white diamond in february ----- yeehaw!!!!!
What about Berry Sweet Wizard? :)
---
If at first you don't succeed, try, try again
*Wiking
Kontiki:
---
There is no joy equal to that found on the back of a horse.
I would really love to cross one of my Thoroughbred mares with my FQH mares sire, to create a very lovely Appendix. Unfortunately, I cannot even find a son of his that I like enough.
Pictured around 30 years of age:
These are the stallions that I am considering for breeding next year to my girls. Looking to breed for smart, athletic western pleasure/ reining horses.
---
"To see the wind's power, the rain's cleansing and the sun's radiant life, one need only to look at the horse."
If my mare had confmormation worth breeding lol i would pick one of these
Huckleberry Bey ++
Gunner who just passed away
And Smart Little Lena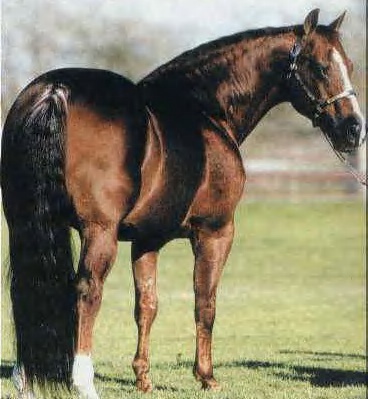 If I had Gypsy Horse mares, I would love to be able to breed them to The Original Old Kent Horse. Sadly, no longer with us. NOT the current stallion who has also been known as The Kent Horse.

Lizzie