Introducing "Golden Desert Sands" aka Sandy! Dial up warning!! Pic heavy!
---
It has been quite a while since I have posted on this message board but I would like to introduce y'all to my new filly, Sandy. She was born sometime early Saturday, June 18th. Yes, I missed the delivery but she is very healthy and so is momma!
We were using the breeding dates given to us by the previous owner, and therefore thought that our mare Sahara wasn't due to foal until the end of August. Well, I guess the mare was bred before the previous owner put her in the pasture with the stud, because we got a healthy, full term baby at what should of been day 273!! It was certainly a shock to go there to feed in the morning and find this beautiful little girl laying in the back of Sahara's stall.
I'm still trying to figure out where her color came from as her sire is supposedly a Palomino Tobiano and her dam is a Buckskin Tobiano.... the filly is a Red Dun Tobiano!!!
Where on earth did the dun come from? I suppose the sire could have it as all the places that would have the dun factor showing on him are white... but I don't really care to be honest.. she's healthy and quite active so that's all that matters!!
Here's some more pics of her I've taken over the last few days... hope y'all enjoy!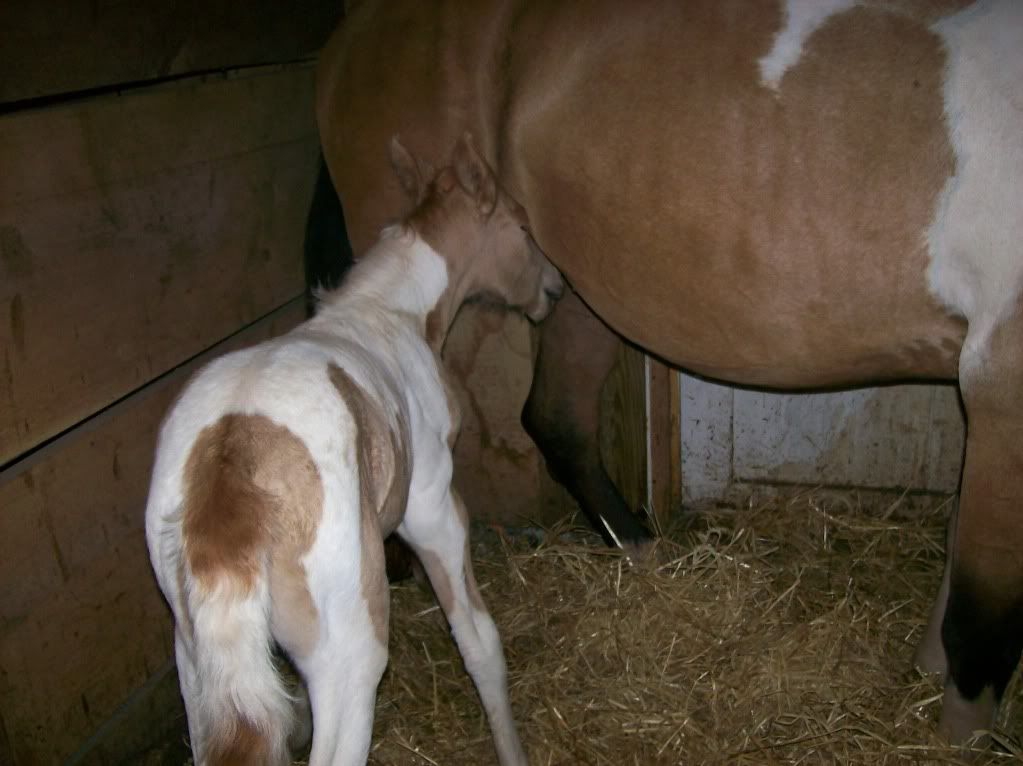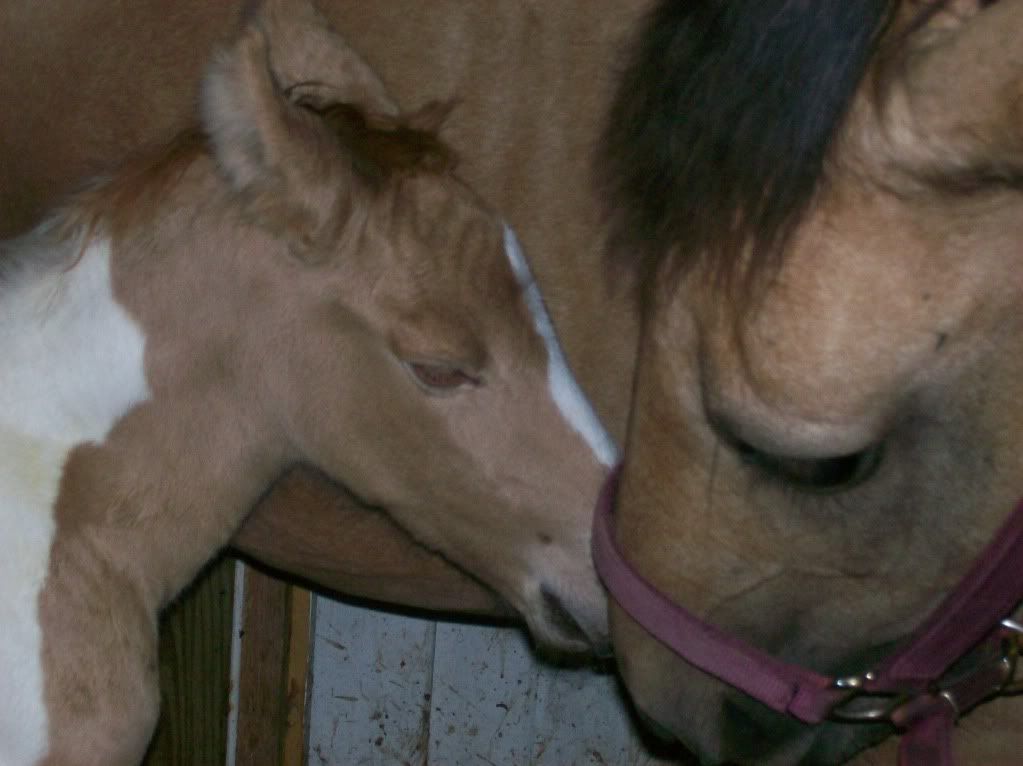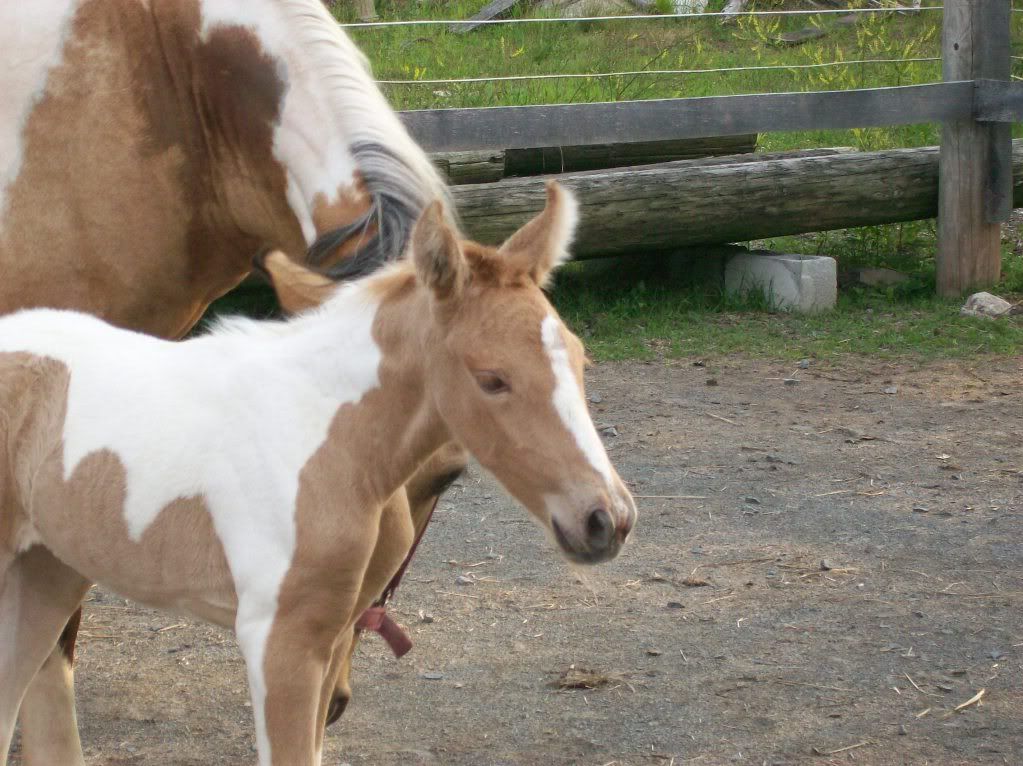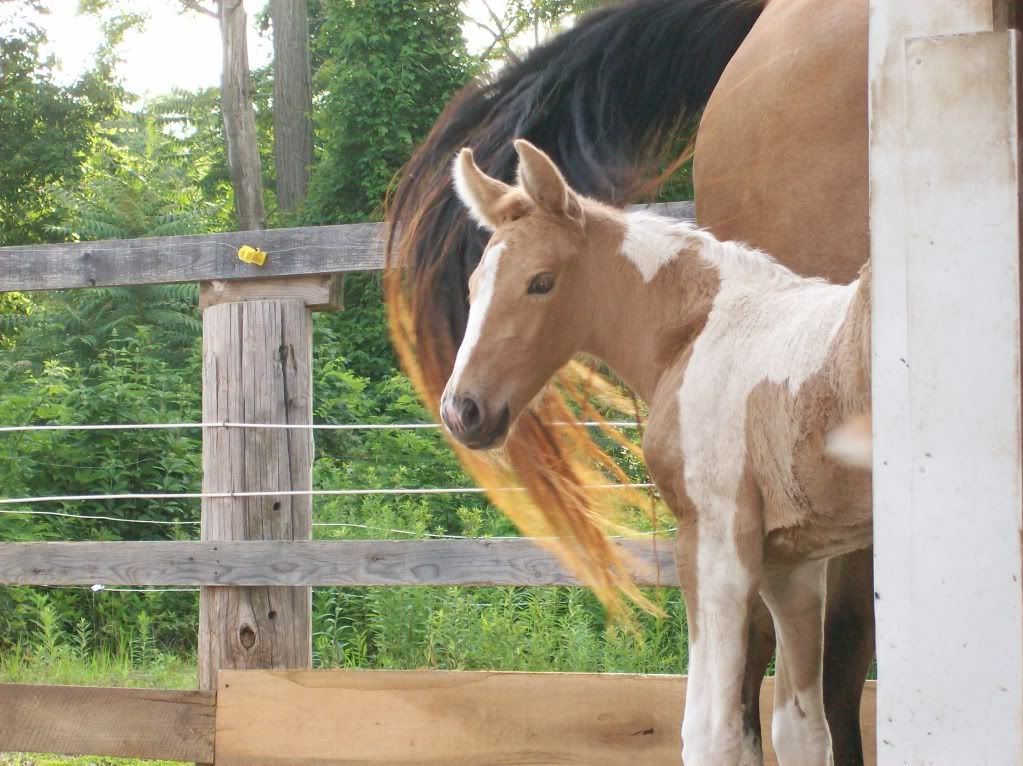 ttfn
MD
---
Show me your horse and I will tell you what you are. - English Proverb
Green Broke
Join Date: Aug 2010
Location: Southwestern Ontario, Canada
Posts: 3,324
• Horses: 0
She is a doll!

*grabby hands*
---
It is impossible for a man to learn what he thinks he already knows. --Epictetus

Awww thanks AB ... I'm in love! LOL you can't tell from her pics but her eyes are a dark green/blue... wish I could keep her still long enough to get a pic!
---
Show me your horse and I will tell you what you are. - English Proverb
Oh my, so adorable! I want her. I'm not completely jealous of you, lucky.
HEHE... she is adorable isn't she?? lol I'm still not sure if she is in fact a dun or just a lightly colored sorrel/chestnut... we'll see when she sheds out her foal coat.

Thanks for the compliment lady :)
---
Show me your horse and I will tell you what you are. - English Proverb
OMG THOSE EARS!! :)

Beautiful baby!
---
Every great dream begins with a dreamer. Always remember, you have within you the strength, the patience, and the passion to reach for the stars to change the world. ~Harriet Tubman
Lmao... I meant now* I'm hoping you knew that. Your welcome though, she is definitely a looker. :)
Me Wants!!!!!!!
She is so adorable!!! Congratulations
I was told that daddy is a palomino tobiano TWH. I have photos of him on another thread that I posted a long time back... momma is a buckskin tobiano... as far as I can tell there is no dun... but baby is too light to be sorrel/chestnut... and she has the dorsal stripe on her butt... but not really noticeable dark tips on her ears.. sometimes you can see darker hair on her ears and other times you can't. It also looks in some photos/vids of her that she has the typical zebra striping on the backs of her ears too.. but then in other pics that doesn't show up so I have no clue!! LOL
I will be getting her tested later in life but for now I think I'm just going to enjoy her being healthy!
And yes lady, I knew just what you meant! LOL
I just finished uploading this video of her being stubborn with her mom... and momma is being soo patient trying to get baby to follow her so she can eat her hay LMAO
---
Show me your horse and I will tell you what you are. - English Proverb