Oh ok, I just looked. Yes she's grey, no buckskin there, so 50/50 whether baby is a grey. I'd look around the eyes and muzzle, that's where I usually find 'grey' first.
---
I wouldn't rule out buckskin DA. A horse can be buckskin and grey, and grey tends to darken the heck out of everything too
Quote:
I wouldn't rule out buckskin DA. A horse can be buckskin and grey, and grey tends to darken the heck out of everything too
Ok, now I am confused. You're a lot better at this color stuff than I am, so .......
How can mom be buckskin and grey? Doesn't buckskin=cremello + black gene + agouti? So, if Lastchancepocococo is grey, and dad is grey & mom is buckskin, then wouldn't the base color be bay or creme? Dad's grey (BB Blue Cowboy) & Dad's dad (Mr Bluejay Hancock) is grey with a Blue Roan sire and grey dam, Dad's dam is Poco Cowgirl who is shown as a dun. OK.....so now my head is spinnin' like a color wheel......OY!
shock:
---
Gray is like throwing an imaginary white blanket over a horse of any color...it covers over whatever the horse's base color is. Every gray horse has a base color before they went gray, but that base color can start out any color at all.

Buckskin is cream on bay (so yes black + agouti). A buckskin gone gray would be that plus gray.

And it is unfortunate that most pedigrees only tell us gray on a gray horse without the base color. Knowing the base color would be useful for knowing genetic possibilities. Without knowing the base color of the sire before he went gray we don't know what the color possibilities are for his offspring.
---
Last edited by Tryst; 02-17-2014 at

04:21 PM

.
I'm sorry...I can't stop laughing about the Cat! That is hilarious! And I swear I'm not normally this immature
A huge congrats on the filly...she is beautiful!
Congrats on the safe delivery! She is beautiful. And of course, love the cat.
Oh my gosh, I just LOVE her butt!!! Cutest butt ever!
I will not even guess on the gray/vs. not because her legs are white, and for me that is the easiest indicator to see gray. I have a gray colt that was NOT born with white goggles or even a single white hair around his eyes at all. He's only now starting to get goggles at age 3-4. So I would entirely believe it's possible for her to be gray and it not show around her eyes.
So I think you have a 50/50 chance of her being gray, how's that for a safe bet.
Anyway, she has the most beautiful markings on her rump and tail! I love her!
Taken at 6 days old, will get more today. Sorry they are poor quality, it was too dark out :( With "Gizmo" she is registered buckskin, that was her color in her baby pictures, The grey took over and made her look grey. When she sheds out there are still buck traits that make her color 100% unique. Ive never seen a horse like her. Have to cut down on horses though, hope I can just lease her out so I can get another foal from her later on. There is another odd looking color on "Grace" its on her belly, Ill try to get a picture of the spot in a bit.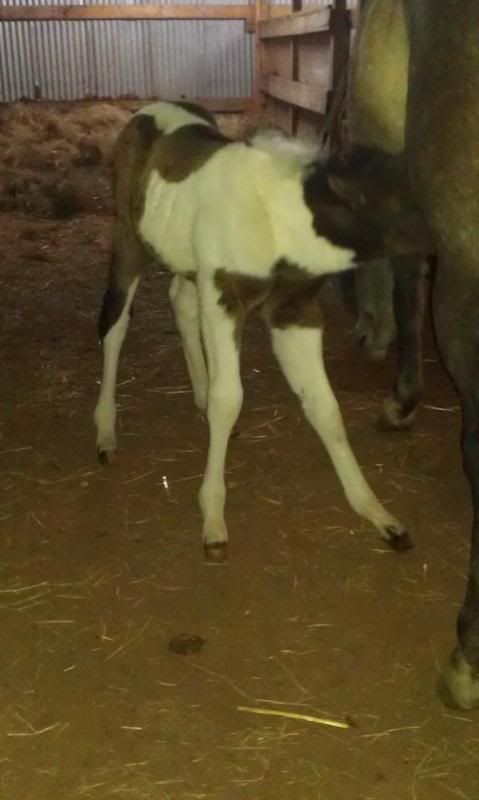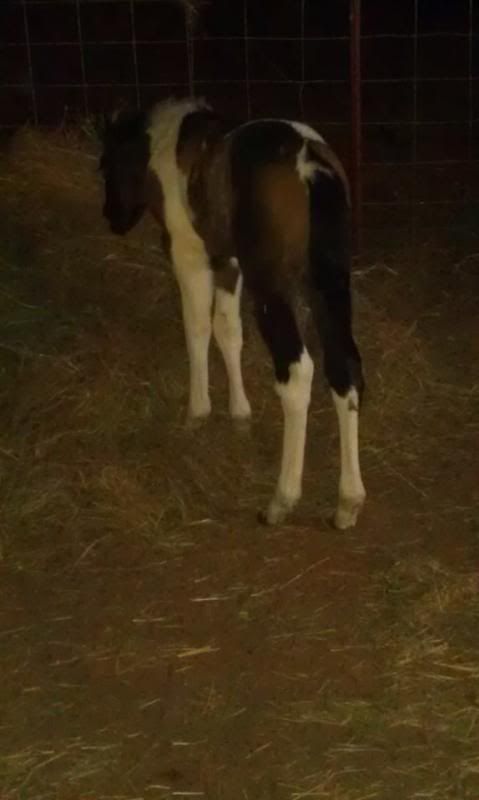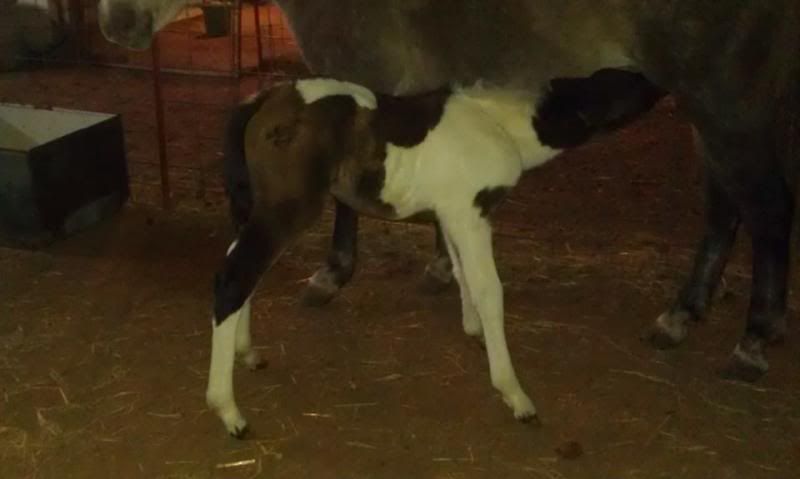 ---
"A horse can lend its rider the speed and strength he or she lacks, but the rider who is wise remembers it is no more than a loan." ~Pam Brown
I cannot get over how cute she is!
Posted via Mobile Device
That baby is grey.
---
Mods, grant me the serenity to see the opinions I cannot change, courage to change the ones that should change, and the wisdom to spot the trolls.