LOL MY Rumor is an Aussie, too!!! (A mini Aussie). I used to have a cat named Secret... although it was short for Secretariat, I named all the outdoor kitties/strays after racehorses, and I ended up keeping her (her owner moved and left her). Too funny :)
Banned
Join Date: Jul 2009
Location: In a land far far away, or so I wish.
Posts: 12,825
• Horses: 0
Glad mare and foal are doing well.

Have you gotten to the bottom of the BO drama you posted in your other thread?
Awwww! Just soooo adorable!
It looks like someone really drunk was trying to paint her blaze and it came out all wrong.
---
*~ THE HORSE STOPPED WITH A JERK, AND THE JERK FELL OFF -- Jim Culleton ~*
MANURE HAPPENS
Congrats!!! She sure is a cutie!
We are still working on the boarding situation.
Although after Rumour was born the BO called my mom over and said that they would pay the vet fee and everything if we wanted to give them the foal. My mom was like he** no! The keep going on about how straight her legs are and how she is going to be an amazing jumper with her long legs. I just think to my self " yep, she does have nice confo... And she isn't yours!"
My friends mom overheard the BO talking to another boarder. The BO said that they were giving us free board for the foal until she is weaned because it was there fault.
My friends mom and everyone I have told have been like " Wow, they are actually admitting that it was there fault now?!"

I got Rumour a nice little leather halter today. It came with two different head straps so it should last her a few months. It was on 16.99 when the nylon halter were 25.99. I was like hmm... I think i'll take the leather halter which is Better and will last alot longer than the nylon.
Posted via Mobile Device
Quote:
How adorable she is! The marking on her face looks like a side profile of a cartoonish woman looking to the left with a bun in her hair and a skinny neck.... maybe??
haha it does! Great, now everytime I look at her blaze I am going to think about am old woman! Thanks! Lol
Posted via Mobile Device
Yea, those Hallmark cards with the old woman... How funny. She is darling. Glad everything is working out for you.
So I got some questions for yall.
1. Do you think she has mommy or daddys head?
2. Light bay, bay, or dark bay?
3. In the fifteen hand height range or 16 hand?

Sire is almost 17 hh at 3 years, so still has 3 yrs of growing.
I'll post pics of him as soon as my mom is done on the computer.
Posted via Mobile Device
Here's some pics of Rumour's sire for those of you who havent seen him before: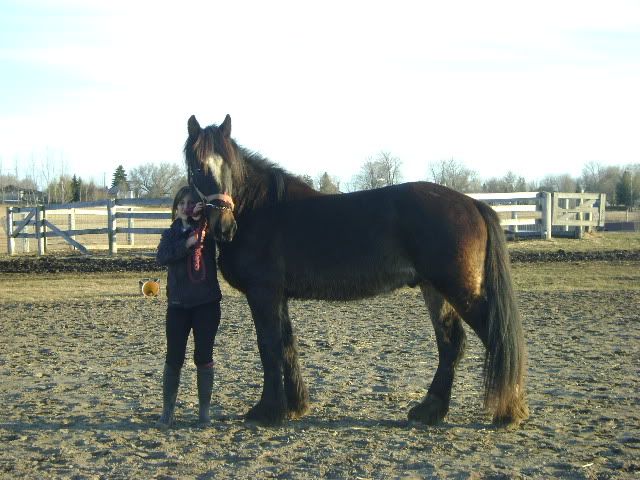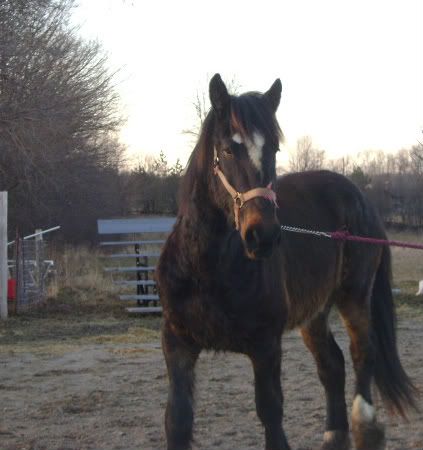 ---
Sonya ~ 5 yr old Appaloosa/Welsh mare
Congrats on the little filly, she's a cute little thing.

After reading about all the drama - don't let them make good on their offer for board until baby's weaned - go. NOW. Run, don't walk - and run FAST. They're setting it up to take the baby as soon as it's weaned. You can safely trailer them now, I have done it with 3 day old babies. Just go to whatever other spot you have picked, and don't tell them where.
---
Ask Often, Demand Nothing, and Reward Generously.