her big brother looks like he could care less lol
Aww, she is so pretty and looks almost like a little mini of her momma!
---
The horse in my avatar is not mine, he belongs to a neighbor down the road.
Brandon I might just steal her! lolz
I love buckskins and she looks like shes gunna be a great horse, i absolutely L-O-V-E her color!!

Yeah ive decided im stealing her xD
shes a beauty!!! congrats!!!
she is uber cute!
---
~Erin~
~I'm an angel in Justin boots. I'm a devil in blue jeans. I'm every cowgirls nightmare. I'm every cowboys dream~
3 black legs and one white sock?

Very super cute!
---
"Be a best friend, tell the truth, and overuse I love you
Go to work, do your best, don't outsmart your common sense
Never let your prayin knees get lazy
And love like crazy"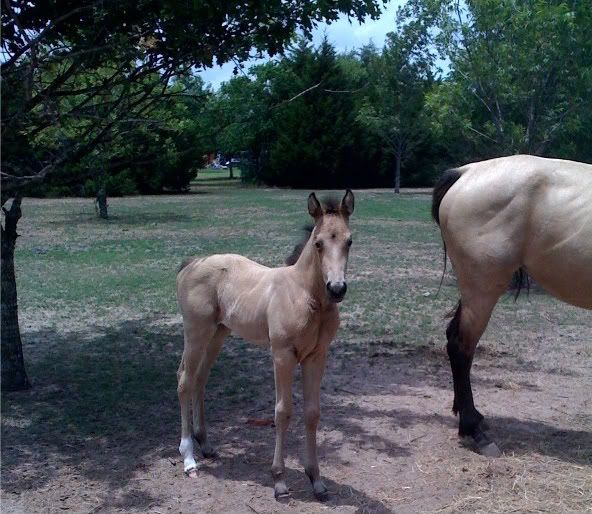 2wks old, she's gonna be stout :)
---
Whatever course you decide upon, there is always someone to tell you that you are wrong. There are always difficulties arising which tempt you to believe that your critics are right. To map out a course of action and follow it to an end requires courage.
Definitely going to be built. She just keeps getting cuter every time you post pix.
---
Always remember that feeling of looking at a big, open country over the ears of a good horse, seeing a new trail unwind ahead of you, and that ever-spectacular view from the top of the ridge!!! Follow my training blog:
http://robertsontraining.blogspot.com/
Awww! She's adorable - I love her color!
she's definitely built really well, although i'm biased towards stouter builds so i suppose she's just my preference =P. and her color is just gorgeous!!