Kinsey's foaling thread (Clydesdale mare)! **Foal has arrived!**
---
As promised, here is Kinsey the Clydesdale's foaling thread. She is at 320 days today--Super Bowl Sunday! She doesn't seem imminent at all...
Here she is when we purchased her in August, 2012:
[IMG]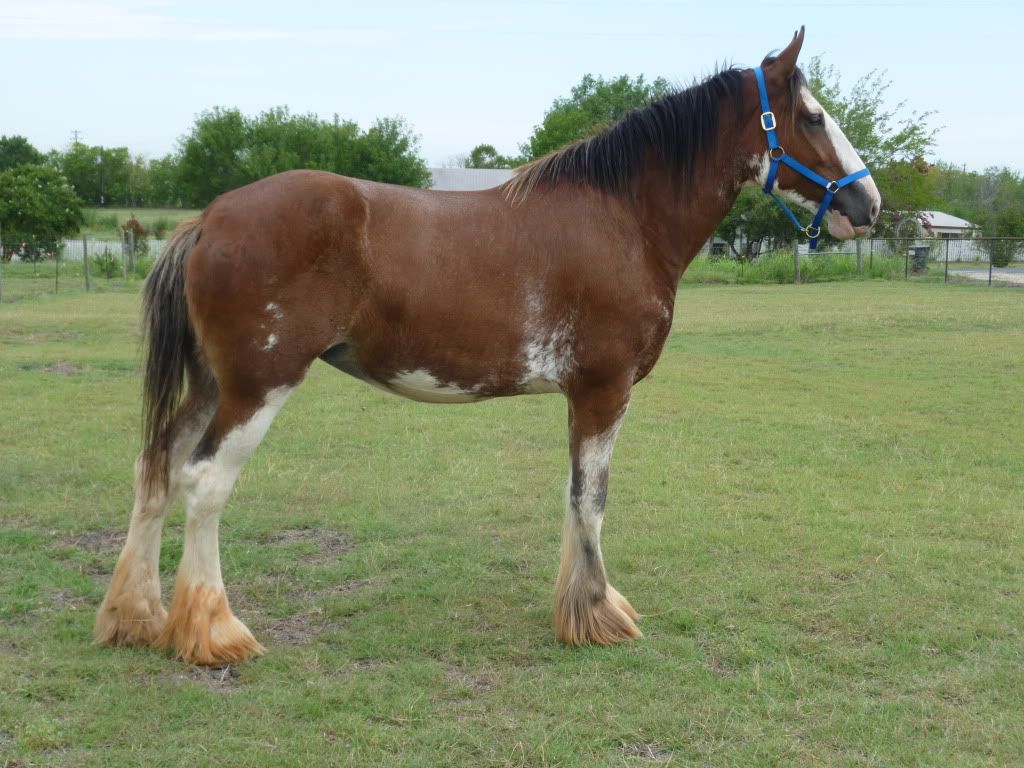 [/IMG]
And the baby-daddy:
[IMG]
[/IMG]
And Kinsey a couple of weekends ago:
I'll try to get some more current pictures posted and keep Y'all updated. We're excited as this is our first foal.
Oh! I'm excited to see this baby! Both the parents are gorgeous!
---
What a nice pair! Cant wait to see baby :)
What are your plans for the foal?
Thank you both! We plan to play around with showing the foal in open shows in halter and then eventually break her to ride and drive. Our local fair has a draft horse show and exhibition and they seem like a friendly bunch of folks--so we'll probably get involved with that too. If it's a boy--we'll sale him at weaning. We'll keep a filly.
Here are a few snaps from today. I'm interrupting her beloved hay pellets--so she's looking a bit annoyed!
[IMG]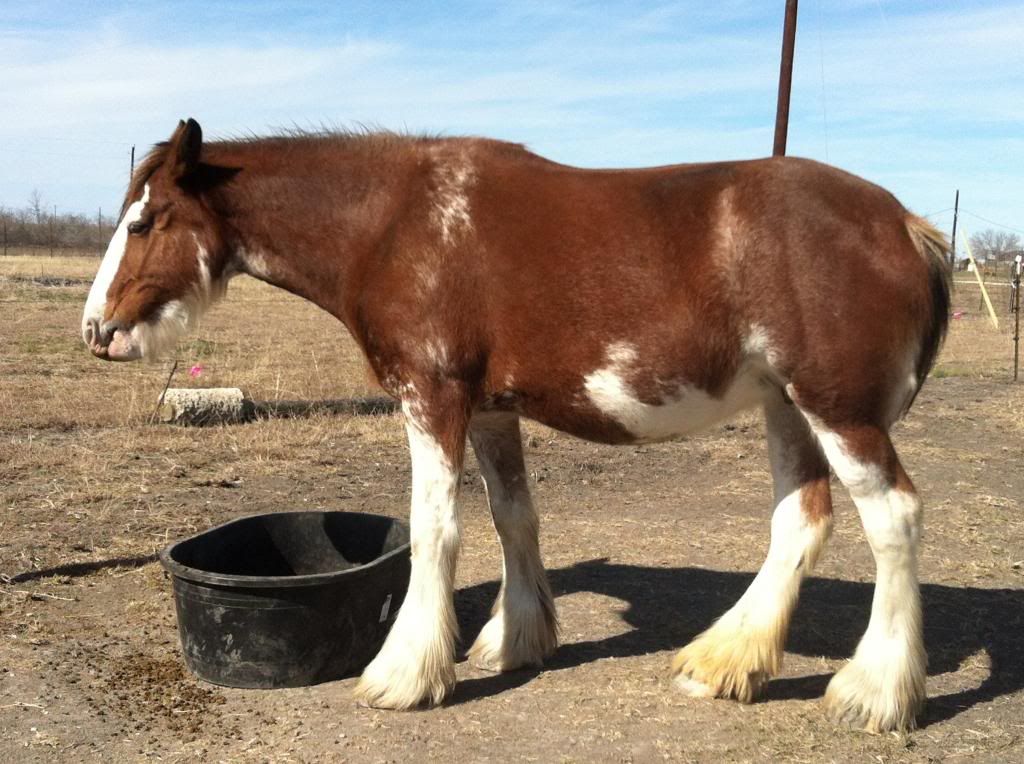 [/IMG]
A not great pic of her udder (it's still quite normal sized and one is bigger than the other):
[IMG]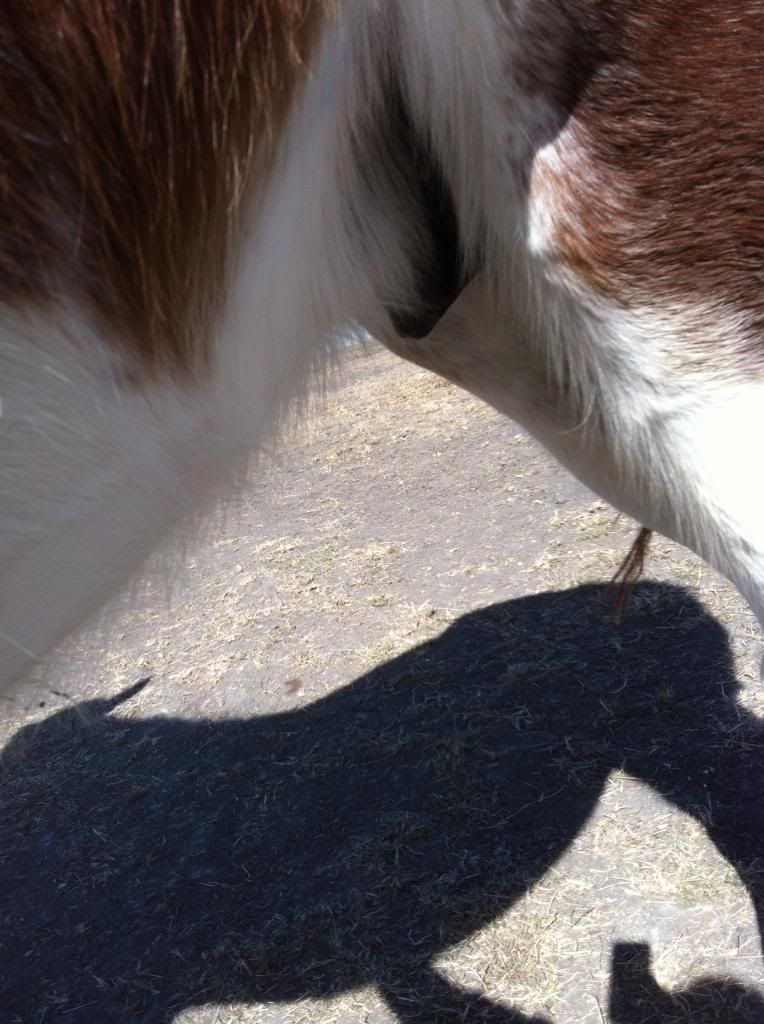 [/IMG]
Fuzzy belly:
[IMG]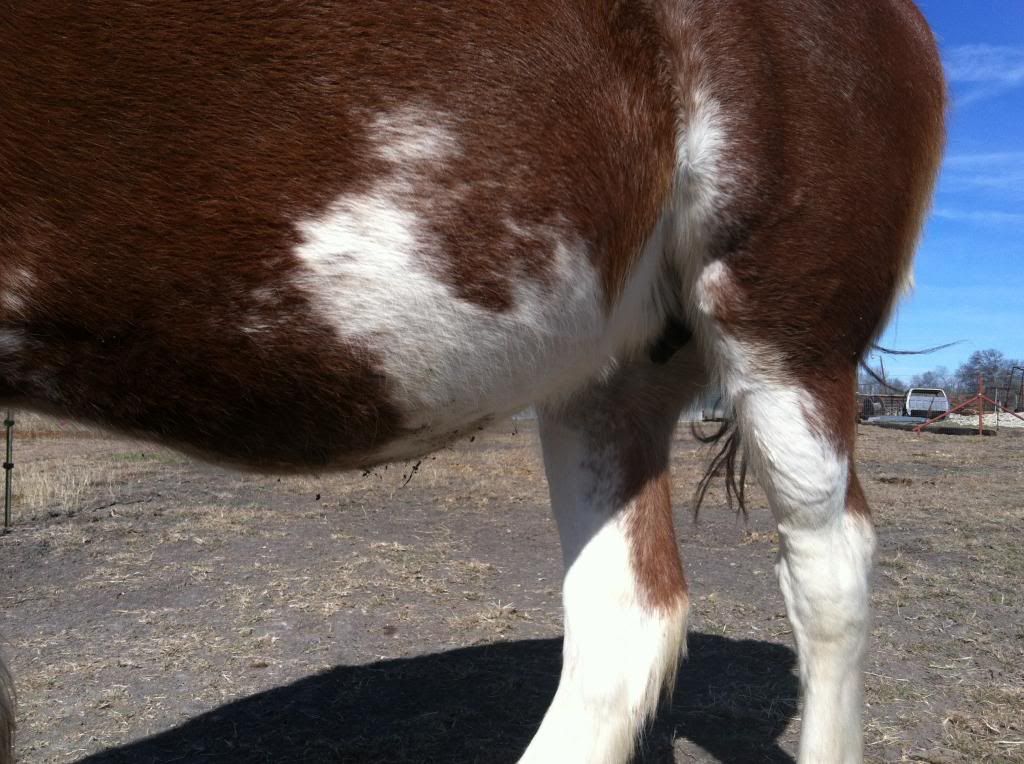 [/IMG]
---
Last edited by texasreb; 02-03-2013 at

04:37 PM

. Reason: removed broken pic link
Gorgeous! I'm definitely watching this one!
Posted via Mobile Device
Here's under "under the tail" picture that didn't turn out in the above post:
[IMG]
[/IMG]
When is y'all's best guess as to when she's going to foal? I'm thinking around Feb 20th, but I'm a rookie so it's just a guess. She was pasture bred and in with the stallion from 3.11.2012 to 3.20.2012--give or take a day or so.
She is 6 and this is her second foal. She has one as a 3 or 4 year old--I know, I know--so young. That was before I owned her though...
Wow, they are gorgeous! Subbing
---
"Thoroughbreds are the best. They're lighter, quicker and more
intelligent. The best of any breed is the Thoroughbred horse, the best
of that breed is better than any other breed." - George Morris
Awww look at that baby belly! I can't wait to see the foal!