Leia's Saddlebred Bloodlines [Pic Heavy]
---
So Leia is an ASBxPony cross.
Her dam, Snickers is a littly pony mutt with no lineage to speak of:
(lol that's me riding her when I was like 5 xD )
But on her Sire's side, you can track the lineage all the way back to the Darley Arabian! lol
Laughing Layup Saddlebred-cross
I don't have pictures of her sire, Nothin' But Net (can't find any info past his sale from my old barn), but he looks just like his sire.
His dam is Royal Crest's Rockette (by WC Sultan's Great Day, out of Reedanns Chorus Line by Manhattan Supreme):
(sorry I don't have any good pics of her)
Sultan's Great Day with owner William Shatner aboard:
Manhattan Supreme:
Sire of Nothin But Net is Slam Dunk H.G.
by Harlem Globetrotter out of Bucks Ingenue by Buck and Wig
Harlem Globetrotter:
Harlem Globetrotter is by New Yorker out of Putting On Airs by Mr. Magic Man
New Yorker:
Mr Magic Man, by Wing Commander:
New Yorker is by Yorktown out of Sandalwood Stonewall by Golden Stonewall
Yorktown:
Yorktown is also by Wing Commander:
who is by Anacacho Shamrock out of Flirtation Walk by King's Genius
After a while of going back, I got to Justin Morgan!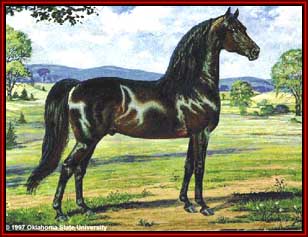 Who, according to Allbreedpedigree is a few generations away from the Godolphin Arabian:
Somewhere around there, there's "Bartlets Childers", an Arabian Stallion born in 1716 who is by The Darley Arabian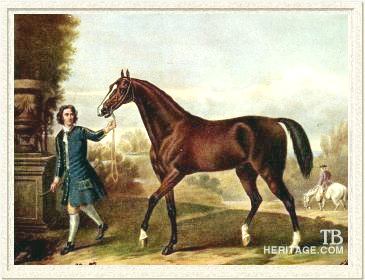 and out of "Betty Leedes", A thoroughbred Mare.. The farthest I could get and still have a picture was "Old Bald Peg", an Arabian Mare
---
"Have fun - Stay on top."
"There's nothing like sixteen hands between your legs"
I've hit Old Bald Peg a few times researching TB's.
Posted via Mobile Device
No way. There's Old Bald Peg again! I have been seeing her everywhere for some reason.

More on topic, that is a very interesting progression. It's fun to see what traits were passed on all the way to your horse.
---
I am here to learn! :)
Thats neat to see the history behind your horse from so far back! Amazing!!!!
I know! I think it's pretty cool too :)
---
"Have fun - Stay on top."
"There's nothing like sixteen hands between your legs"