This mare to this stud?
---
This is my mare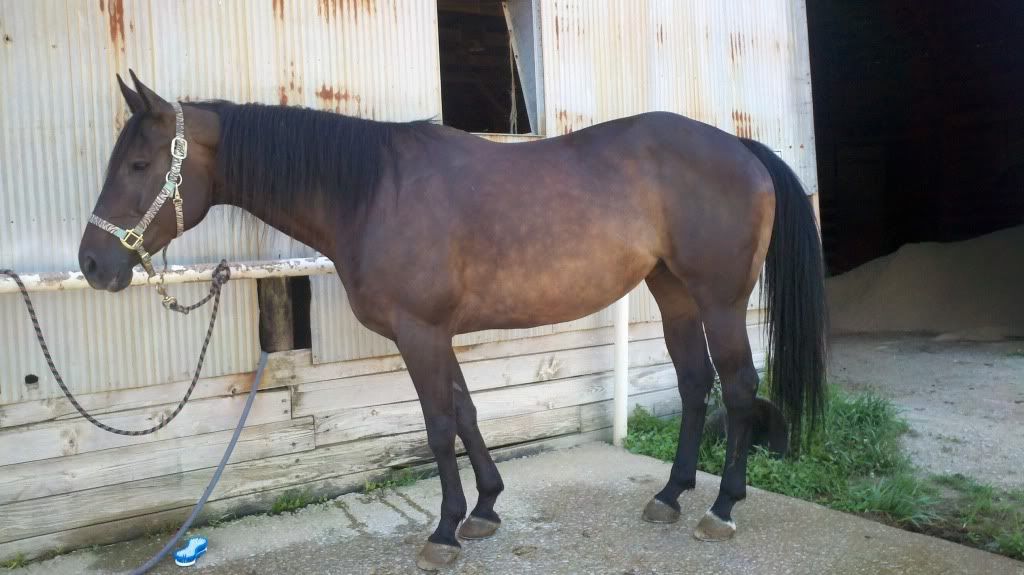 10 year old breeding stock paint
Consistent 2D/3D NBHA barrel horse
Her pedigree
http://www.allbreedpedigree.com/daylate+patty+cake
To this stud
http://www.lazyearperformancehorses.com/stallions.php?hi_id=1021
His pedigree
http://www.allbreedpedigree.com/strait+firewater
The foal would obviously be used for barrels, and be my personal foal. Also given it would be a grandson/daughter of Firewater Flit I think if I ever had too sell, it wouldn't be to hard.
Posted via Mobile Device
---
Last edited by BarrelRacer86; 08-02-2011 at

06:03 PM

.
The stallion's website, for some reason, is not loading very well for me. Do you have any conformation shots?

Based on your mare's build, I would not breed her at all. Her hocks are very straight, her croup is steep (as is her shoulder), her legs are insubstantial, and her pasterns appear weak.
Another pic of mare
Posted via Mobile Device
This is the best pic of the stud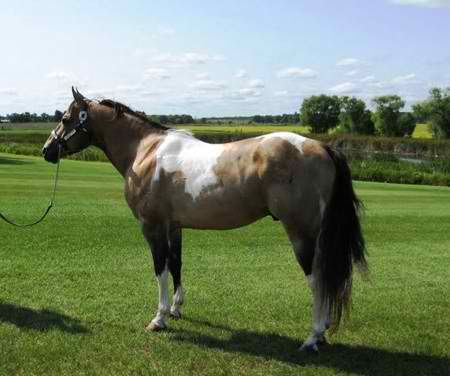 If your really curious google Strait Firewater, he stands at Lazy E Performance horses
---
Last edited by BarrelRacer86; 08-02-2011 at

07:06 PM

.
I really wish they had a good confo shot up. It's so very unprofessional of a stallion owner. He also appears to have insubstantial legs, perhaps a funny hock set, and a bull neck...but who can really tell from that photo?
Better here, but such a tiny pic. His pasterns appear short and upright. Hocks still seem on the straight side.
If he is not homozygous tobiano, you realize that the foal has a good chance of being registerable only as a SPB, right? And I stand by my initial assessment of the mare as not being breeding quality.
Im not looking for color, just a Paint with good bloodlines and can run. If I luck into color that's great, but not priority. Thanks for your opinion.

Im wanting to know if my mares faults and his faults can be balanced out.

My mare does have long pasterns, but they've never bothered her. Her shoulder is steeper, but she still has a good stride.

Im looking at this stud because he is a paint with desirable lines, my mare isn't bred the best but she's not lacking completely either. Plus he has a nice show record to back him up. My mare is athletic, and can run a good set of barrels she's just a slower horse.
Posted via Mobile Device
See, this:
Quote:
she's just a slower horse.
Coupled with the conformation faults that she
does
have, and her lack of impressive pedigree, and the fact that she's just a 2D/3D local horse (which, quite frankly, most horses can be with the proper training)...why, exactly, do you want to breed her? What justifies it in your mind?
Never said local. I run NBHA and IBRA shows, where barrel racing is the most competitive sport around here. I can do rodeos with her where she's less than a second off people who do CPR rodeos, she runs better in a rodeo pen. I've hauled her out of state, still a competitive 2D horse. At local NBHA shows im still running against the people who win at NBHA State Show.
She's smart, athletic, never been lame, she's completely sound. She's calm, collected, versatile. Runs a 23 second pole pattern. She is a good horse with a few conformation faults, but those faults don't keep her from performing.

There's quite frankly alot worse horses being bred, and I did not ask if I should breed her. I asked if her and that stud would be a good match, and that question has not been answered.
Posted via Mobile Device
From what I understand of the US horse market, it would be cheaper and quicker to buy a horse that meets your requirements, especially if what you are after is a Paint. You could probably get a horse that is of much better quality than one you could breed, with a low price and ready to start now rather than in 4 years time.
---
Mods, grant me the serenity to see the opinions I cannot change, courage to change the ones that should change, and the wisdom to spot the trolls.
None of her achievements, sorry to say, are particularly impressive. I have a mare who was 1D at the local level and who, before becoming injured, was looking to have the potential to be a winning 2D world horse. She was beating pro rodeo horses when they schmoozed on the local circuit. She has incredible heart and incredibly athleticism. Her conformation and bloodlines are, truly, better than your mare's--but because she did not hold up physically, despite everything working in her favor--I cannot justify breeding her and risking perpetuating more of the same.

I've had a little 14.1 hand grade pony, chubby and stout, who could, without expending much effort, run 21-second poles. I have a big old grade Paint gelding who is a 20-second pole horse and 1D local barrel horse...or was, until he became crippled and undiagnosable by multiple vets and farriers. Were he a mare, I also would not breed him, for his unsoundness alone.

Only the best horses should be bred. Your mare does not appear to rank among that number--not by bloodlines, conformation, athleticism, or achievments. No, you did not specifically ask whether your mare should be bred, but it is absolutely relevant to your original question. I suggest you familiarize yourself more with the horse market at large.